Isenberg gets life in prison
by
KAYE THORNBRUGH
Staff Writer
|
May 25, 2021 1:09 AM
COEUR d'ALENE — Larry Isenberg built a life he loved.
His family said what he loved most was his wife, Lori.
By all accounts, their 17-year marriage was perfect. They shared a love that others aspired to find — until a cold February morning three years ago, when the web of lies Lori had spun finally unraveled, with deadly consequences.
Laurcene "Lori" Isenberg, 67, was sentenced Monday to life in prison with 30 years fixed after pleading guilty in accordance with Alford to second-degree murder.
By entering an Alford plea, Isenberg did not admit guilt but acknowledged there is enough evidence that she might be convicted if the case went to trial.
In court Monday, prosecutors outlined evidence they said showed Isenberg spent weeks planning the murder of the man who loved and trusted her, all to spare herself further embarrassment after her embezzlement scheme was exposed.
Isenberg said her husband accidentally consumed a poisoned drink she had prepared for herself, in order to take her own life.
What was the truth and what was the lie?
A DOUBLE LIFE
Lori Isenberg is smart. Persuasive. Resourceful.
That was how prosecutors described her in court Monday.
The same traits that her children admired and her husband respected made it possible for her to live a double life.
For almost a decade, Isenberg worked as the executive director of the North Idaho Housing Coalition, a nonprofit dedicated to increasing access to affordable homes for low- to moderate-income individuals and families.
Isenberg reportedly embezzled more than $579,000 from the nonprofit over the course of three years.
She set up phony companies in her daughters' names, ran wire payments through them and created false invoices for services that were not performed.
She persuaded board members to bring general contracting and bookkeeping duties in-house. She had access to the checkbook and online banking.
Four of her daughters would later be convicted of conspiracy charges in the case after Isenberg distributed funds to them.
The NIHC board confronted and fired Isenberg in late January 2018.
In the following days, prosecutors said, she planned a family trip to Florida and put a two-month hold on the Isenbergs' subscription to The Coeur d'Alene Press.
In Florida, one of Isenberg's daughters, Chrislyn Woolston, said she watched her children play on the beach with their beloved grandparents.
Meanwhile, Lori Isenberg reportedly researched water depths, currents, tides, drownings, boating rentals and boating accidents.
Back home in Idaho, Isenberg continued to research water depths and drownings — this time in Lake Pend Oreille.
She received a voicemail on Feb. 12 from a reporter with The Coeur d'Alene Press. The paper had learned about Isenberg's embezzlement and planned to publish a story the following day.
Though Isenberg did not return the call, prosecutors said she heard the message.
The news was about to break.
The walls were closing in.
A FATEFUL CRUISE
As many North Idaho residents were waking up to the news that the housing coalition had severed ties with Isenberg, she and 68-year-old Larry launched a boat from Sun-Up Bay.
In an email dated Feb. 20, Isenberg wrote that her husband had recently recovered from the flu. To get them both out of the house, he suggested they take a boat ride to watch the sunrise, then cruise to The Coeur d'Alene Resort for breakfast.
Dean Isenberg and Jessica McPherson, Larry's adult children, received a photo of the sunrise from their father.
Prosecutors said Lori Isenberg sent the photo from her husband's phone.
Isenberg said she fell asleep in the boat. When she woke, Larry was acting strangely.
He was inspecting the trolling motor, she said, when he suddenly straightened, looked at her with an expression of confusion and fell into the frigid water at Powderhorn Bay.
Isenberg said she steered around the lake in a state of shock for about an hour, frantically searching for her husband.
At 10:23 a.m., she called 911.
CHARGED WITH THEFT
Isenberg was arrested Feb. 26 and charged with 40 counts of forgery and one count of grand theft, while authorities continued to search for her husband.
Fearing she would destroy evidence if released from jail, prosecutors asked the court for a high bond.
A judge ordered that Isenberg be held on $75,000 bail.
She reportedly asked her daughter, Chrislyn Woolston, to put up the money.
After posting bail, Isenberg signed over four Kootenai County properties to her sister, Jamie Devault, who resided in California.
LOOKING FOR LARRY
For two weeks, authorities searched for Larry Isenberg in the area of Powderhorn Bay and East Point in the southeast part of the lake.
Sonar efforts were delayed due to choppy water and cold weather icing up equipment.
Lori Isenberg accompanied the search team in an effort to help narrow the search area. Authorities described her demeanor as "ditzy" and "silly" while out on the lake.
On March 1, a resident reported what appeared to be a body floating face-down in Sun-Up Bay.
Prosecutors said experiments proved that his body could not have entered the water where his wife said it did.
Isenberg put her husband in the water, prosecutors said, then steered the boat north until the trolling motor died before calling 911.
WHERE'S LORI?
Chrislyn Woolston said her mother and aunt met her in Seattle in April 2018, while Woolston was in the city for business.
Isenberg was convinced the police would frame her for murder, Woolston said, and she announced she could no longer keep in contact with her children.
A month later, Isenberg called her from an unknown number. She was sorry, she told her daughter, but she had to leave.
Woolston said in court Monday that she still believed in her mother's innocence at that time.
"If you are telling the truth, I will fight for you," Woolston said.
"Truth does not always win," her mother replied.
Woolston soon learned that her mother had failed to appear in court, thus forfeiting the $75,000 bond her daughter had co-signed.
A judge issued a $500,000 warrant for Isenberg's arrest.
For three months, Woolston fielded calls from bail bondsmen and the FBI, all asking the same question.
Where is Lori?
LORI, LOCKED UP
After more than four months on the lam, Isenberg turned herself in to authorities in Coeur d'Alene in July 2018.
Her bond increased to $500,000.
Authorities believed she was hiding out in southern California, near the home of her sister, Jamie Devault, who previously said she was unaware of Isenberg's whereabouts.
In jail, Isenberg reportedly became deeply religious.
She sent Woolston letters full of scripture and wanted weekly Sunday school lessons.
Woolston said she gently declined when Isenberg broached the topic in a jailhouse phone call in March 2019.
Isenberg was always in a chipper mood, her daughter said — but in an instant, her demeanor changed. She became angry.
"What do you mean?" Isenberg reportedly said. "I thought you had forgiven me. Do you think we're going to sit around and talk about this for all these years?"
Isenberg soon ended the call.
It was the last time Woolston spoke to her mother.
MULTIPLE PLEA DEALS
In November 2018, Isenberg agreed to plead guilty to three counts of wire fraud and one count of federal program theft.
She also agreed to pay $579,495.75 in restitution.
Her daughters, Tracy Tesch and April Barnes, each pleaded guilty to conspiracy to commit program theft.
Tesch admitted to receiving approximately $15,300 from her mother's scheme, while Barnes admitted to receiving about $11,500.
Two other daughters, Amber Hosking and Jessica Barnes, pleaded guilty in federal court to conspiracy to commit federal program theft.
Hosking admitted receiving $16,500 from the scheme, and Jessica Barnes admitted receiving $15,500. Both women admitted they received money for work they did not do.
Barnes reportedly lived in one of the homes owned by the housing coalition. When she couldn't pay rent, her mother paid it illegally with federal dollars or donations.
Isenberg was sentenced to five years in prison for embezzling more than a half-million dollars.
But while that case was closed, another continued to unfold.
CAUSE OF DEATH
Larry Isenberg didn't drown.
A coroner's report stated that he died from an overdose of Benadryl.
Benadryl is a brand name for diphenhydramine, an antihistamine used to treat allergies. Because it causes drowsiness, it is also used as a sleep aid.
Normal therapeutic levels of diphenhydramine in a person's body are between 100 and 1,000 nanogram per milliliter.
The lethal level of diphenhydramine found in Larry Isenberg's body was 7,100 nanogram per milliliter.
A classic sign of diphenhydramine toxicity is "brain fog," prosecutors said — a symptom Larry Isenberg reported to his doctor while on vacation in Florida about a month before his death.
Prosecutors said Lori Isenberg likely attempted to kill her husband while on a family trip.
CHARGED WITH MURDER
Two years after her husband's body was found floating in Lake Coeur d'Alene, a grand jury indicted Lori Isenberg on charges of first-degree murder through the use of poison, a crime punishable by death.
Her trial was repeatedly postponed due to the COVID-19 pandemic.
In February 2021, she pleaded guilty to the lesser charge of murder in the second degree.
Jessica McPherson said she felt the plea deal, which allowed Isenberg to avoid admitting guilt, was a "slap in the face" to her father's loved ones.
"The loss of my father has left a hole in my soul," she said. "We will never get the justice we deserve."
MOTIVE FOR MURDER
Dean Isenberg said his father was his best friend.
"He was truly unforgettable," he said in court Monday. "Even those who hated him loved him in a way."
Lori Isenberg dabbed at her eyes with a tissue as her stepson spoke about the man she admitted to poisoning.
He described an honorable, hardworking man who loved his family — particularly his wife.
"I can only hope she did what she did to save him the embarrassment of finding out what his soulmate had done behind his back," Dean Isenberg said.
Prosecutors said Isenberg killed her husband in order to spare herself the further humiliation of losing half her assets in divorce.
But when Isenberg addressed the court Monday, she said the poisoned drink that killed her husband wasn't intended for him.
From the time her embezzlement was discovered, Isenberg said she had contemplated suicide.
"I knew my life was over," she said. "I had two options — death or life in prison. I never wanted to get away with anything."
She said she had planned to drown in Lake Coeur d'Alene after consuming the drink she'd poisoned with Benadryl — but her husband found it while she was sleeping on the boat.
"I know Larry would still be alive if it weren't for me," she said.
Judge Scott Wayman said he had no doubt that the version of events Isenberg relayed in court was the truth — at least, the truth she had decided upon.
"Your truth doesn't hold up in the light of all the evidence," he said.
Judge Wayman sentenced Isenberg to life in prison, with 30 years fixed and credit for time served.
Larry Isenberg's family embraced silently after the sentence was delivered.
Above all, Judge Wayman said, one fact was clear: Larry Isenberg loved his wife, until the day he died.
"He loved you," Wayman said to Isenberg. "He trusted you. And you killed him."
•••
Ralph Bartholdt, Maureen Dolan and Brian Walker contributed to this report.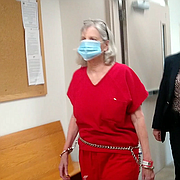 Recent Headlines
---