Isenberg gets 5 years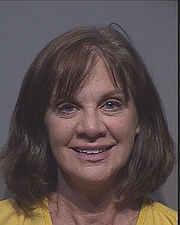 By RALPH BARTHOLDT
Staff Writer
COEUR d'ALENE — Lori Isenberg was sentenced Tuesday to five years in prison for embezzling more than a half-million dollars from the North Idaho Housing Coalition.
U.S. Judge Edward Lodge also ordered a $20,000 fine at her sentencing Tuesday in federal court.
Isenberg said she was remorseful.
"What I did was legally, ethically and morally wrong," she said. "I am fully aware of the harm I did to the coalition."
Defense attorney Jed Nixon sought leniency for his client, for whom prosecutors recommended a prison term of 60 months.
"For decades of her life she chose to do good for this community," Nixon said. "I ask the court to consider the good she has done and let that be remembered."
Isenberg, 65, embezzled more than $579,496 in three years from the Coeur d'Alene-based nonprofit that helped low- and moderate-income families rent or buy homes.
As the coalition's executive director, Isenberg set up phony companies in her daughters' names, ran wire payments through them and created false invoices for services that were not performed. She persuaded board members to bring general contracting and bookkeeping duties in-house and was given access to the checkbook and online banking.
Two of Isenberg's daughters, Amber Annette Hosking, 39, and Jessica Fay Barnes, 36, were sentenced earlier this year for their roles in assisting their mother's crimes. The women were sentenced to three years probation and 100 hours of community service and must repay a combined $32,000. Daughters April E. Barnes and Traci M. Tesch will be sentenced today in Coeur d'Alene's U.S. District Court for conspiracy to commit federal program theft.
Prosecutors said Isenberg made felons of her daughters, and charged her with robbing low- and moderate-income residents of an opportunity to own a home. Her crimes cast a pall on the coalition and resulted in its inability to secure the federal funding it relied upon, Assistant U.S. Attorney Traci Whelan said.
Whelan said Isenberg's crimes stripped the coalition of its ability to help others.
Since 2008, the North Idaho Housing Coalition has sold 127 houses to people who would otherwise not have been able to afford houses. It has received more than $3 million in grants since 2015 — and has been disgraced, Whelan said.
"Consequently people in this area who need the federal grant money for housing were denied any access to that funding," Whelan wrote in her presentencing memorandum.
Lodge heard impact statements from the housing coalition's Kerri Thoreson and Jack Hawkins of the Idaho Housing and Finance Association, a funding partner, and acknowledged that Isenberg had fulfilled her restitution requirement by paying back $579,496. He recognized Isenberg's remorse but advised she not fall into self-pity.
"There's no right way to do the wrong thing," he said.
He advised Isenberg to do her time, learn from the experience and grow from it.
He added fines of $5,000 for each charge for a total of $20,000 and said the fines were meant as a hardship. When Isenberg pays them off incrementally, the judge said, she should remember why, and that she can still redeem herself to the community.
Lodge also ordered Isenberg to pay $400 in special assessment fees and that she serve three years of supervised probation after she is released.
Although Tuesday's sentencing closed the door on Isenberg's embezzling charges, she is still under investigation for murder in the death of her husband in a separate case, according to the sheriff's office.
Larry Isenberg died under suspicious circumstances Feb. 13, 2018, while boating with Lori Isenberg. She was being investigated for stealing from the coalition at the time.
Recent Headlines
---