Isenberg charged with murder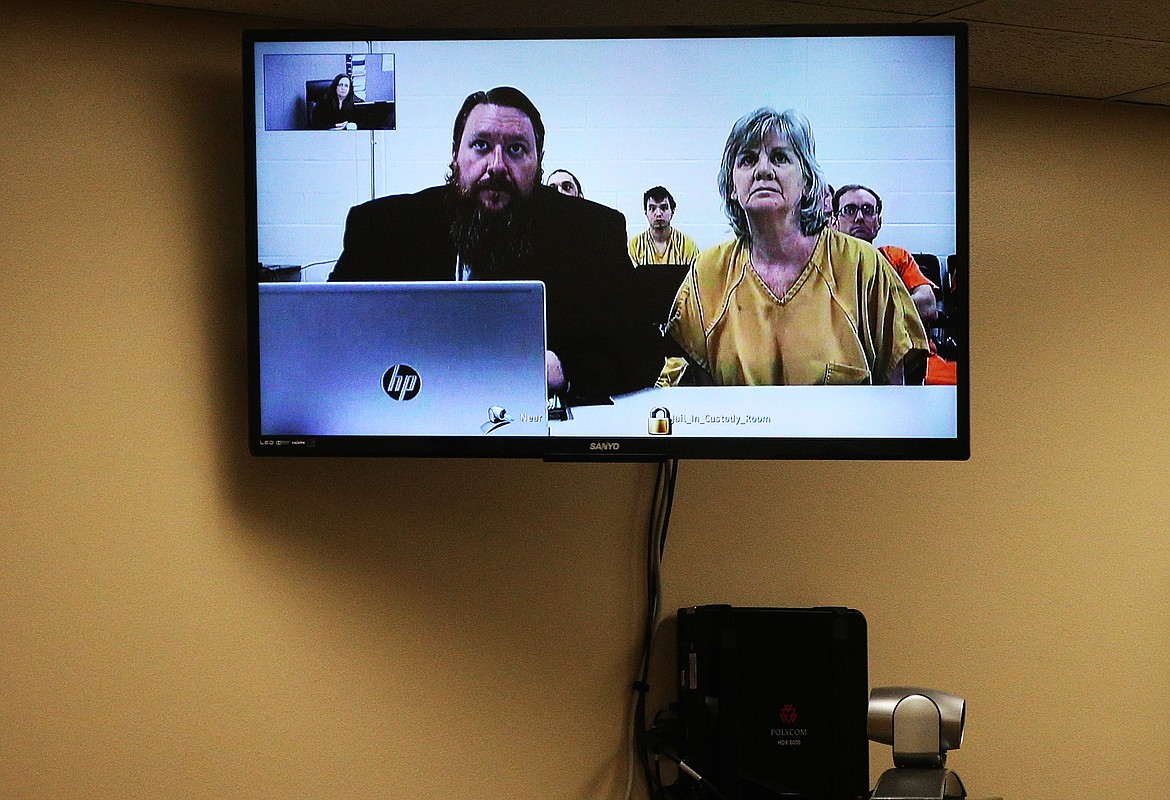 LOREN BENOIT/Press The Kootenai County Sheriff's Office arrested Lori Isenberg on Monday and charged her with murdering her husband, Larry. She is seen here next to her attorney, Jed Nixon, during her first appearance in court Tuesday.
by
Ralph Bartholdt Staff Writer
|
February 26, 2020 12:00 AM
Laurcene "Lori" Isenberg was charged Tuesday with first-degree murder in the death of her husband, whose body was found two years ago floating in Lake Coeur d'Alene.
Isenberg, who was indicted last month, was transported to the county jail Monday from a federal facility in Seattle, where she was serving a five-year sentence for embezzling more than a half million dollars from a North Idaho nonprofit.
She is being held in the Kootenai County jail on $2 million bail.
The 66-year-old mother and grandmother and the former director of the North Idaho Housing Coalition is accused of killing her husband, Larry Isenberg, Feb. 13, 2018, and dumping his body in Lake Coeur d'Alene during an early morning boat ride.
At her first appearance Tuesday in Coeur d'Alene's First District Court, Isenberg sat quietly in yellow jailhouse pajamas, stating clearly that she understood the latest charge against her.
Jed Nixon, Isenberg's Coeur d'Alene attorney, said he would reserve bail arguments until a later hearing.
Because she was indicted by a grand jury, Isenberg will bypass a probable cause hearing and enter a plea at a March 3 arraignment.
Isenberg was initially charged for stealing money from the coalition but before her arrest, Isenberg told police she went for an early morning boat ride with Larry Isenberg, 68. The couple planned to watch the sun rise over Lake Coeur d'Alene and have breakfast at The Coeur d'Alene Resort, she said.
Somewhere along the way, she said, Larry fell overboard while trying to fix a motor. Despite efforts by the sheriff's office marine division to find him, Larry's body wasn't discovered until two weeks later.
Lori said her husband had fallen overboard near Powderhorn Bay. She told detectives the blood they found in the boat was the result of a bloody nose she sustained after Larry fell into the lake and disappeared underwater.
Larry Isenberg's body was found March 1, three miles west in Sun Up Bay. An autopsy showed he had died of an overdose of Benadryl, not drowning.
Isenberg was subsequently convicted in U.S. Court for three counts of wire fraud and one count of federal program theft, and began serving her sentence at the Federal Detention Center, SeaTac near the Seattle–Tacoma airport.
While Coeur d'Alene police investigated the embezzling case, Kootenai County sheriff's detectives investigated the incidents surrounding Larry's death. They learned from a coroner that Larry Isenberg died of diphenhydramine toxicity, which means an overdose of Benadryl.
Normal dosages are between 100 and 1,000 nanograms. The level reported in Isenberg was a lethal 7,100 nanograms, according to the coroner's report.
A Benadryl overdose causes "drowsiness, blurred vision, increased heart rate, low blood pressure, confusion and delirium," according to MedlinePlus, the site of the U.S. National Library of Medicine. Other sites refer to unsteadiness and hallucinations.
Police found a bloody latex glove at the Isenberg residence on Bobcat Trail at Cougar Gulch south of Coeur d'Alene while looking for financial records 10 days after Larry was reported missing. They found "a bloody latex glove in a garbage can" and "bloody tissue," according to police reports.
A later report mentioned detectives also found Larry Isenberg's billfold, which was unusual since Lori told police that she and Larry had planned to eat breakfast at The Coeur d'Alene Resort after the boat ride on the morning Larry disappeared.
Kerri Thoreson, the president of the housing coalition board when Isenberg used her position to steal from the nonprofit, said Tuesday she and others worked for two years to "bring Lori to justice" for embezzlement. Since then, Thoreson said, the organization "was made whole through the criminal and civil trials."
Thoreson said it's satisfying that Isenberg will face a murder charge for Larry's death but "his children, family and close friends, no matter the outcome, can never be made whole. Their loss is profound and forever, and today my tears and prayers are for them."
Recent Headlines
---