Email details day of tragedy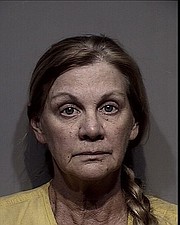 Editor's note: The Press has acquired a Feb. 20 email from Lori Isenberg's account that gives her version of the day — Feb. 13 — her husband went missing. The email has been edited only slightly to omit some highly personal information.
Six days after this email was sent, Lori Isenberg was arrested by Coeur d'Alene Police for alleged forgery and grand theft of nearly $500,000 from her former employer, North Idaho Housing Coalition. Her husband, Larry, remains missing.
- • •
Here is what happened.
Larry had been sick with the flu for a few days and I had not been sleeping well, so the night before the accident, when he was feeling better, he said he wanted to take me on a date to get us both out of the house. He decided a boat ride to watch the sunrise and boat to the Resort for breakfast would be perfect.
So we got up at about 4:30 and headed to the southern part of the lake to Sun Up Bay because it is famous for the sunrise view there. It is very cold, of course, so he had put the canvas cover on the boat and had the little space heater all set up. We love doing that because it is so cozy and quiet. Larry knew I was really tired, so after we enjoyed a magnificent sunrise, he got me all settled in the passenger seat and told me to try and sleep, while he just cruised around — and I did. Then he woke me up by standing up sort of fast and awkward, he put all of his weight on the key (instead of the dashboard) and it bent the key and pulled the ignition switch out. It took us quite awhile to get the key back in and get the motor started, but we did. During that time, he opened up the front tarp on the boat and got the electric motor set up in case we needed it.
A few minutes later he said the motor didn't sound right and he jumped up and went out the front opening of the boat where the electric motor is, instead of to the back of the boat where the big motor is. He was kneeling down looking at the electric motor and I asked him why he was looking at the electric motor. Then he stood up, looked at me with a confused look on his face and started to fall over. I jumped up and tried to get to him, but I tripped on the heater and banged my head and couldn't reach him in time. It was so horrible!! I tried to get to the back of the boat but I couldn't get the stupid zippers on the back of the tarp open fast enough. (OK, I had to stop typing to have a meltdown, but I am back now.)
I started driving fast and frantically looking for him (dumb I now know, but I think I was in shock) speeding from one floating log to another in all directions without ever looking up from the small area of the canvas I could see out of. I could not call for help and had no sense of direction or time because I had left my cell phone in the truck and Larry had his in his pocket. Also, because I had been dozing, I had no idea where we were on that huge lake. Additionally, I didn't have my distance glasses because I leave them in my car for driving so even if I looked up, I would not have seen much detail on the shore from the middle of the lake.
After what I now know was about an hour of frantic driving in all directions, the motor quit and I could not get it to start. I kept honking the horn, but no other boats were on the lake and most, if not all of the houses in the southern part of the lake are vacant in the winter. I finally calmed down and looked around the inside of the boat and saw blood splattered all over, and realized I had banged up my head and had a bad bloody nose the whole time I was running all around the boat. I also realized I had gotten mad at the space heater because I kept tripping on it, so I threw it in the water. I finally started the electric motor, but after about a half hour I realized the wind was pushing me back south in the lake because it was stronger than the electric motor. I knew I had to be at least six miles from the Resort — to the north — and I honestly thought the electric motor battery would run out before I could get anywhere. I had no heat and I couldn't reach the electric motor peddle from inside the canvas, so I was lying on the front of the boat in the cold and wind. I thought I would die out there and I really didn't care. A while later (no concept of time) I happened to look back at the console from the front of the boat and I saw Larry's phone between the window and the dash. I called 911 and about 45 minutes later they got a boat to me. I was OK, just some hypothermia and bruises on my face. I was only in the hospital for one day.
I went out with the search team Sunday. It was horribly painful to go through it all again, but they said I did a great job and reduced the search area by about 80%. I want to share that I actually did something right and I know Larry would be proud of me. When we got out on the lake it was very cold and windy; so much that we could not see out because of the ice forming on the windows. So I went outside of the covered area with the leaders of the team. They only wanted me to be out there for a few minutes, but I refused to go in until we finished; it took about an hour. When I went back inside, my coat was covered with ice from the mist of the waves hitting me. Both of the team leaders gave me a big hug when we parted and told me I was an amazing woman to do that. That meant a lot to me because I wanted so badly to help and it felt so good to do something right. They said it could still take two weeks or more, because of weather and the large area they have to cover. They determined that I could have covered over two square miles during my frantic driving.
I cannot describe the pain I feel. It is like half of me is gone. I am doing a little better every day. I lost 11 pounds because I just can't eat and the only way I can sleep is with sleeping pills or else I have nightmares.
So, now I am trying to focus on the future. Larry and I agreed years ago that if anything happened to either of us, we would sell our paradise because it would never be the same without both of us here, and there is no way I could take care of it. I am not in a hurry, but I also do not want to be here alone very much.
— Lori Isenberg
Recent Headlines
---