Showing results for "hand sanitizers"
Stories
3 results of 1,758
July 23, 2020 1 a.m.
If you're using hand sanitizer to avoid getting COVID-19, you need to be aware of a recent Food and Drug Administration warning to avoid several hand sanitizers because they contain a toxic chemical.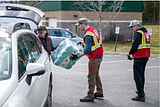 April 18, 2020 1 a.m.
Since the activation of the Emergency Operations Center (EOC) in response to the COVID-19 pandemic, resources suddenly became strained. Personal protective equipment, paper towels and even hand sanitizer evaporated seemingly overnight. Without the invaluable help of the Salvation Army Kroc Center in Coeur d'Alene, who not only became a hub for community donations but also staffed the donation center, resources for first responders could have vanished.
May 31, 2020 1 a.m.
I was wondering if physical distancing, masks, gloves, sanitizer, washing our hands and keeping those who are at risk self-isolated is keeping us safe now, how come it wouldn't have kept us safe two months ago?
---