Kerri Thoreson
See the latest column from Kerri Thoreson here!
Updated 4 days, 17 hours ago
A multi-generational farm and ranching family on the Rathdrum Prairie is in baby mode this month.
Updated 1 week, 4 days ago
Several years ago, my sister, Janna, and I joined our mother as members of the Lt. George Farragut Chapter of the Daughters of the American Revolution.
Updated 2 weeks, 4 days ago
This isn't the biggest news of the week, in fact, I don't even have names to include, but it was the most memorable moment of my week by far.
Updated 3 weeks, 4 days ago
For those fortunate enough to live in the northern tier of the U.S, Sunday evening provided a spectacular gift from Mother Nature.
Updated 1 month ago
Something we all know and expect is for a number of businesses, including banks, schools and government offices to be closed on federal holidays.
Updated 1 month, 1 week ago
It's a few days post-Super Bowl, but here's a fun Super Bowl love story from years past.
Updated 1 month, 3 weeks ago
Prior to Jan. 24, 2018, I was acquainted with Amy Evans.
Updated 2 months ago
For decades, I've described the subject of this column as whatever amuses, annoys or inspires me in any given week. Sometimes it's whatever has broken my heart.
Updated 2 months, 1 week ago
One of my favorite people whom I've never met is Jim Carkhuff.
Updated 2 months, 2 weeks ago
Sometimes, something happens right on deadline that stops me in my tracks. Tuesday afternoon was one of those times.
Updated 2 months, 3 weeks ago
I'm often asked how to have a name appear in Main Street birthdays.
Updated 2 months, 4 weeks ago
Pat and Gail McGaughey always have a houseful at the holidays. These "guests" don't eat much, make noise or overstay their welcome, though.
Updated 3 months ago
Author's note: This story first appeared in The Press on Dec. 21, 2005, the second Christmas as this "daddy's girl" was grieving the loss of mine. Each of th...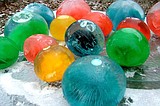 Updated 3 months, 1 week ago
On the third Saturday of December since 2007 in cemeteries throughout the country, organizations will lay thousands of fresh wreaths on the gravesites of vet...
---