Cd'A, Lakeland levies fail; PF levy passes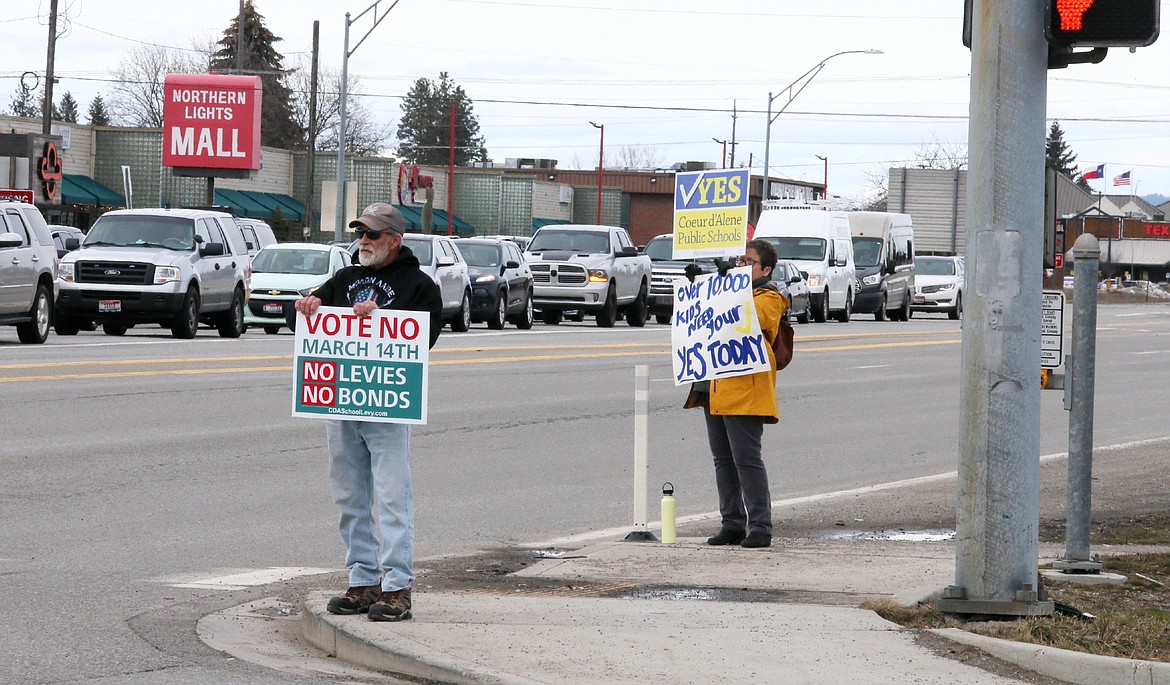 North Idaho resident Tom Meyer and Coeur d'Alene resident Alice Arambarri hold opposing signs against and for the school levy elections Tuesday at the corner of Highway 95 and Appleway Avenue in Coeur d'Alene.
DEVIN WEEKS/Press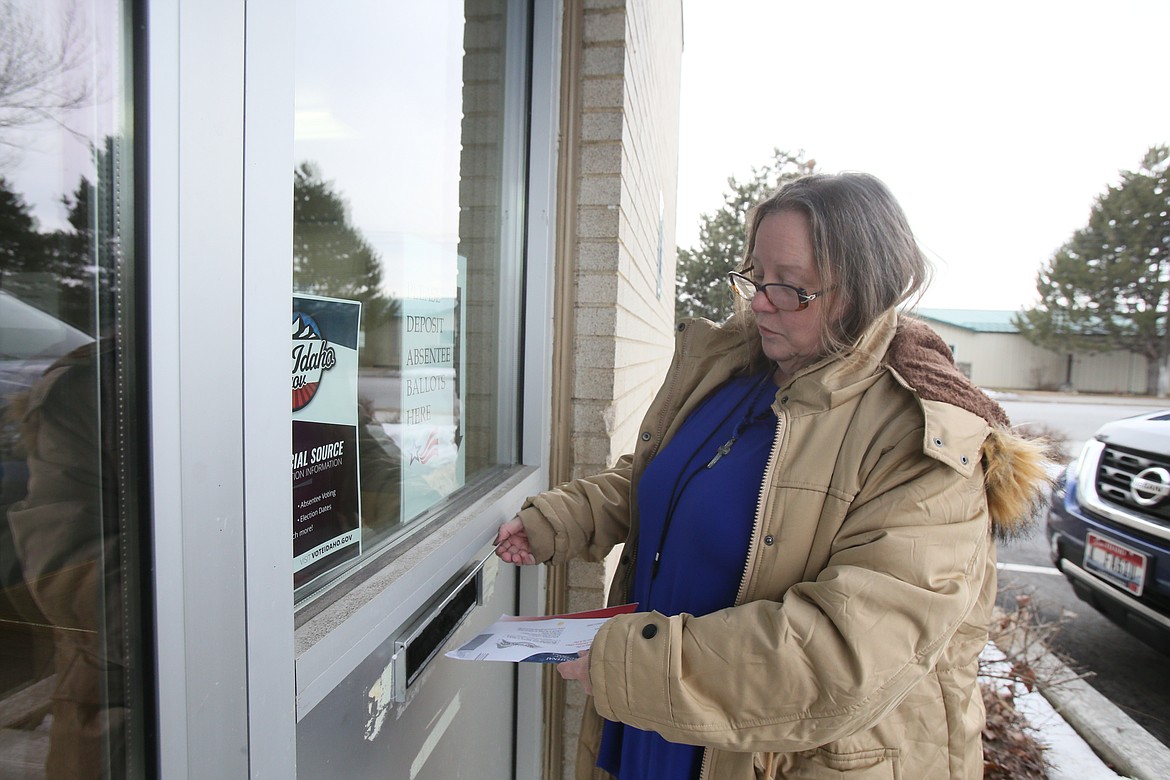 Gayle Mangis, a Coeur d'Alene teacher who lives in Post Falls, drops her absentee ballot into the slot Tuesday at the Kootenai County Elections Office. "Even though my vote goes to Post Falls, I teach in the school district in Coeur d'Alene," she said. "I know how important this is."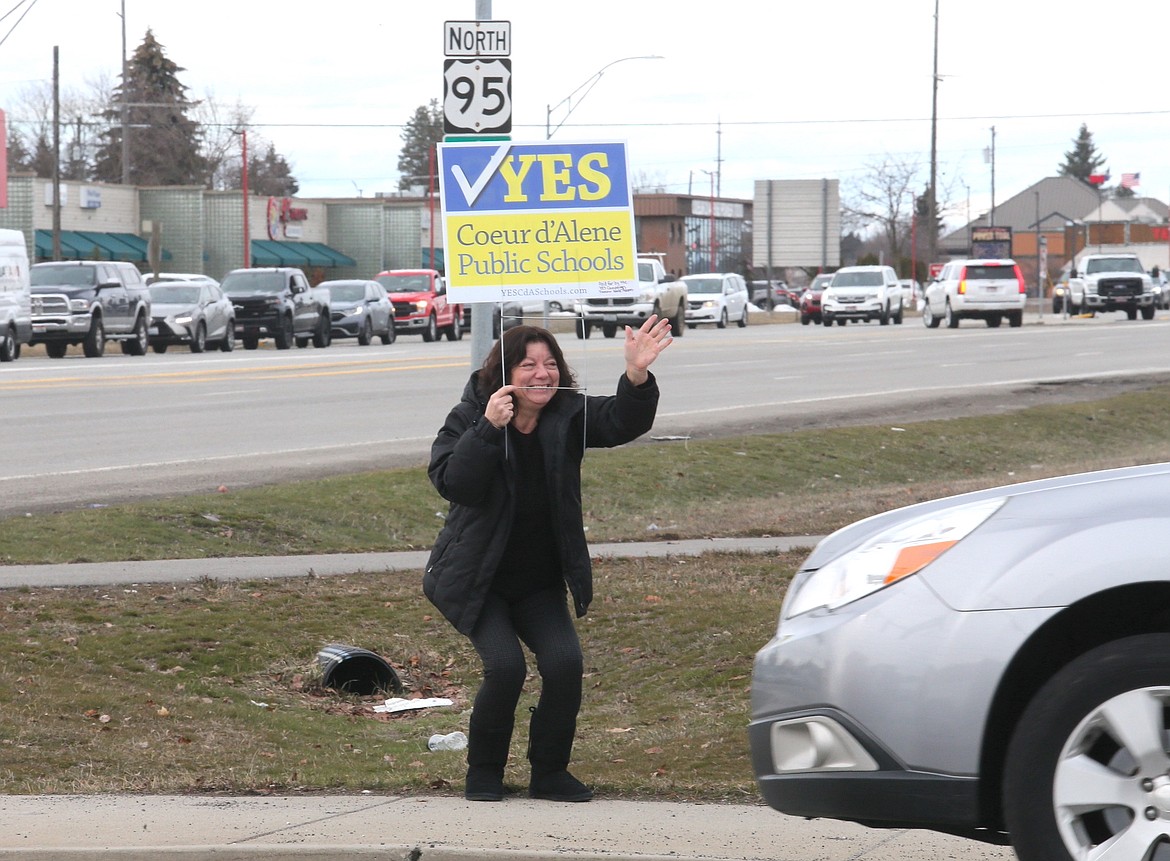 Marcy Canale, who has taught in the Coeur d'Alene School District for 25 years, waves to drivers on Appleway Avenue on Tuesday while holding a sign encouraging voters to vote in support of the district's levy elections.
Previous
Next
Four out of six school levies failed Tuesday in Kootenai County, with supplemental levies passing in the Post Falls and Kootenai Joint school districts.
It was a busy day at the polls, resulting in 27.8% voter turnout.
"Activity everywhere," said Chief Deputy Clerk Grace Blomgren late Tuesday afternoon.
Ballots had to be sent out to some precincts to avoid running out during the day, and Blomgren said that has happened in the past. No precinct ran out; the elections office tracks ballot inventory and watches for precincts that have high voter turnout.
"But not to the degree that we're doing right now," she said, "but I think it's because it was such a heated election in Coeur d'Alene."
County Clerk Jennifer Locke reported the elections office received almost 10,000 more votes in this election than in March 2021.
COEUR d'ALENE
Voters in the Coeur d'Alene School District voted 8,977 (48.97%) to 8,616 (51.03%), tanking the supplemental levy by a difference of 361 votes.
Superintendent Shon Hocker said the district has long relied on voters' support to fill the gap between state funding and the community's expectations.
"In our request to renew the longtime supplemental levy and meet the needs of our students and staff through the safety and maintenance levy, we were hoping to maintain a legacy we were entrusted with for over 30 years," he said. "With these levies not being supported by voters we will regroup, gather further information from the community and then decide how to move forward. As we have said, this levy was fundamental and not supplemental. The loss of 25% of our district's funding will have a significant impact on our ability to provide programs and resources our students have relied upon for generations, and we will do our best to maintain safe and thriving learning environments."
The safety and maintenance levy failed by a slim margin of roughly half a percent. Voters cast 9,603 votes in favor and 8,025 against. The levy needed 55% of voter approval to pass; it reached 54.48%.
"Unfortunately, with the failure of our school plant facilities levy for a second time and no other funding source to make needed and lasting repairs and improvements to our buildings, we will have to put off sorely needed projects for the foreseeable future," Hocker said. "We will continue to advocate for funding to address these critical needs at the state level, and our staff will do their best to keep our facilities functioning at an adequate level."
Alice Arambarri of Coeur d'Alene and Marcy Canale, who has taught in the district for 25 years, held "Vote yes for Coeur d'Alene Public Schools" signs at the corner of U.S. 95 and Appleway Avenue. Arambarri showed her support because her grandkids are Coeur d'Alene kids and her daughter is a teacher in the district. She and her husband volunteer in their daughter's classroom.
"We've seen the needs that the schools have and the shortages they have, and the Legislature does not fund our schools. We know that for a fact," Arambarri said. "We need to have both levies pass. We need to have support for staff, teachers, resource officers, nurses and all those positions. And we also need to have the maintenance levy pass to maintain our buildings and keep them safe and running."
On the same corner, Tom Meyer held a "Vote no" sign. Meyer said he does not live in Coeur d'Alene, but did not disclose the school district or municipality where he resides.
"I see how much they're going to be spending on schools and the schools have been such a dismal failure," he said. "What they're doing is they've got a lot of different agendas going on, they've got the transgender agenda going on in the schools and I just think the schools need to be accountable for what they already have.
"The levy, I understand, is going to be a very large one. I don't exactly remember how big it is, but it's in perpetuity. That means forever. I just don't think the schools are worthy of that."
Canale said she was out showing support for the levies because she couldn't imagine them not passing.
Voters in Coeur d'Alene have supported the supplemental levy since 1986.
"There's a lot of misinformation out there about what's actually going on," Canale said. "For the first time in a long time I just felt really compelled to be there for our kids. This is their future, it's our future. If these don't pass, we're going to see a lot of changes in the schools and it's going to be tough."
POST FALLS
With one levy on the ballot, voters in the Post Falls School District shared their support for their school district, and a supplemental levy passed with 3,363 "yes" votes for a total of 61.20%. A total of 2,132 people or 38.8%, voted against the measure.
"Thanks to our community and the Citizens for Post Falls Schools for their support of our 6,050 students," Post Falls Superintendent Dena Naccarato said. "We look forward to enhancing safety across all district schools and continuing current programming."
Naccarato said it is unfortunate districts have to ask voters every two years for operational funding because the state of Idaho does not meet its Constitutional obligation "to establish and maintain a general, uniform and thorough system of public, free common schools."
LAKELAND
The Lakeland Joint School District was unsuccessful in gaining voter approval to renew its two-year supplemental levy or to garner support for its school plant facilities levy. Voters cast 2,424 votes against the supplemental levy while 2,151 "yes" votes were cast, including ballots submitted by school district voters who live in Bonner County. The school plant facilities levy failed to reach the necessary 55% of voter approval to pass — 2,314 voted against the measure while 2,231 voted in favor.
Superintendent Lisa Arnold, who has worked in Lakeland for 32 years, said Lakeland School Board members now have a difficult decision to make.
"They can choose to modify the amount we ask our patrons for and rerun the levy in May or they can make the choice to listen to the patrons and figure out how to cut $9.52 million from our budget for next year," she said.
KOOTENAI
The Kootenai Joint School District's supplemental levy was approved, with 233 voting in favor and 177 voting against the measure. These numbers include ballots submitted by voters in Benewah County.
---
This story has been updated to reflect more ballots were sent to precincts with high voter turnout to avoid running out of ballots. At no time during Election Day did any precincts run out of ballots.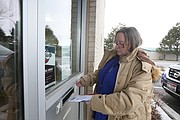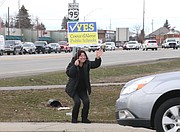 Recent Headlines
---