Patriot Front arrestees scheduled for arraignment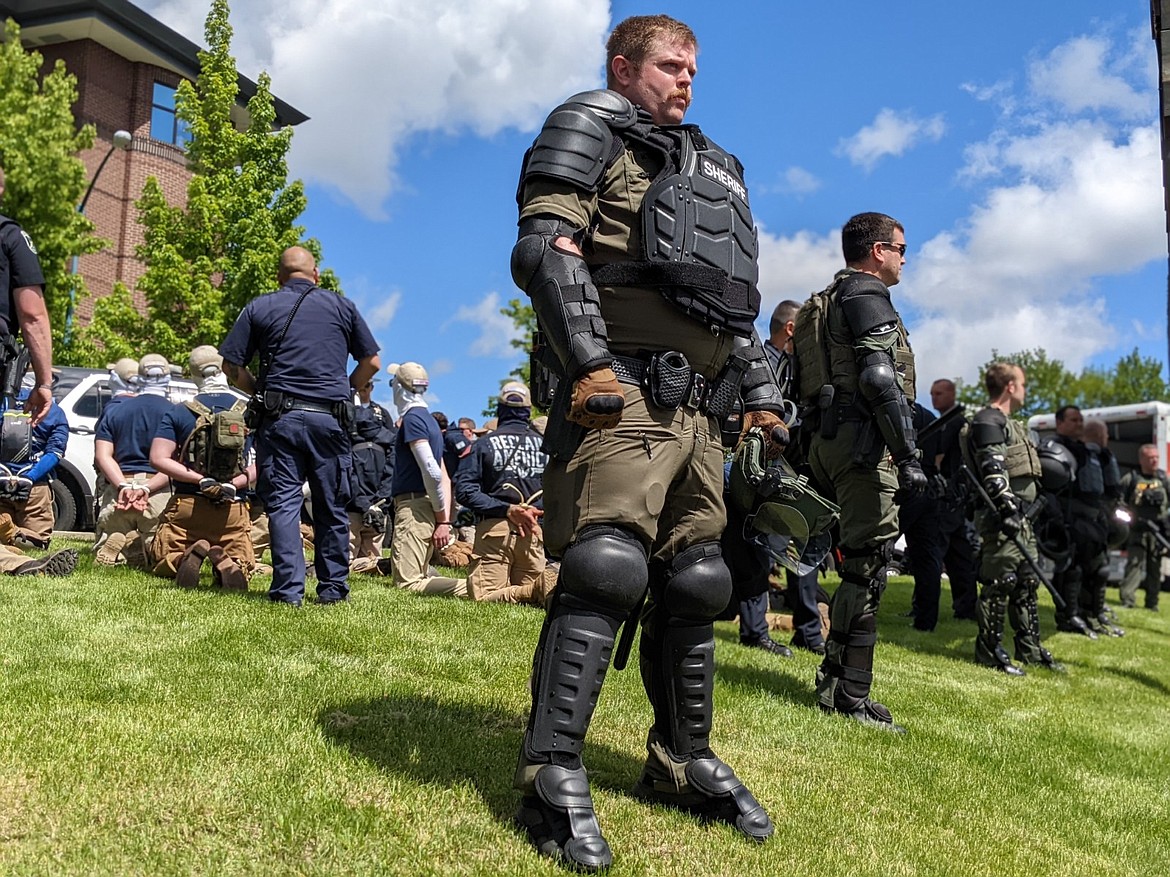 Kootenai County Sheriff's Office personnel in riot gear guard Coeur d'Alene police officers who arrested the individuals seen kneeling with their hands cuffed behind their backs Saturday in Coeur d'Alene. Those arrested are associated with the Patriot Front, a white nationalist, fascist organization. Each man is facing a charge of conspiracy to riot and potentially additional charges.
CHANSE WATSON/Hagadone News Network
by
KAYE THORNBRUGH
Staff Writer
|
June 14, 2022 7:50 AM
COEUR D'ALENE -- The 31 men associated the white nationalist group Patriot Front who were arrested in Coeur d'Alene Saturday must appear in person before a Kootenai County judge next month.
Court records indicate the men are scheduled for arraignment July 18.
The men, who each face a misdemeanor charge of conspiracy to riot, all posted $300 cash bail Sunday.
In Idaho, $300 is standard bail for most misdemeanor offenses; no judge set that bail amount.
Police found the group crammed into the back of a U-Haul truck on Northwest Boulevard, after a tipster reportedly called 911 about "a little army" seen piling into the vehicle in a hotel parking lot.
Reportedly in possession of shields, at least one smoke grenade and a seven-page operations plan, the men allegedly planned to incite violence amid the Pride celebration in City Park, then continue rioting along Sherman Avenue.
The Kootenai County Sheriff's Office identified all 31 men over the weekend. Among them was Patriot Front's founder, 23-year-old Thomas Ryan Rousseau of Grapevine, Texas.
The men were masked and dressed similarly in blue shirts, khaki pants and hats bearing the logo of Patriot Front, a white supremacist group that splintered from a different neo-Nazi group after the deadly "Unite the Right" rally in 2017.
The Patriot Front members come from 12 states, including Texas, Utah, Colorado, South Dakota, Oregon, Illinois, Wyoming, Arkansas and Missouri.
Just two come from Idaho -- Genesee and Idaho Falls, specifically -- while three appear to have ties to Spokane.
At arraignment, the men are expected to plead guilty or not guilty to the misdemeanor offense.
If defendants fail to appear in court for a misdemeanor citation, a judge may issue a bench warrant for their arrest.
Recent Headlines
---