Local law enforcement derail rioters' plans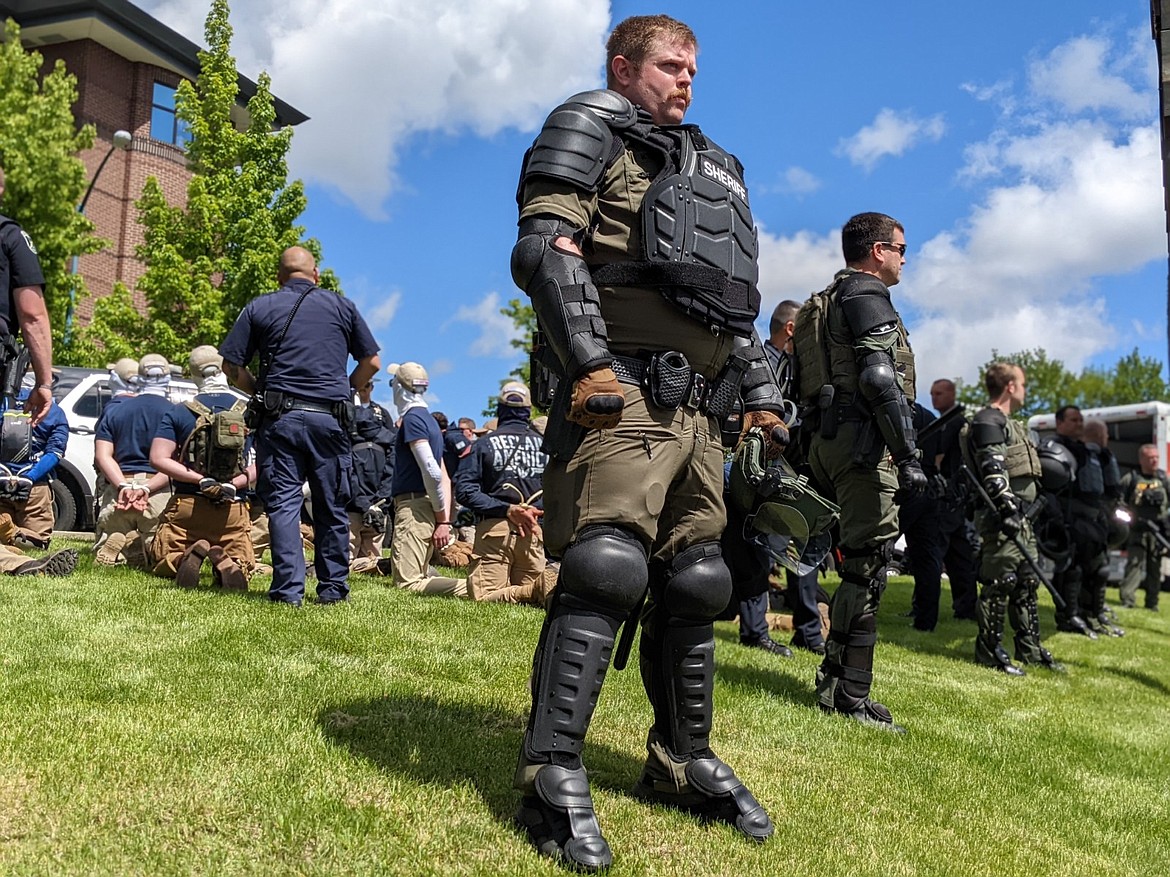 Kootenai County Sheriff's Office personnel in riot gear guard Coeur d'Alene police officers who arrested the individuals seen kneeling with their hands cuffed behind their backs Saturday in Coeur d'Alene. Those arrested are associated with the Patriot Front, a white nationalist, fascist organization. Each man is facing a charge of conspiracy to riot and potentially additional charges.
CHANSE WATSON/Hagadone News Network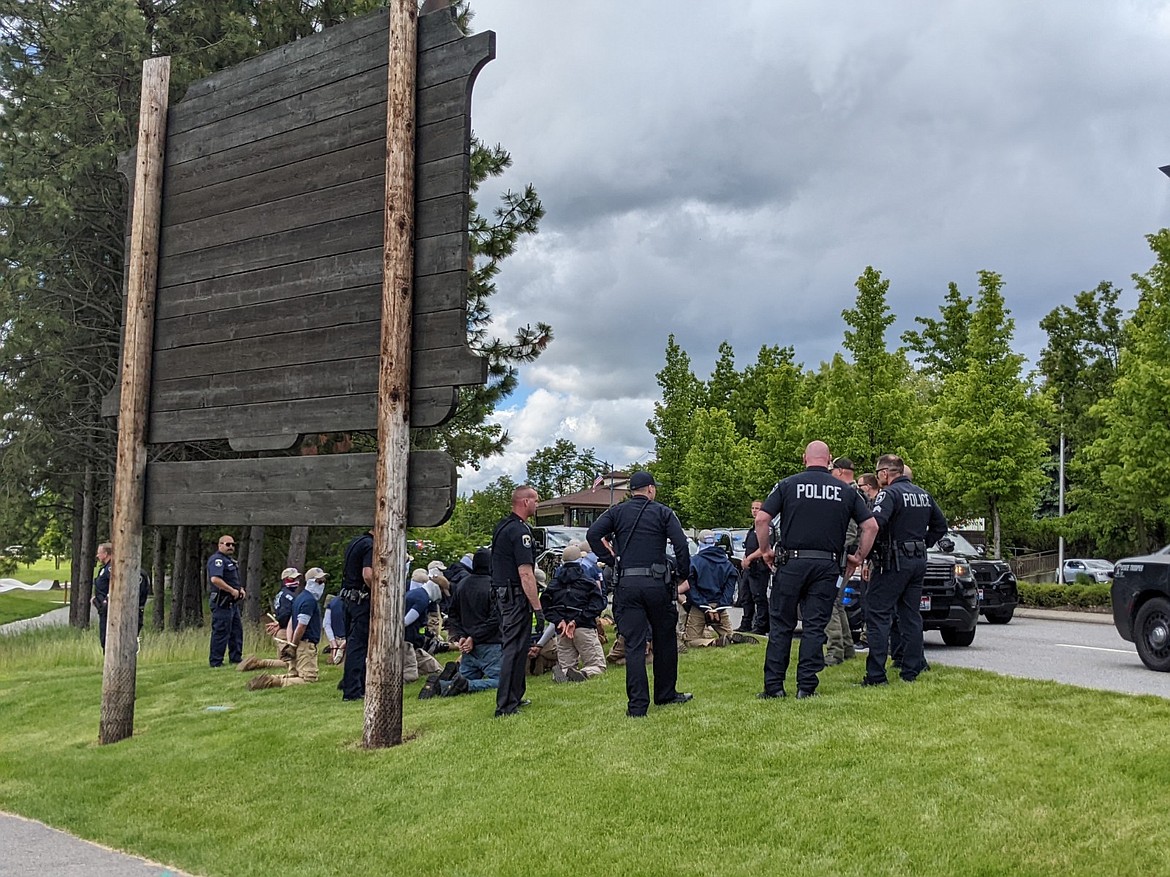 Law enforcement personnel detain 31 confirmed members of the Patriot Front, a white nationalist, fascist group, who were arrested Saturday in Coeur d'Alene on suspicious of conspiracy to riot.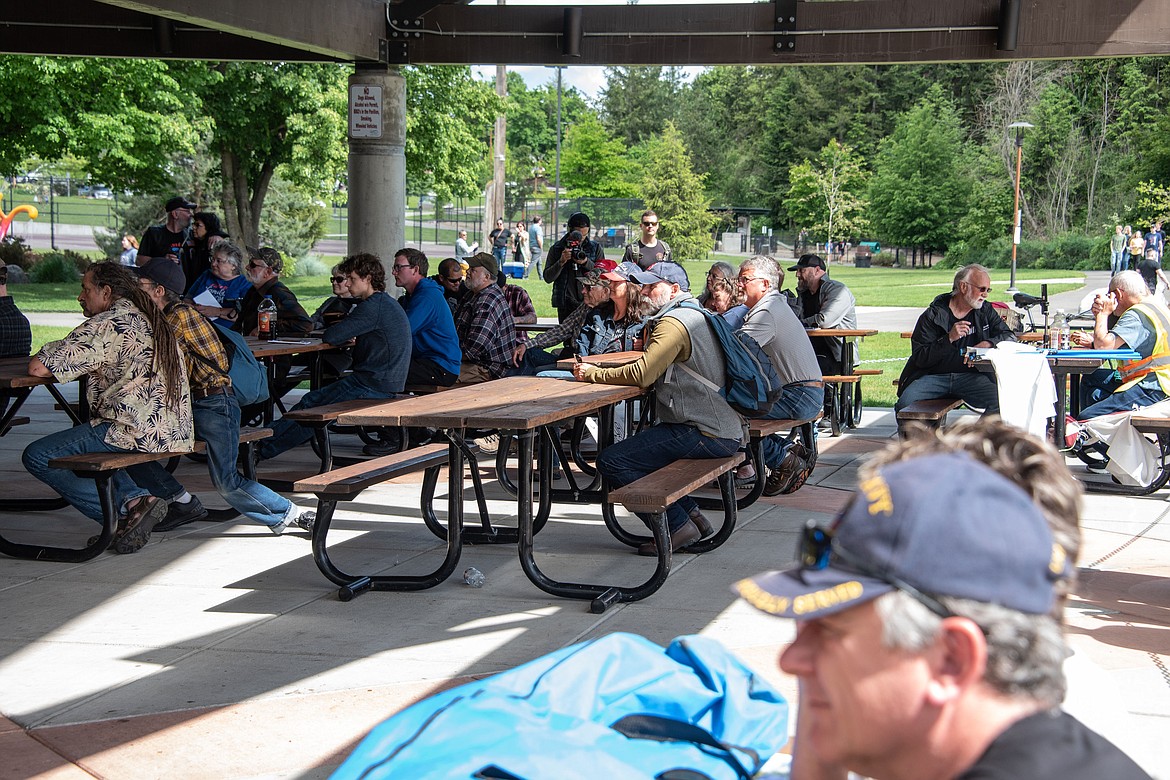 People at the Panhandle Patriots Riding Club event Saturday, June 11, at McEuen Park in Coeur d'Alene.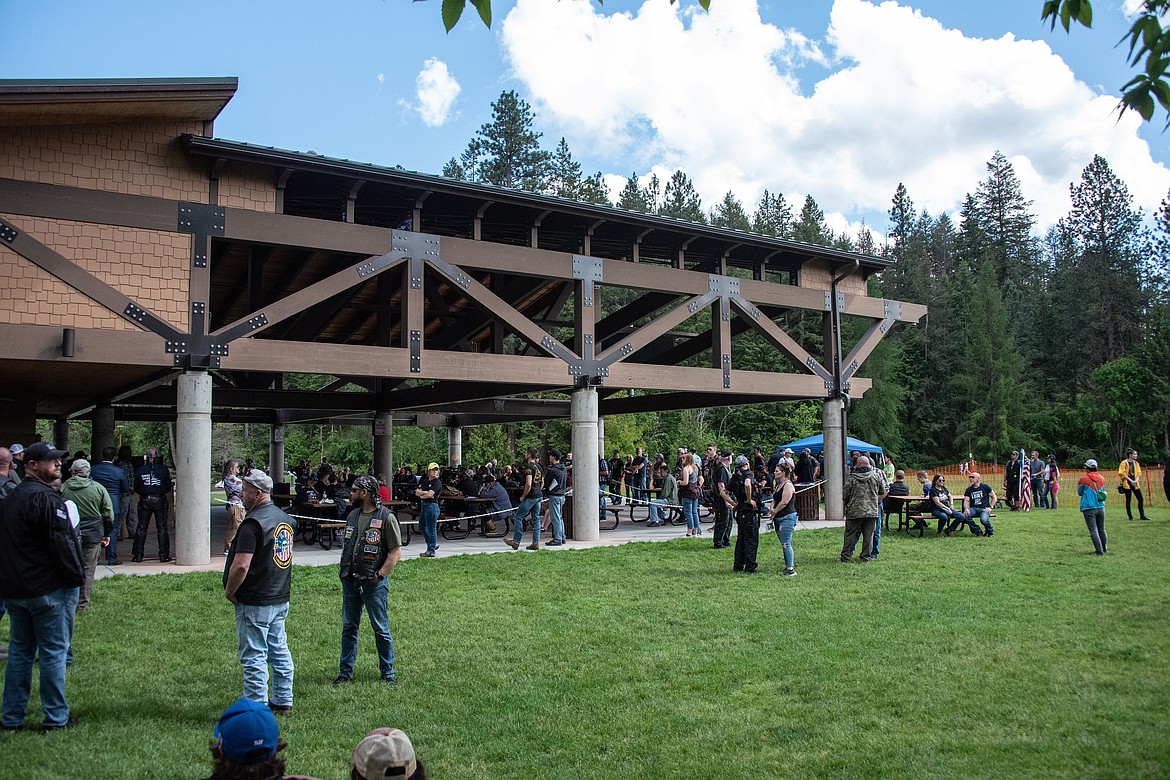 People at the Avista Pavilion in Coeur d'Alene's McEuen Park Saturday listen to speakers during the Panhandle Patriots Riding Club Day of Prayer event.
Previous
Next
by
KAYE THORNBRUGH
Staff Writer
|
June 11, 2022 8:40 PM
COEUR d'ALENE — Police in Coeur d'Alene arrested "a little army" Saturday of 31 masked members of the white nationalist group Patriot Front, who reportedly planned to wreak havoc in the city.
"They came to riot downtown," Coeur d'Alene Police Chief Lee White said during a news conference.
All 31 face charges of conspiracy to riot, a misdemeanor. Additional charges may be pending.
The mass arrest took place along Northwest Boulevard, not far from City Park where the North Idaho Pride Alliance was holding its annual Pride in the Park event.
Area law enforcement agencies coordinated a large, visible presence in downtown Coeur d'Alene Saturday, due to threats of a planned, armed protest organized by the Panhandle Patriots Riding Club.
Originally dubbed "Gun d'Alene," the protest was later rebranded as "North Idaho Day of Prayer." Members of the riding club spoke publicly of plans to "confront" those celebrating Pride.
Around 1:40 p.m., a citizen reportedly tipped off local law enforcement to a group of more than 20 people seen piling into a U-Haul truck.
Wearing face masks and holding shields, the citizen told police the group "looked like a little army."
Ten minutes later, police stopped the truck on Northwest Boulevard.
Multiple agencies responded to the scene, including Coeur d'Alene police, the Kootenai County Sheriff's Office and Idaho State Police. At least one federal agent was reportedly on scene. Coeur d'Alene police are in contact with the FBI, White said.
Authorities detained the 31 men in the truck without incident.
The group knelt on the grass, surrounded by police, hands zip-tied behind their backs.
Police searched the men one at a time, removed the masks covering their faces and loaded them into vehicles.
The men were dressed similarly in khaki pants, blue shirts and baseball caps bearing the Patriot Front logo. Many wore patches that identified them as being with Patriot Front.
The Southern Poverty Law Center describes Patriot Front as a "white nationalist hate group" that formed after the deadly "Unite the Right" rally in Charlottesville, Va. in 2017.
The organization reportedly broke off from Vanguard America, a neo-Nazi group that participated in the Charlottesville rally, and focuses on "theatrical rhetoric and activism" that can be distributed as "propaganda."
Patriot Front's manifesto reportedly calls for the formation of a white ethnostate in the United States.
White said the group arrested is "definitely not" associated with the loosely affiliated group of anti-fascist activists known as "antifa."
"This group is associated with Patriot Front," White told The Press.
The men reportedly had shields, shin guards and at least one smoke grenade.
Though witnesses at the scene described seeing firearms pulled out of the U-Haul, police did not confirm the presence of weapons Saturday.
White said the group also had paperwork "similar to an operations plan that police or military would put together."
By 8 p.m., 18 members of the group had been booked into the Kootenai County jail: Dylan C. Corio; Kieran P. Morris; Thomas R. Rousseau; Derek J. Smith; Dakota R. Tabler; Steven D. Tucker; Robert B. Whitted; Brandon M. Haney; James M. Johnson; James J. Johnson; Justin M. O'Leary; Forrest C. Rankin; Spencer T. Simpson; Devin W. Center; Winston W. Durham; Garret J. Garland; Nathaniel T. Whitfield.
Police said those arrested come from at least 11 states, including Washington, Oregon, Texas, Utah, Colorado, South Dakota, Illinois, Arkansas, Wyoming and Virginia.
At least one is from Idaho.
The men are expected to appear in court Monday.
Two unrelated arrests occurred at City Park, White said. Two people from Oregon were arrested, one for trespassing and one for disorderly conduct.
Police also reportedly issued three warnings at City Park throughout the day.
Meanwhile, at McEuen Park, North Idaho Day of Prayer continued. The event appeared sparsely attended compared to Pride, which drew hundreds of people to City Park.
Speakers at North Idaho Day of Prayer included former Washington state Rep. Matt Shea, a Republican who was found by a House-commissioned investigation to have planned and participated in domestic terrorism.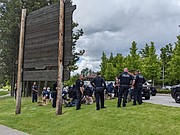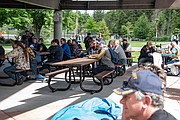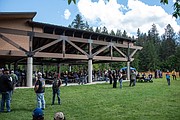 Recent Headlines
---