Give 'em a PhD in creativity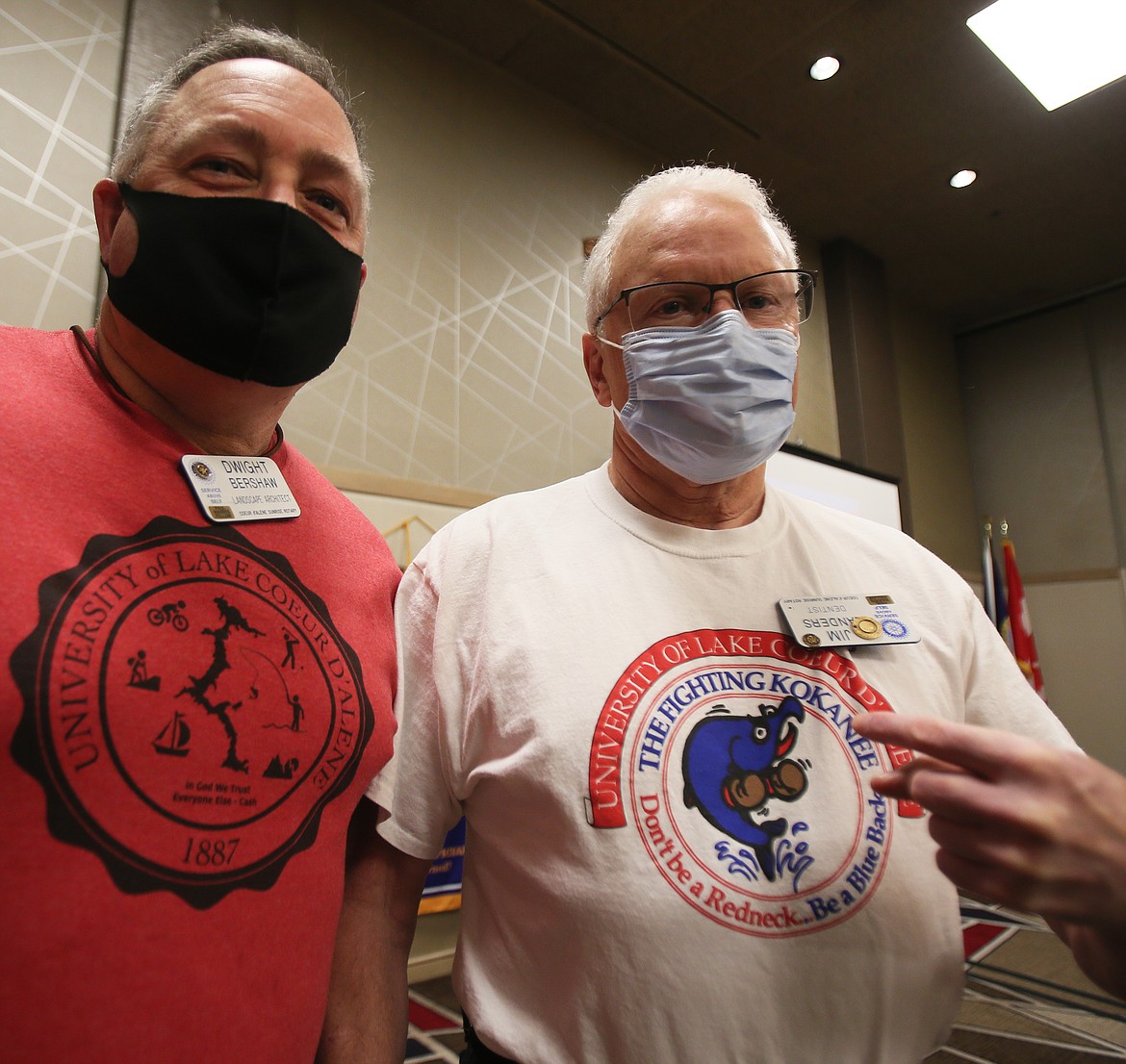 Coeur d'Alene Sunrise Rotary members Dwight Bershaw, left, and Jim Landers are two of the original minds behind the University of Lake Coeur d'Alene, which is taking on a more serious role as a community support project though their club. They're seen here sporting ULCDA logos Tuesday morning.
DEVIN WEEKS/Press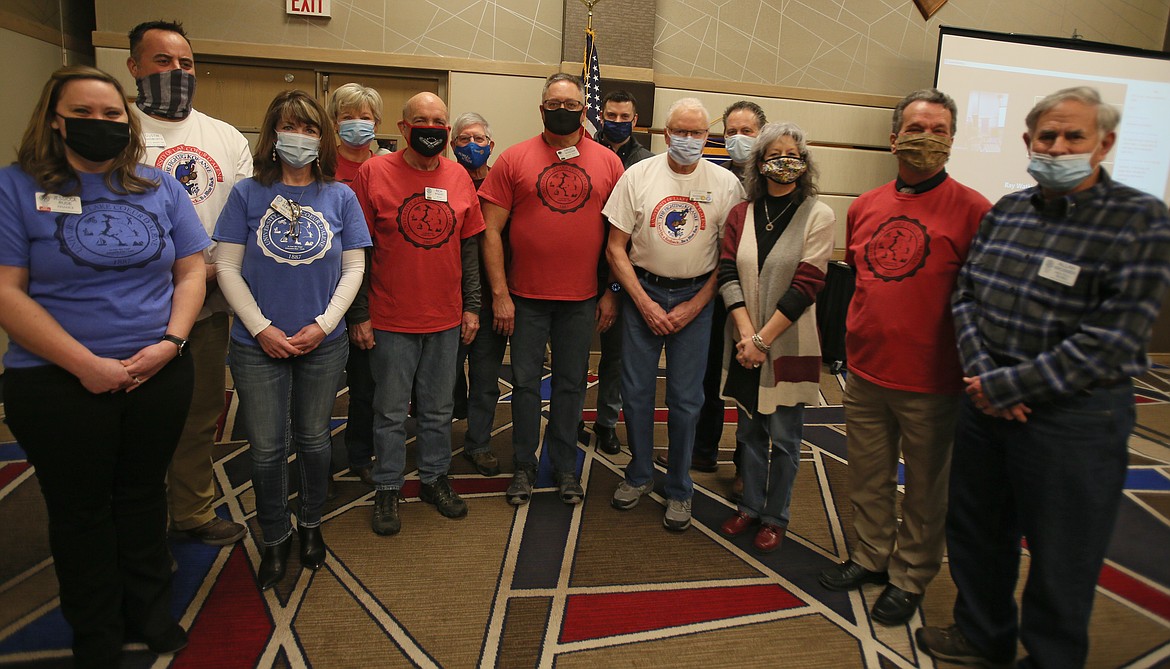 Coeur d'Alene Sunrise Rotary, is breathing new life into the fictitious University of Lake Coeur d'Alene as it evolves into a community project and connection point to support local nonprofits. Pictured Tuesday morning in The Coeur d'Alene Resort, front row, from left: Jessice Rude, LaDonna Beaumont, Rich Nyquist, Dwight Bershaw, Jim Landers, Anita Parisot, Chris Guggemos and Alan Krosner. Back row, from left: Dustin Ainsworth, Ada Loper, Sandy Emerson, Peter Howard and Mark Fisher.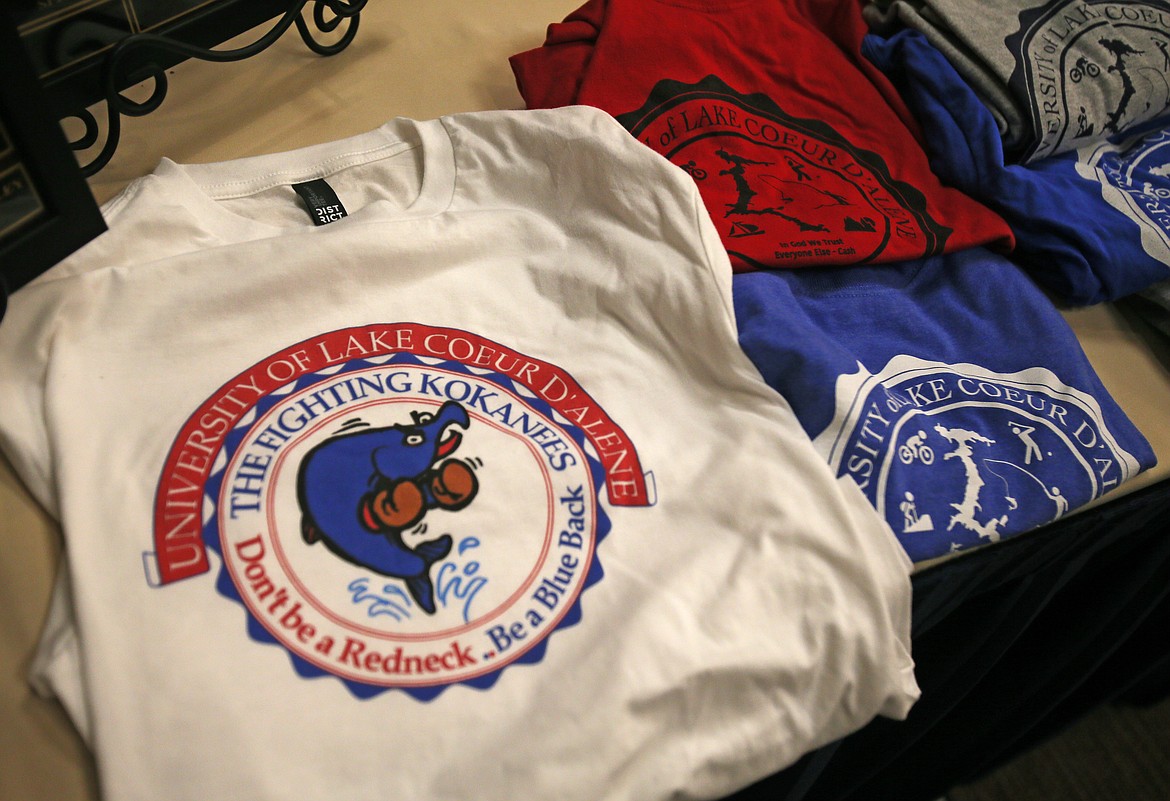 University of Lake Coeur d'Alene T-shirts are now available through Coeur d'Alene Sunrise Rotary to raise funds for local nonprofits and help connect those in need with resources that are available. The shirts are also for sale in the Cd'A Cornerstore on Sherman Avenue and will be sold in the Silver Lake Mall next week.
Previous
Next
by
DEVIN WEEKS
Staff Writer
|
February 28, 2021 1:30 AM
What began as an inside joke for the Coeur d'Alene Sunrise Rotary Club is about to make a serious splash in the community.
You may have seen the University of Lake Coeur d'Alene logo and its mascot, the Fighting Kokanee, on T-shirts, on social media or elsewhere in North Idaho. The concept first launched and shirts were first sold in 2019 at the Downtown Street Fair.
"It was so hilarious," said Jim Landers, one of the minds behind ULCDA.
"We constantly had people coming by the little booth we had going, 'University of Lake Coeur d'Alene, where's that at?' And we're going, 'Well, it isn't.' And they're going, 'Is it at the NIC campus,' and we're just like, 'It's fictitious. It's a joke.'"
Its taglines reflect the waggish nature of its beginnings — "Don't be a redneck ... be a blueback," "The institute of higher recreation," or, "Get the degree you always wanted from the university that never was."
Sunrise Rotary had fun with it and planned to expand on the possibilities of ULCDA, but COVID halted progress in 2020.
Its original purpose was to raise awareness for the "institute of higher recreation." However, the pandemic and Jan. 13 windstorm destruction spawned the idea to give ULCDA an even greater mission — kindness.
"It's a rebranding opportunity for us, with ULCDA," Sunrise Rotary President Dustin Ainsworth said. "We definitely all got behind this idea so we've taken some creative direction."
ULCDA has graduated from casual fundraiser to informational hub to support the nonprofits that serve local populations. Through ULCDA, Sunrise Rotarians will help the community help itself by providing education about what entities exist to offer assistance and what services those nonprofits offer.
"It's kind of good news - that's where we want to come from," Landers said.
T-shirts sporting the logo will be available at a kiosk in the Silver Lake Mall soon. The shirts are $20 each, come in blue, gray, white and gray and range in size from youth to 3XL. More colors and styles can be found at https://bit.ly/3qRH1J6 or through the University of Lake Coeur d'Alene Facebook page.
Proceeds from ULCDA swag will benefit a different nonprofit each month, starting with the first that will support Safe Passage, a local violence prevention center. The goal is to sell 100 shirts in 30 days.
Landers said Sunrise Rotary is hoping to sell the ULCDA shirts year 'round to have a revenue flow "so we don't have to have auctions and constantly beg for money from our members."
He said articles will accompany this work, sharing the stories of the real people who are impacted by the funds raised and the services provided by area resources.
"We hope it brings University of Lake Coeur d'Alene some business and makes it known to the community as to what we're doing," Landers said.
Info: www.cdarotary.org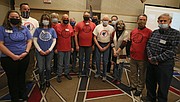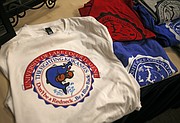 ---