Really, summer will arrive
by
BILL BULEY
Staff Writer
|
July 2, 2020 1:08 AM
Cold, rain expected to give way to sunshine by the Fourth
COEUR d'ALENE — July came in not with a bang, but with a cold, rainy, windy whimper.
Instead of tank tops and shorts, there were coats and hats.
Instead of air conditioning, the furnace was turned on or the fireplace was cranked up.
Instead of swimming, there was shivering.
A week ago, City Beach was packed with sunbathers. Wednesday, it was all but empty but for the birds.
That's what a 25-degree plunge — from 80s to mid-50s, will do for you.
"We did not come prepared for this," said Jim Ralston, a visitor from California as he wandered along Sherman Avenue.
He said he had to buy a long-sleeved shirt.
"We expected it to be a lot warmer, a lot hotter," he said.
But the high only reached 55 degrees on Wednesday, the coldest start for July since it was 60 degrees on July 1 in 1955 — 65 years ago, said climatologist Cliff Harris.
People awoke to 44 degrees Wednesday — close to the record-low of 39 for July 1 set in 1949.
"We're off to a flying start in July," Harris said, laughing. "This was supposed to be a pretty good day and we've had quite a bit of rain."
A lot.
Coeur d'Alene saw 2.64 inches of rain in June, above the 1.93 that's normal. And it got 4.43 inches in May, above the 2.37 that's normal.
For May and June, Coeur d'Alene had a combined 32 days of measurable precipitation, a record, Harris said, and more than double the normal 14 days.
"It was not that much on any one day. It was spread out," he said. "But that's a lot of days for May and June."
Some fog even rolled in.
"That's pretty unusual this time of the year, to say the least," Harris added.
While more rain is in the forecast for today, sunshine is said to be coming Friday and for the Fourth of July. Highs should be well into the 70s and could reach the 80s.
Harris said the abundant rainfall has been caused by a deep, upper level trough that's been hanging over the Pacific Northwest since mid-April.
But that appears to be moving off to the east, he said.
"I do expect it's going to be warmer," Harris said. "So it looks good. We're going to get out of this."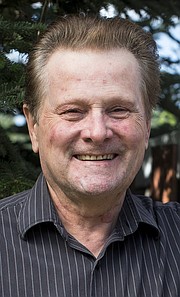 ---