Vintage planes race in Reno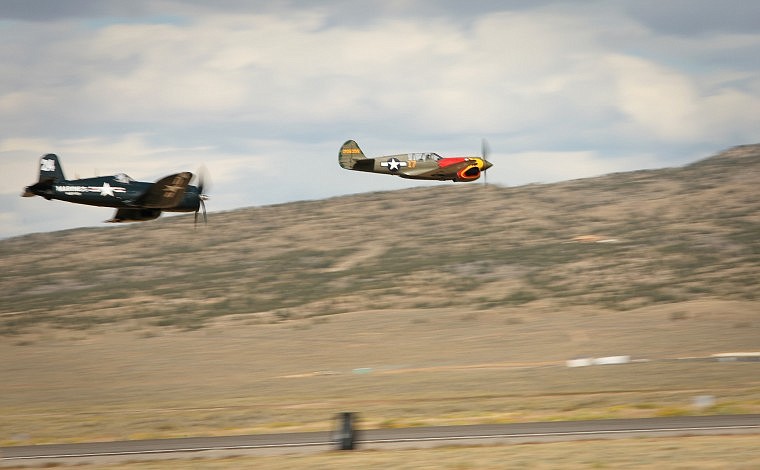 <p>Approaching the checkered flag in the Unlimited Silver Race, Boise pilot John-Curtiss Paul barely holds off Doug Matthews's Corsair to take seventh place. A stock P-40 Warhawk normally only races in the Unlimited Bronze category.</p>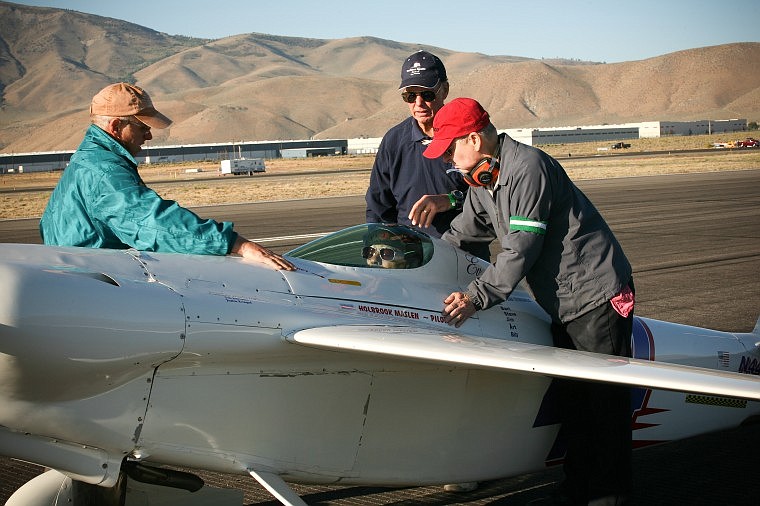 <p>Race 44 crew, Art Lazzarini, left, Jim Whitely and Bart Welsh tend to Boise pilot Holbrook Maslen, sealed in his cockpit before the ground start of a Formula One heat race, Sept. 17 in Reno, NV. Holbrook took fourth place in Sunday's Formula One Gold Race.</p>
Previous
Next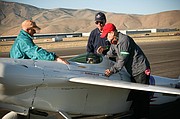 Although what happens in Yellowpine gets home before you do, news within the air race community in mid-September Reno isn't far behind. The tight-knit family groups that attend the races mix and mingle, sharing information and news at will. Few secrets stay hidden in the pits but knowledge about Idaho participation in the air races somehow stays below the radar of most Idahoans.
For years Idaho has had a memorable presence at the once-a-year Reno Air Races. The late great Gary Hubler of Caldwell won five consecutive Formula One Gold championships before falling to a mid-air race accident in 2007. Idaho pilot participant attrition since then has gone from five to one formula one pilot. Holbrook Maslen of Boise was this year's lone entry to fill the formula one roster, although Brian Reberry of Boise who skipped this year plans to be back.
Unlimited class P-40 Warhawk driver John-Curtiss Paul of Boise is a relative newcomer, but only as a race pilot. He literally grew up at the races when his mom and dad, Sue, and John, started participating decades ago. Paul cut his rookie teeth last year at Reno flying the Warhawk Air Museum's "Parrothead" P-40 to the first-ever Bronze Unlimited trophy win by a P-40 Warhawk. The P-40 was America's first-line fighter before and during the early World War II years but was eclipsed by the P-38 "Lightning," the P-51"Mustang," and many other fighters as aircraft technology advanced.
"I was able to come out here and focus on racing rather than all the logistics of racing in addition to that," Paul said. "I knew what to expect, I knew what the chute (downhill race start) would feel like so I could think of the strategy all year long and what we wanted to do in certain positions."
Paul also received good advice from veteran racers. More than most sports, air racers, while competitive, are also generous with their knowledge, a point Paul makes over and over.
"It's good to know which questions to ask but even more important than knowing the questions to ask is keeping your mouth shut and just listen," Paul said.
Maslen returned after a two-year absence and he was glad to be back in the saddle. His original intent this year had been to let another veteran pilot race his Wagner F1 this year. That pilot passed his rookie week test earlier in the summer but was too old to qualify for insurance. Maslen told him to keep trying and said he'd take the plane to Reno and even qualify it to give him more time to get insurance. When that didn't happen, Maslen decided to fly it himself.
Maslen, of course, is imminently qualified. Not only has he raced at Reno since 1993, he spent 36 years flying for United Airlines. Before that he owned California Air Taxi in Burbank, Calif., which was contracted to fly Ronald and Nancy Reagan during Reagan's governorship. Even earlier he started and ran a skydiving school in Elsinore, Calif. Currently Maslen instructs for Lori MacNichol, owner of McCall Mountain/Canyon Flying Seminars. Idaho has more backcountry airstrips than any other state and MacNichol's school teaches pilots to handle flying tasks in extreme vertical environments.
With all that experience, Maslen still approached his races this year with caution.
"I'm not that good right now, we fly once a year and it's been three years since I've flown formation," he said.
Gusty winds on Friday made for a squirrelly race takeoff for everybody. Some pilots were running into the dirt off the runway as Maslen lifted off in ground effect (just above the ground) flew outside the lights alongside the runway and past pilots who were in trouble.
During the race he kept position because of his admitted race rustiness, and because he wasn't 25 years old anymore.
"You can't take your eyes off him (the pilot ahead) because if something happens you have to pull up and I don't want to be where he pulls up, so I got wide," Maslen said. "I have to wait until he turns."
On his first day racing he felt every bump, wondering about his aircraft's ability to take it. Because of restricted cockpit visibility, Maslen flew conservatively but each race gave him more confidence in his airplane plus an increased peripheral awareness in himself.
Paul, on the other hand, feels very comfortable flying a tight race line, close to the pylons and low.
As young as he is, the P40 is like a second skin and flying it tight makes for a shorter course.
"The wider you fly the longer the course," he said. "You could be flying 20 miles per hour (indicated airspeed) faster than me but you're flying a course that's a mile longer than I am."
He's comfortable in that position but cautions that if you're not, you shouldn't be there. Flying that kind of line puts him at risk of cutting pylons, with each pylon cut bringing a time penalty.
In 2009, Paul won the Bronze Unlimited Race by overtaking Doug Matthews' F4U-4 Corsair on the last lap. He was close behind and high and when the opportune moment came, he dove, trading potential energy for speed winning the race.
This year Paul suspected that Matthews had eked out a few more horses from his Pratt & Whitney R-2800 Double Wasp Radial engine (2,000 original hp) and that required a slightly new strategy.
In Friday's Unlimited race, Paul was behind veteran P-51 pilot Dan Martin of San Jose, Calif, but ahead of Matthews's Corsair. Martin, one of Paul's childhood heroes, also flies a smooth, even race line, and Paul tried to keep his spacing just right.
"I could see that the Corsair was off my right and staying high," he said.
Paul knew that Matthews would eventually use that energy to try and pass him at some point so he flew just a little outside of Martin forcing Matthews to fly outside of them both. Slowly Paul would move out a little more keeping the Corsair behind and outside, then he'd dive back into the corners tight and gain ground on Martin again delaying the Corsair similar move, keeping him off time. It would take Matthews about half a lap to catch up again.
"I knew on the last lap what he was going to do, so I kept it a little wider than on the previous race," Paul said. "Then I just pulled hard, got tight, left him outside a little bit, dove down, and he was ready for that, too, I probably only won by a few feet."
Now that's strategy.
"It was a great race, following Dan Martin and having the Corsair right there," he said. "Doug Matthews and I had a ball."
This year John-Curtiss and Camille Paul brought their three oldest girls but left their 3-year-old son at home. Next year he'll be at Reno, too.
Maslen's wife, Evelyn, shares the ups and downs of Reno and connects with their crew and other air race friends. One crewmember, Art Lazzarini of Hailey, has over 20,000 flight hours, most of it instructing mountain flying over a 27-year span. Bart Welsh who has a vocational education doctorate also instructs for McCall Mountain/Canyon Flying Seminars and has over 25 years flying the backcountry, while Jim Whitely was a fellow United Airlines pilot with Maslen.
After a solid return to Reno Air Racing, Maslen said he plans to be back in 2011, while Reberry stated he'll come back with a new formula one race plane.
Paul will return with his faithful P-40 "Parrothead" plus a newly restored P-51C, "Boise Bee," named after World War II Boise pilot Duane Beeson who was a World War II 8th Air Force top scorer. Shortly after returning home, "Boise Bee" was flown for the first time since restoration and all signs are a go for 2011.
"That's probably going to be a 400 mile per hour airplane here at Reno," Paul said. "It's going to be a kick, it's going to be about 94 miles per hour more fun."
"Parrothead" continues to be a popular draw in the pits at Reno and even though the Parrothead name came from its World War II nose art paint scheme, Paul would not turn down a sponsorship from Jimmy Buffet and his Margaritaville chain.
Paul can picture it now, "Parrothead racing, live fast, fly slow."
Recent Headlines
---