IZ RANCH Open range cattle grazing on the IZ Ranch in Oregon in the old days.
July 15, 2018
Stories this photo appears in: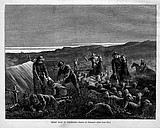 July 15, 2018 1 a.m.
Sheepherder Bill Tolman was scared to death of the patrolling detectives hired by the cattlemen to keep the sheep out of what they considered their grazing grounds. He was especially afraid of Jackson Lee "Diamondfield Jack" Davis, hired by Sparks-Harrell Cattle Company and paid $50 a month to intimidate sheepmen.
---