Golden opportunity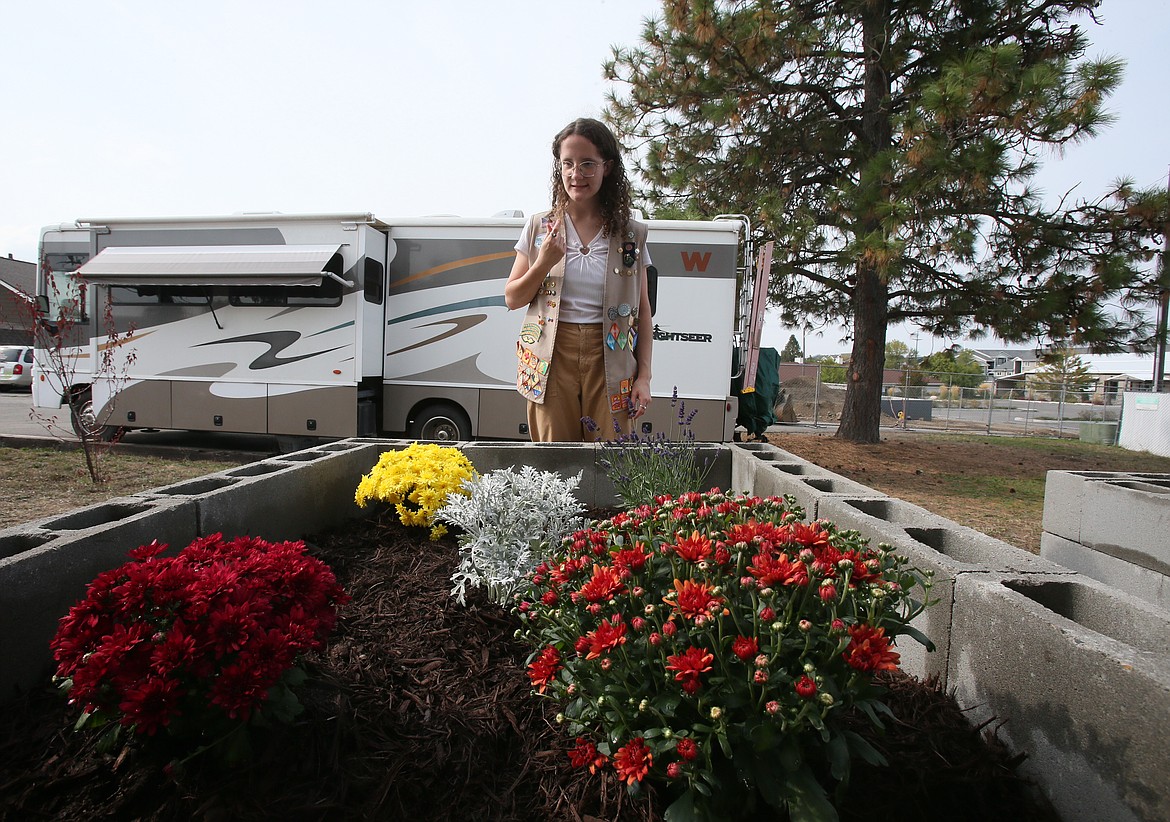 Girl Scout Sierra Livingston, 18, of Post Falls, looks over a newly. constructed raised flower bed Sunday at the Post Falls VFW. Livingston and her crew installed two raised beds, a bird bath and a flag drop receptacle and they landscaped a portion of the land as part of her Girl Scout Gold Award project.
DEVIN WEEKS/Press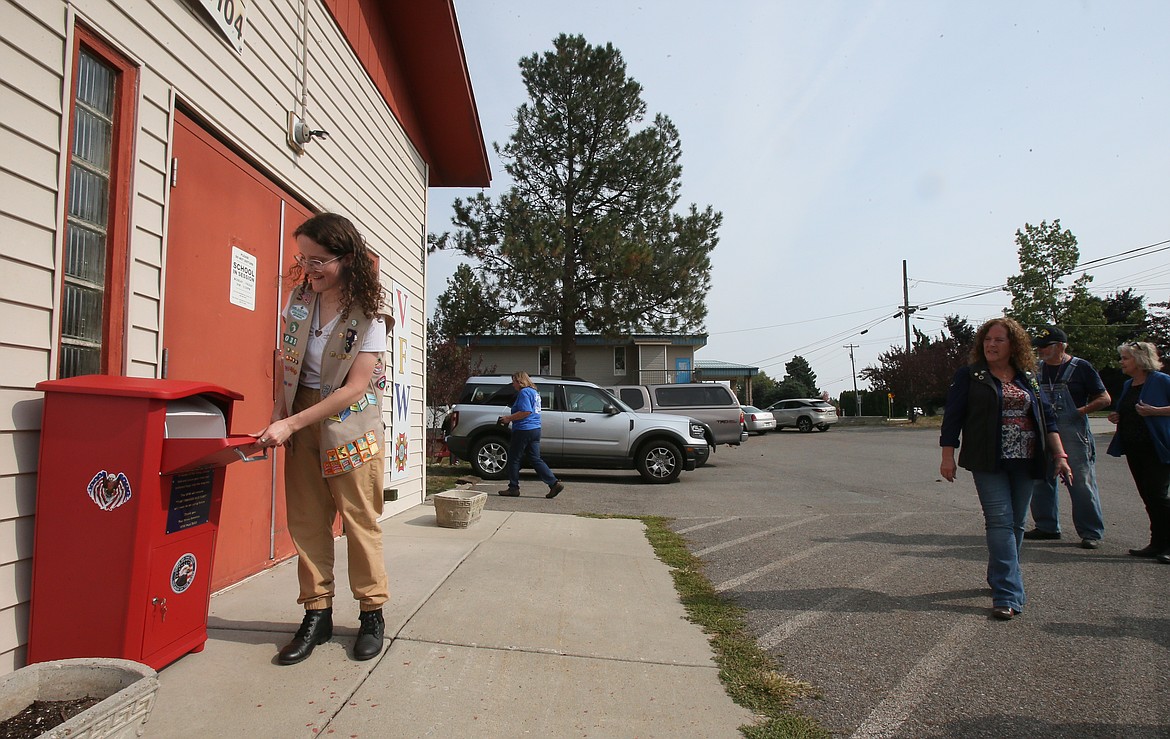 Sierra Livingston, left, demonstrates how to open the new American flag receptacle she installed Sunday at Post Falls VFW Post 3603. The flag drop, garden beds and landscaping at the site were all components of Livingston's project as she pursues a Girl Scout Gold Award.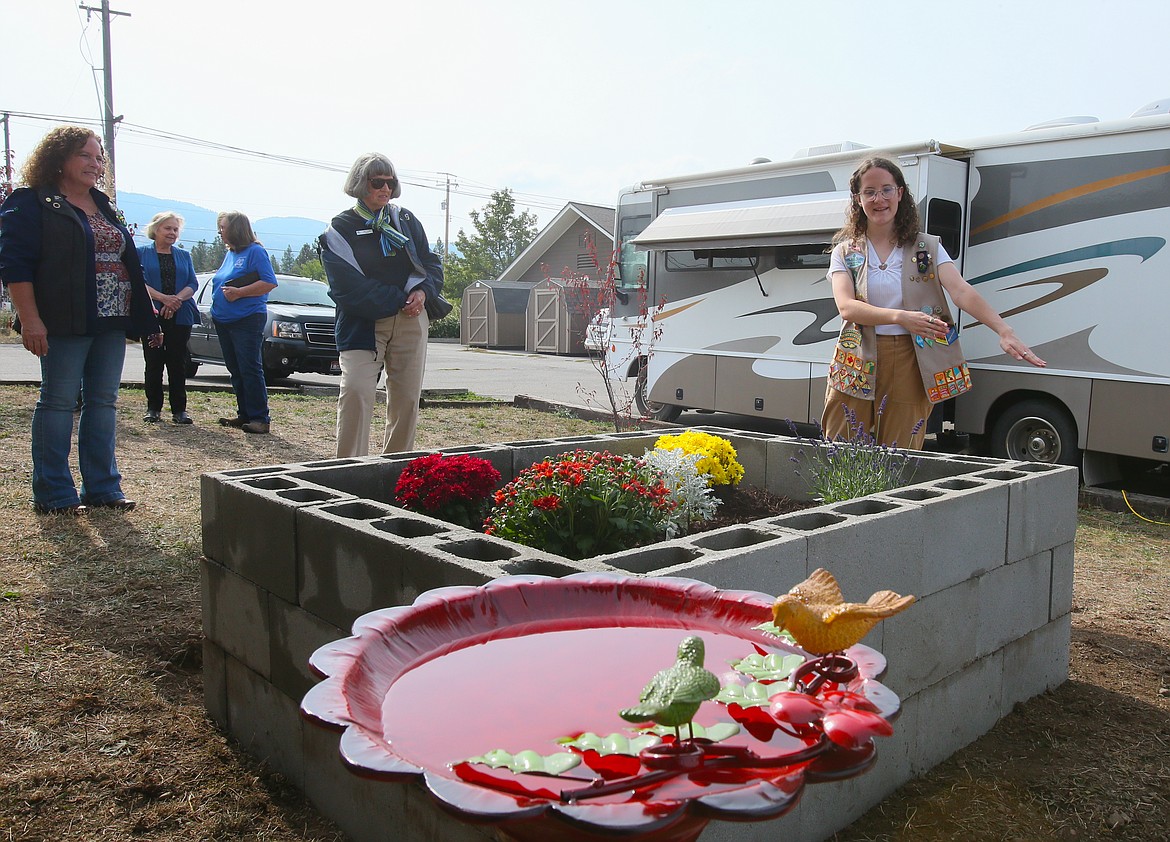 Longtime Girl Scout Sierra Livingston, right, discusses the work that went into the raised garden beds she and her team constructed at the Post Falls VFW as she presents the project to the community Sunday.
Previous
Next
by
DEVIN WEEKS
Staff Writer
|
September 25, 2023 1:08 AM
POST FALLS — The grounds of the Veterans of Foreign Wars Post 3603 in Post Falls have been spiffed up and a flag drop has been installed thanks to the work of a local Girl Scout and her recruits.
Sierra Livingston, 18, of Post Falls, is working on earning her Girl Scout Gold Award, the most prestigious Girl Scout honor. This requires pinpointing a community issue, conducting research, mapping out a plan and executing it.
Livingston landed on the VFW project because she realized the site needed a little love.
"It feels nice to get everything finished and see the final product of it," Livingston said Sunday during her community presentation at the VFW.
The Veterans of Foreign Wars of the United States is a veterans service nonprofit comprised of eligible veterans and military service members from active, guard and reserve forces. Livingston said she is excited to spread awareness about the VFW through her project.
"A lot of people who even live in Post Falls, they've never been here and they don't really know what this place is about," she said. "Doing something like this and telling more people about the VFW helps a lot."
She said the project went smoothly despite some challenges with the garden box measurements.
"We eventually got it," she said with a smile.
She was motivated to install a flag drop because she said people had been leaving old American flags on the ground when they delivered them for VFW members to formally retire.
"They didn't want a pile of flags just by the door," she said. "We made this so people would have that option."
Livingston, a 2023 Post Falls High School graduate, has been a Girl Scout since kindergarten. She belongs to Troop 2035, which has used the Post Falls VFW as a meeting site for a few years. As well as a service to the community, her project also served as a "thank you" to the VFW and its members.
Along with the garden beds and flag drop, Livingston and Church of Jesus Christ of Latter-day Saints volunteers landscaped the patch of land around the VFW's sign in front of the building.
Livingston will present her project to the Gold Award committee Tuesday.
"A lot of hard work was done," said Rose Coalson, council trainer for the Girl Scouts of Eastern Washington and Northern Idaho. "She pulled in a lot of community, which I think is great."
Linda Fox, president of the VFW Post 3603 Ladies Auxiliary, said the site is fairly old and has not undergone much maintenance. She said Livingston's project will enhance the building.
"It will make people go, 'Wow,'" Fox said. "I'm hoping this will make the building more welcoming."
Community members are welcome to drop old American flags in the receptacle to be officially retired. The Post Falls VFW is at 1225 E. Third Ave.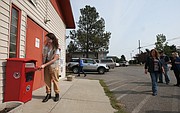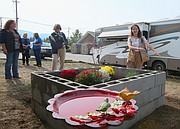 Recent Headlines
---