The respect tour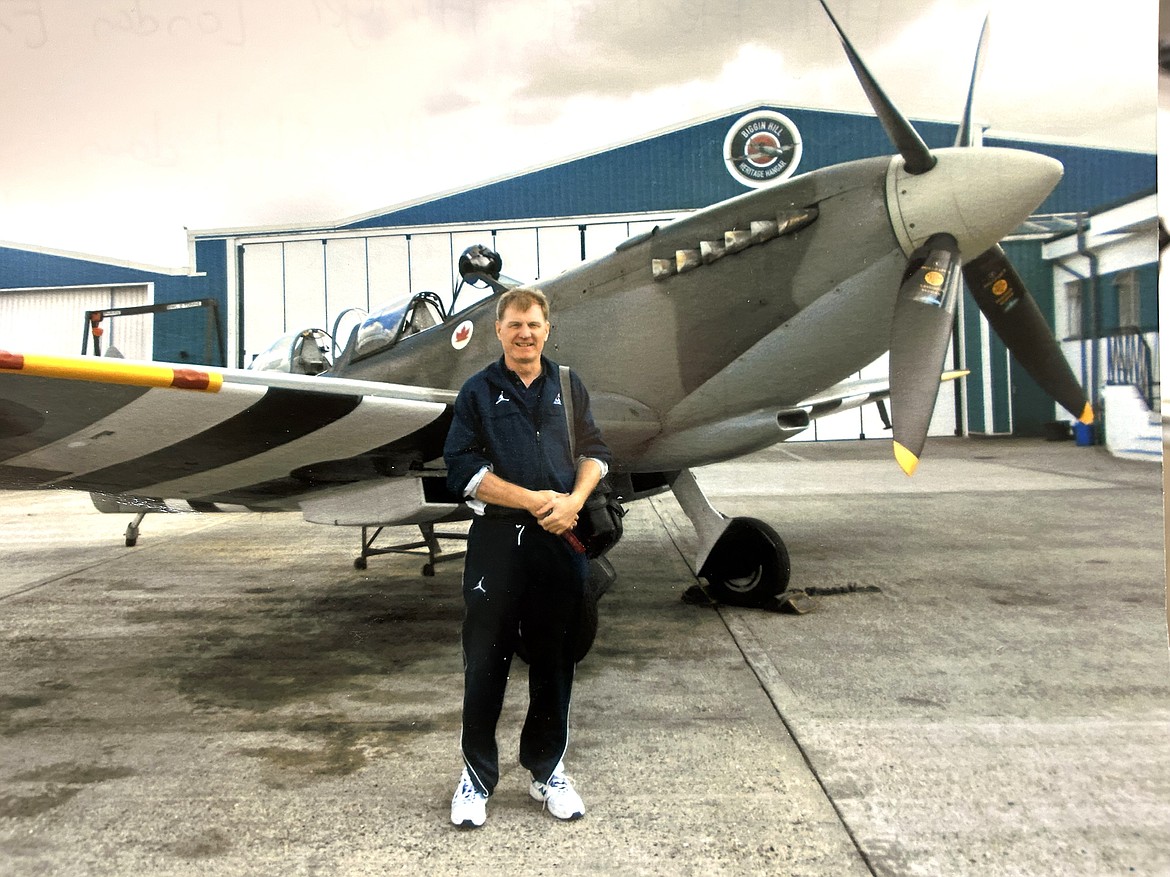 John Bryant stands at Biggin Hill Heritage Hangar in London, England, in front of a Royal Air Force Spitfire that fought in World War II.
Photo courtesy John Bryant
by
BILL BULEY
Staff Writer
|
September 25, 2023 1:07 AM
COEUR d'ALENE — John Bryant goes above, beyond and across the ocean to honor those who gave up their lives for him.
The Air Force veteran from Coeur d'Alene sees it as his duty.
"It's all about paying respect and not forgetting where you come from," he said. "That's my whole purpose in doing this."
Bryant, who served in the Air Force from 1986 to 2006 with tours in Sicily, Turkey, Italy and Holland, recently returned from his second extended trip to England where he visited 30 World War II museums and eight memorials to honor the Royal Air Force and others.
He spends a few hours at each, soaking in the history, the pictures and the stories of many who died for freedom. Each stop leaves him subdued.
"I love paying respects to the people that died for me," he said.
The youthful Bryant, in total, has visited 150 sites in Europe and 92 in the U.S. — 180 museums, 52 memorials and eight cemeteries.
In 2017, his 15-day tour in England took in 66 airfields and 34 museums.
Some of his past stops had honor rolls of those who died for their country.
"When you go in there and see 705 names on a board from one base, there are 705 guys that never got to come home," he said. "They never got to have any kids. They never got to have a family."
Next summer, he plans to visit 21 more sites in England and has 45 places still to visit in the U.S.
Bryant knows World War II planes. He speaks with enthusiasm and ease about the British Spitfire, a single-seat fighter aircraft, and the Me-109, Germany's fighter aircraft and key member of the Luftwaffe.
"These were the two planes that fought each other in the Battle of Britain," he said.
The American P-47 Thunderbolt fighter aircraft had an air-cooled engine and despite being shot up, even riddled with bullet holes, it often stayed in the sky.
"This is the plane you wanted to be in," he said.
But Bryant, who has flown in a B-17, remains awed and inspired by the courage of pilots and their gunners far more than the plane itself.
He said men as young as 18 and 19 years old, and many in their 20s, flew B-17 bombers in World War II at 22,000 feet, some 50 degrees below zero, on five-hour missions and longer.
The B-24 bomber's waist gunners didn't even have plexiglass to protect them from the cold as they were positioned in open window areas.
"Look at the hell those guys went through," Bryant said. "These people gave their life for me. Those guys were real men — they had nerves of steel."
He said the most humbling part of the recent trip was learning about the ordeal of Lt. Raymond King, a P-51 pilot of the 479th Fighter Group.
His fighter was damaged by flak in January 1945 and he radioed that he did not know if he was going to make it. King crashed 2,500 feet from the beach in Clacton but the water was 40 degrees.
"He was an Olympic swimmer and decided to swim to shore," Bryant wrote. "He made it only to die of hypothermia the following morning."
The Martell Tower where the East Essex Aviation Society Museum is located is named in his honor.
The trips take hundreds of hours of planning because it's a tight schedule of arranging transportation and lodging to reach all the museums and memorials in a short time. He is grateful for the help he has received.
Every step along the way is detailed in his itinerary. He chronicles his journey by photo, video and pen and paper.
Next summer, he's headed for the Midlands in Lincolnshire County to pay respects to the RAF bomber command of World World II.
"I already scratched out my next trip," he said, smiling. "The third one is going to be easy."
Bryant said there are a few others who have visited more than military 200 museums and memorials, and they stay in touch.
"We're going to see who the first one is to 300. I don't know if it's going to be me," he said. "I have 307 on my list and I plan on getting it done in the next six years. That will be my claim to fame."
When he visits World War II museums and memorials, whether in Europe or the U.S., he said it is humbling. It drives him to continue his tours.
"It makes me realize how lucky I am to live the way I live and have the things I have," he said.
Recent Headlines
---