Lasting love and laughter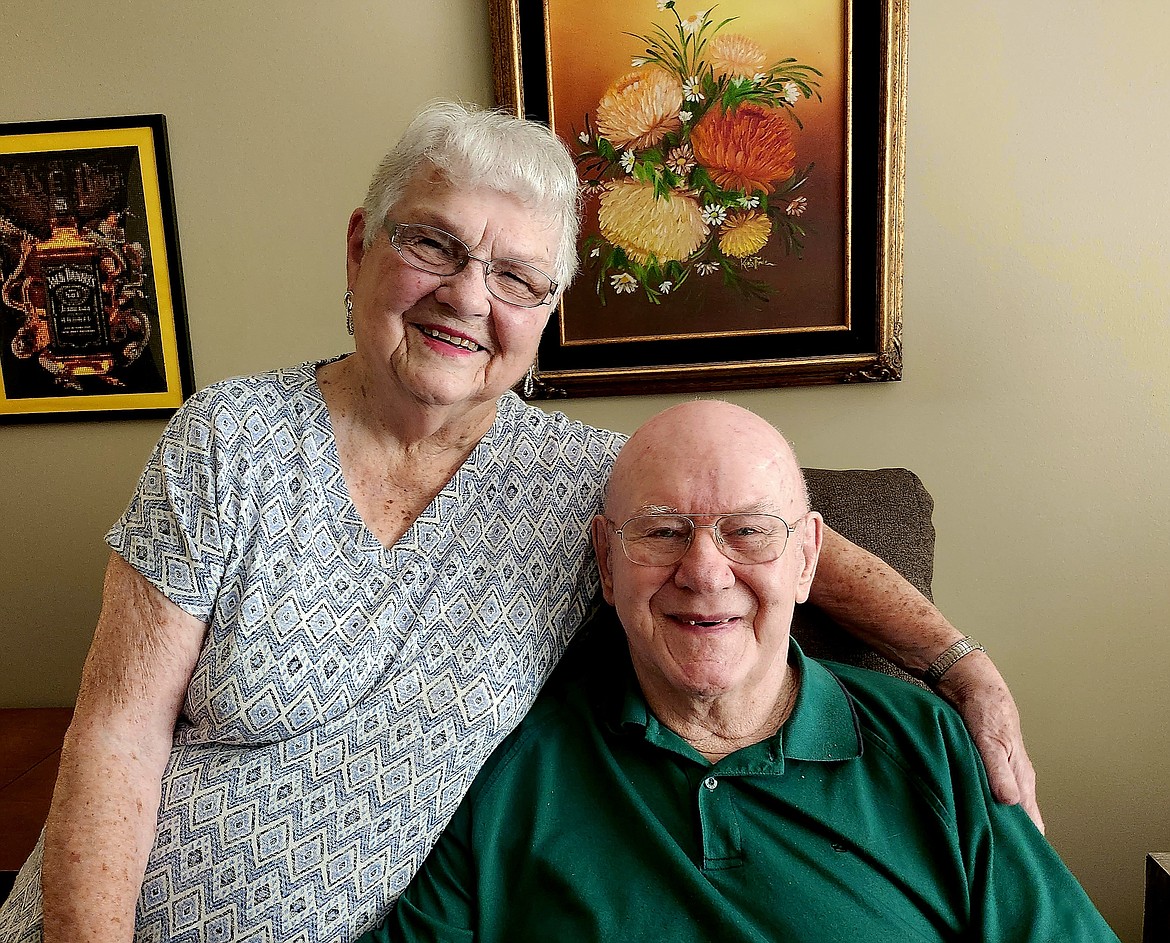 Veda and Don Ziegler at home.
Kerrie Thoreson photo
On Sept. 20, 1948, a young couple recited their wedding vows at the Hitching Post in Coeur d'Alene. Like all young married couples with stars in their eyes, they hoped to create a wonderful life together, but Don and Laveda Ziegler couldn't have imagined that they'd be celebrating 75 years of togetherness one day.
Well, today's the day they become 1/10 of 1% of married couples to achieve the 75th-anniversary milestone. The family gathered earlier in September to fete the couple. Their four children, Doneda, Craig, Kristi and Gail, along with 10 grandchildren and a bushel basket full of great-grandchildren are the living legacy of their love.
Last week, I visited Don and Veda at their apartment at Orchard Ridge. Don recently turned 95 and Veda will be 92 in December. What an enjoyable afternoon that included their daughter, Gail, whom I've known for years as the little sister of my school chum, Kristi Ziegler.
Don and Veda are in good health and good spirits and through all of the fun and interesting stories I was really drawn to the affection these two have for each other. Three-quarters of a century of marriage is a lot of shared history.
In retirement in the 1990s, the couple were in their 60s. They enjoyed road trips with their travel trailer and a group of couple friends. Don said one of their epic road trips was three months and 13,000 miles exploring Alaska. It occurred to me that you have to really enjoy the company of your spouse for all of that togetherness in the wilderness.
Until recent years, the extended family owned property on the Coeur d'Alene River, up past the Y on the North Fork. "Zigs Digs" was the scene of many multi-generation family gatherings and celebrations through the years.
Veda says a gift she received when she was 70 changed her life. She said she was always shy and somewhat introverted until she started singing in public, thanks to a singing machine and microphone. Now she's the queen of karaoke! Gail said her mom was popular at the river hangouts of The Spragpole and Prichard Tavern on karaoke night and at all family gatherings when the microphone comes out. Don said he's not a singer, but he's Veda's biggest fan. The feeling is definitely mutual.
Even now in assisted living, they are engaged in activities and socializing. They know they're blessed and are grateful for the life they share.
"Everyone was acting like our 75th anniversary was it," laughed Veda. "But we're looking forward to our 80th!"
Maybe Don will sing a duet with his sweetheart to mark that occasion. Cheers to the Zieglers!
• • •
If you're going to make a hole-in-one, during a championship tournament would be like a cherry on top.
Rory Blea did just that Saturday, acing the 17th hole at Prairie Falls on Men's Club Championship day!
• • •
Tomorrow, the last calendar day of summer, the collective sigh of lovers of sunshine and warm weather will be heard for miles. Cheer up. In nine short months, summer will return!
• • •
Happy birthday today to Hank Martin, John Stevens, Craig Brosenne, Haley Walker, Joe Roope and George Balling. Happy last day of summer birthdays tomorrow to Katherine Ekhoff, Stacy Hudson, Dina Hourland, Cliff Slaney and Haley Walker. Happy first day of autumn birthday Friday to Jerry Lyon, Vic Slater, Amy Reagan, Scott Livingston, Rosalyn Martin, George Beebe and my baby sister, Ronna Rankin Park. On Saturday, Laura King, Autumn Hanson, Craig Owens, Wendy Young, Patty Kilcup, Stacie McGrath, David Thompson, Sue Enright, Brian Harris, Denise Bechel and Madeline Singleton blow out the candles. On Sunday, father and son Charles Alexander and Scott Alexander share a birthday with Tracey Vaughn, Debbie Michalak, Justin Capaul, Steve Evert, Dorothy Benoit, Carlena Shove and Cathy Schaede. Wish a happy birthday Monday to James Hagman, Linda Riley, Susan Evans, Beck Jacobsen, Brenda Watkins, Gladys Sullivan, Michael McGee, Ronald Schlepp, Rebecca Greer, Marcia Hughes, Cheryl Snyder, Cate Kuhlmann, Teri Oliver and Charlie Taranto. On Sept. 26, Darci Allert, Hannah Riorden, John Oaks, Lisa McElwain, Teresa Hooker (70!) and Dan Tesutov do the birthday dance.
• • •
Kerri Rankin Thoreson is a member of the National Society of Newspaper Columnists and the former publisher of the Post Falls Tribune. Main Street appears every Wednesday in The Press and Kerri can be contacted on Facebook or via email mainstreet@cdapress.com. Follow her on Twitter @kerrithoreson.
Recent Headlines
---