Amy D'Orazi to receive Excellence in the Arts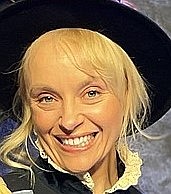 |
September 19, 2023 1:00 AM
COEUR d'ALENE — Amy D'Orazi will receive the Excellence in the Arts award at the 27th annual Mayor's Awards in the Arts next month.
Other winners announced Monday include Nick Thorpe, Arts in Education; David and Susan Denton, Support of the Arts; and Josalyn Benak, Student Excellence in the Arts.
The Lifetime Achievement Award will go to Roberta Larsen, who died last month at the age of 87.
The awards ceremony will be held from 5 to 8 p.m. Oct. 4 at the Hagadone Events Center.
The event will be emceed by Stephen Shortridge and showcase the talents of some of the best artists in the Inland Northwest including D'Orazi, Max Mendez of the Inland Northwest Opera, CDA Symphony, James Schmehl with the Lake City Drummers, Coeur d'Alene Summer Theatre and Aspire Theatre.
Ceramic artist Maya Rumsey and printmaker Sarah Windisch will create art in real-time.
Matthew Goodrich will entertain on the piano during the social hour and throughout the evening.
The Mayor's Awards in the Arts are presented by the Coeur d'Alene Arts Commission and the city of Coeur d'Alene to recognize and encourage excellence in the arts and to stimulate and support awareness of the arts throughout the city.
RSVP to Arts Commission Chair Mary Lee Ryba, mryba@gold.uidaho.edu, by Sept. 29.
For more information, contact Sherrie Badertscher, Arts Commission staff support, at sherrie@cdaid.org or 208-666-5754.
Recent Headlines
---