'Just a good man'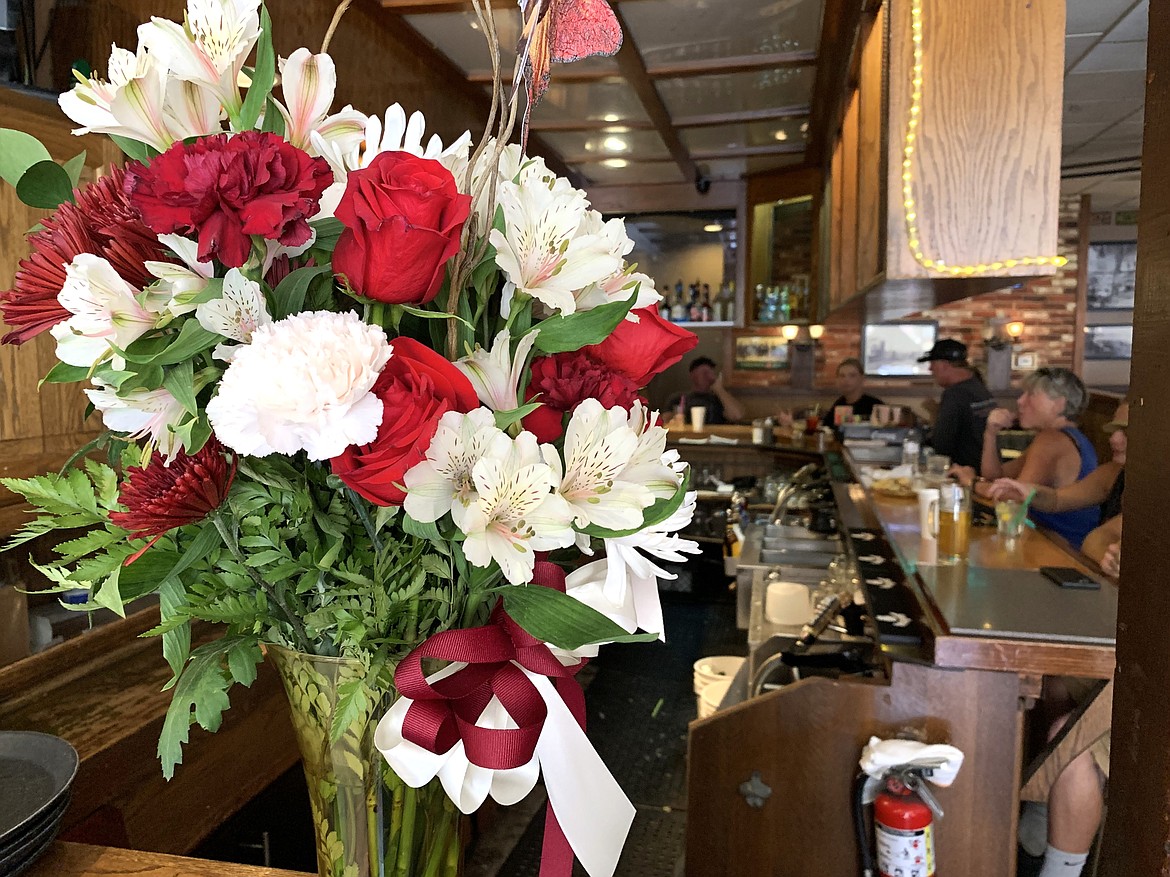 Flowers in memory of Aaron Robb are displayed at the Iron Horse Bar and Grill while customers sit at the bar Monday afternoon.
BILL BULEY/Press
by
BILL BULEY
Staff Writer
|
September 19, 2023 1:09 AM
COEUR d'ALENE — The words did not come easily for Angie Linton at the Iron Horse Bar and Grill on Monday afternoon.
She struggled to get them out, a few at a time, as she shared her feelings about Aaron Robb.
"One of the most giving people I have ever met," she said.
Linton has worked at the iconic Sherman Avenue establishment for more than a decade. She knew its longtime owner, Tom Robb, who died earlier this year at age 82, his wife and sons. One of her duties was to protect them.
"I love this family very, very much," Linton said.
Aaron Robb was a private person, Linton said. Both he and his father "helped an immense amount of people" with no fanfare.
"It's not common knowledge and it never will be," she said.
The mood was subdued in the Iron Horse as regulars had a few drinks and reminisced about Aaron Robb, who reportedly drowned Saturday afternoon in Lake Coeur d'Alene.
Two vases of flowers were near the bar, dropped off earlier in the day as a tribute to Aaron Robb.
Ernest Bristow said he knew Aaron Robb for about 25 years, worked for him in 1998 and considered him "the heart of this place."
"He was a lot like his dad," he said. "Just a good man all the way around. If you needed help, he'd help you."
Aaron Robb grew in Coeur d'Alene. He was a standout athlete in high school, played football at Notre Dame and was a member of its 1988 championship team that went 12-0.
He had run the daily operations in Coeur d'Alene for about 25 years, while brother Mike Robb operated the Spokane site for about as long — with their dad's guidance.
The Iron Horse marked its 50th anniversary last year.
Annette Brule stopped at the Iron Horse to have a drink in Aaron Robb's honor Monday. A regular customer, she said he was a terrific, personable guy and will be missed.
"I came here to pay respects," she said.
Brule said just last week she was chatting with Robb and he gave her a "big, old bear hug" and showed her old pictures of himself, his brother and his father hanging on the wall of the Iron Horse.
"I can't believe he's gone," she said.
Bryan Smith said he had known Aaron Robb for about 25 years and they had camped and boated together. He considered him a kind and generous man with a gentle soul who never said a bad word about anyone.
"He was always there if you needed him," Smith said. "He was always going to be there for somebody."
He said Robb embraced him when they recently saw each other.
"He gave me a hug and said, 'I love you, buddy,'" Smith said. "I said, 'I love you, too.' Normally it would be a handshake, very formal. I don't know what the difference was that day."
Smith said, in many ways, that Aaron Robb was the Iron Horse.
"He was here all the time. He loved his employees and loved his regulars," Smith said.
According to a press release, Kootenai County Sheriff's marine deputies, Coeur d'Alene tribal police and the Worley Fire Department responded to the Blackrock Marina in Rockford Bay for a reported drowning around 4 p.m. Saturday.
An adult male, later identified as Aaron Robb of Coeur d'Alene, was removed from the water and brought to shore before first responders arrived.
Medical personnel treated Robb at the scene before he was airlifted to Kootenai Health. He did not survive.
An investigation continues.
Mike Shibley sat at the bar Monday and chatted briefly about Aaron Robb. He said they were neighbors for a few years, Robb worked hard and was dedicated to his family.
Losing Aaron Robb so suddenly, Shibley said, "was a shock."
He considers the Iron Horse a downtown icon.
"I'd hate to see it stop," he said.
Linton said it was difficult for longtime staffers to adjust to life without Tom Robb. Without Aaron at the helm, it will be even more challenging.
"Really tough," Linton said. "Most of us are overwhelmed."
She didn't know how operations would be handled moving forward.
"Things are still in the process of working out," she said.
Angie Linton said she does know that Robb was a good boss and a good friend.
"I wouldn't have worked for him otherwise," she said.
Recent Headlines
---