OPINION: KCRCC has white nationalist ties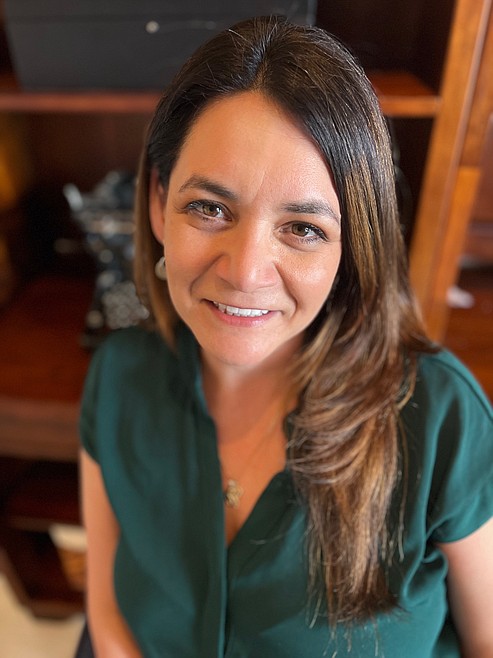 by
CHRISTA HAZEL/Guest Opinion
|
September 15, 2023 1:00 AM
The Kootenai County Republican Central Committee, led by Brent Regan, surrounds itself with white nationalist America First movement followers. This radical movement is led by Holocaust-denier Nick Fuentes and "Christian Taliban" activist Vincent James Foxx.
With KCRCC's help, out-of-state dark money strategists and extremist livestreamers have injected a network of hate into our local politics.
For context, the "America First movement" refers to a group called America First (AF). This is not a reference to a patriotic notion that America should be first in our policies. Rather, the "America First Movement" is an out-of-state, dark money funded, white nationalist organization, that intentionally misleads good faith Conservatives unaware of America First leader's racist beliefs.
Followers of America First, also known as Groypers, are pro-Putin, pro-Hitler, anti-Semitic, misogynistic and objectively racist. (See https://bit.ly/3pgqeE3.)
For example, AF leader Nick Fuentes stated "one white woman going to college is worse than the Holocaust" because she should be home having white babies instead.
KCRCC plus 14 candidates, including Scott Herndon, Dave Reilly and Branden Durst, paid out-of-state America First strategist Rory McShane over $222,000 since 2021. KCRCC alone paid over $20,000.
Nevada's McShane is a national-level out-of-state strategist closely tied to the U.S. Rep. Paul Gosar (R-Arizona). Gosar is known as the "father of America First" according to McShane.
McShane LLC has been connected to Proud Boys.
America First's treasurer, Vincent James Foxx, arrived in Kootenai County from California in November 2021. Foxx, promotes KCRCC often. Foxx claims political leaders in 2021 helped him decide North Idaho would be his new home.
Regan confirmed with reporter Heath Druzin that he's met Foxx but declined to give details.
Foxx appears at local meetings at North Idaho College — supporting McShane clients in public comment, without disclosing connections.
Foxx, 38, boasts he is the "Christian Taliban." Foxx wants to "roll back the rights of women," saying he won't stop "until The Handmaid's Tale becomes a reality." (See https://bit.ly/45auCUx.)
In another livestream, Foxx told lifelong Idahoans to "move back to California, because that's where your values are from… You are no longer welcome here."
With chilly eyes, Foxx is strident: "These people should not be tolerated. Those that are evil shall be stamped out. Even the Bible talks about this. This s--t should not be tolerated."
Foxx's website, Daily Veracity, promotes KCRCC's rating and vetting system model as gold standard. (See https://bit.ly/44SrDAc.) But by whose standard? America First?
"If the group has determined they are a 'Democrat in disguise,' they decline to endorse the candidate and the chances of them winning office in the area are slim. The Idaho Freedom Foundation also plays a big role in helping Kootenai County determine who's real and who's a fraud," Foxx explains.
The central committee won't disclose who attended the rating and vetting meeting in spring 2022 that rooted out "Democrats in disguise."
The meeting was wild: City Councilman Dan Gookin filed a police report on NIC Trustee Todd Banducci for threatening behavior. (Foxx has organized white nationalist support for Banducci since 2021.)
It's unclear if Unite the Right/Groyper activist, Dave Reilly, was there. (KCRCC paid Reilly's company $11K for video work that ended up on Foxx's website.)
Foxx admits he's an "anti-democracy actor with the aim of organizing, recruiting and seizing control of local institutions."
Foxx is emphatic: "There's nothing that you can do to stop us."
This is exactly what is happening across North Idaho: America First types are seizing control of local institutions, like North Idaho College, Kootenai County's Community Library Network and West Bonner School District. Foxx and his ilk are radicals in the extreme.
As a lifelong Republican, I think this is the wrong direction for Idaho politically and morally. Spending donor money in these directions violates the essence of the Republican Platform which calls on Republicans to reject antisemitism and racism.
Brent Regan won't transparently address this issue intelligently. Instead, he maliciously discredits long-standing Republicans seeking accountability and change.
Members of North Idaho Republicans champion principles of enduring freedom with individual initiative and personal responsibility. We also advocate fiscal accountability, limited government and effective local governance. North Idaho Republicans honor Idaho's conservative tradition while embracing innovation, promoting peace, freedom and human dignity.
I was raised to understand you are judged by the company you keep … and also by the company that keeps you.
White Nationalists believe KCRCC is a feather in their cap.
Brent Regan empowered this white nationalist America First movement network. Together, they feed off the worst kind of darkness in our communities.
Idaho Republicans have a choice: follow the platform or follow Brent, who refuses to distance from the AF crowd.
To those suggesting the Republican Platform feels "too woke," perhaps you're in the wrong party?
• • •
Christa Hazel is a former school board trustee and KCRCC Precinct Committee woman. She is a member of North Idaho Republicans.
Recent Headlines
---