Disability agency Chrysalis opens in Cd'A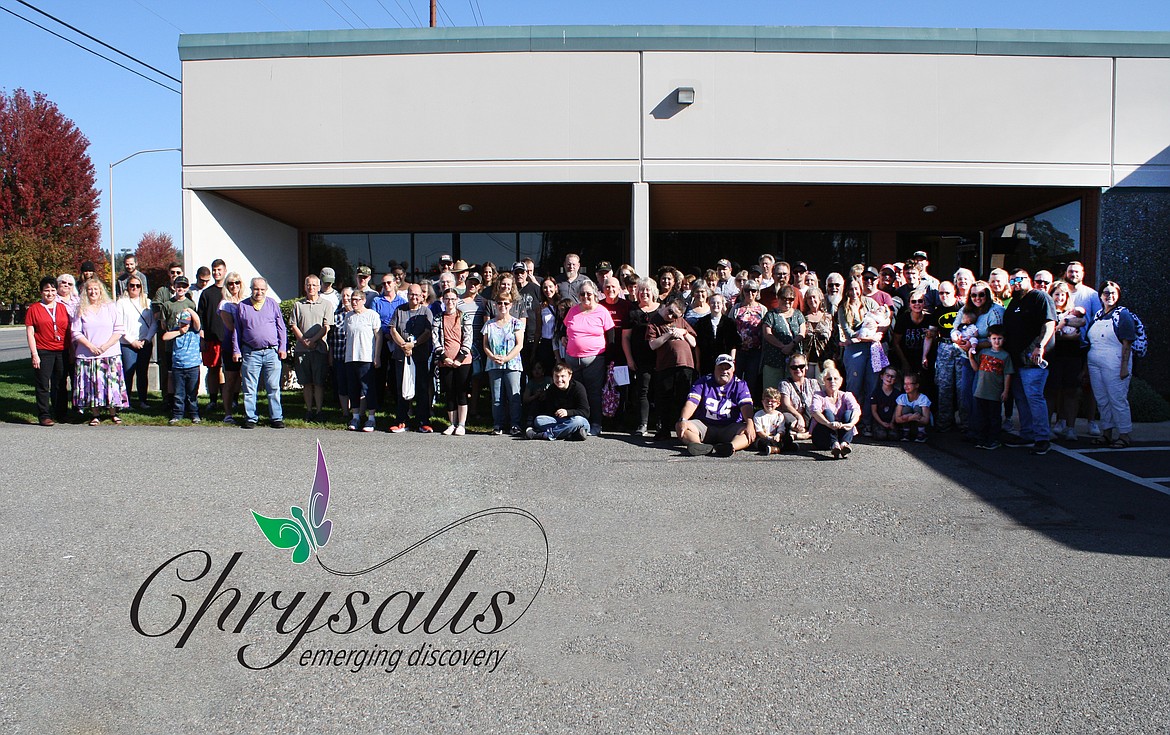 Clients and families of Chrysalis at 280 W. Prairie Ave. (Suite 3), a Developmental Disability Agency (DDA), celebrate at the open house.
Courtesy photo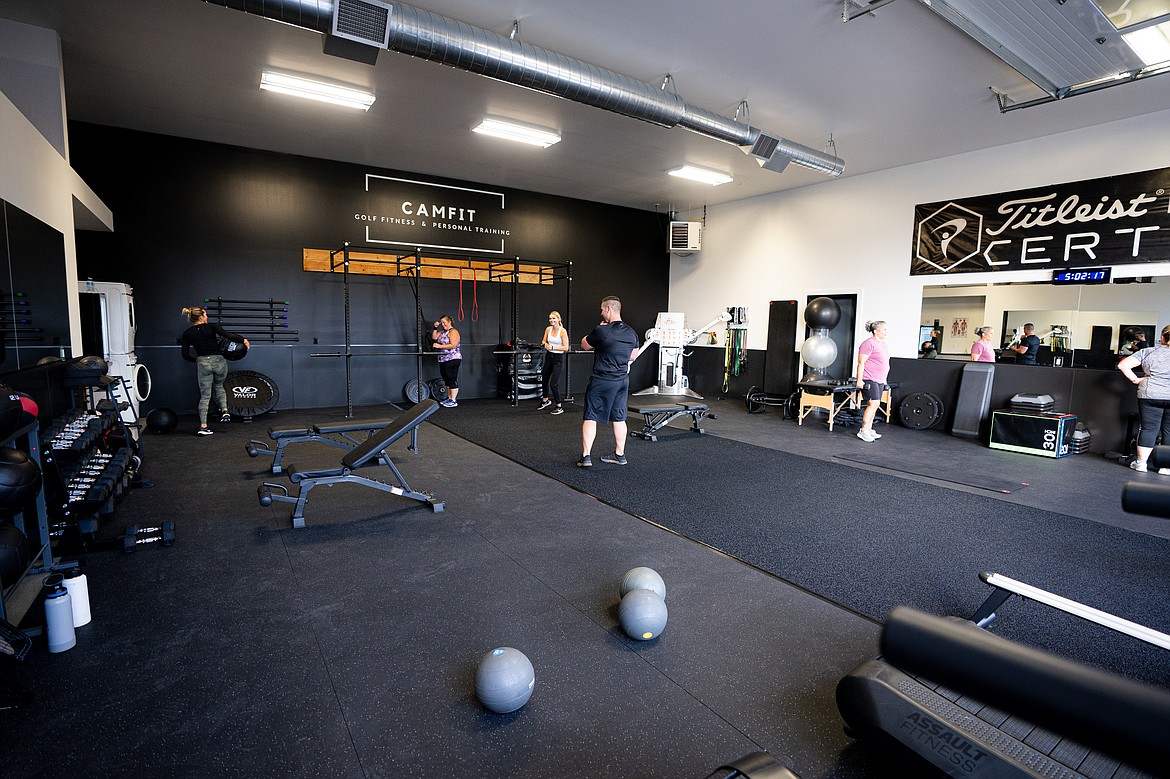 Members exercise at CAMFIT Golf Fitness & Personal Training in Coeur d'Alene.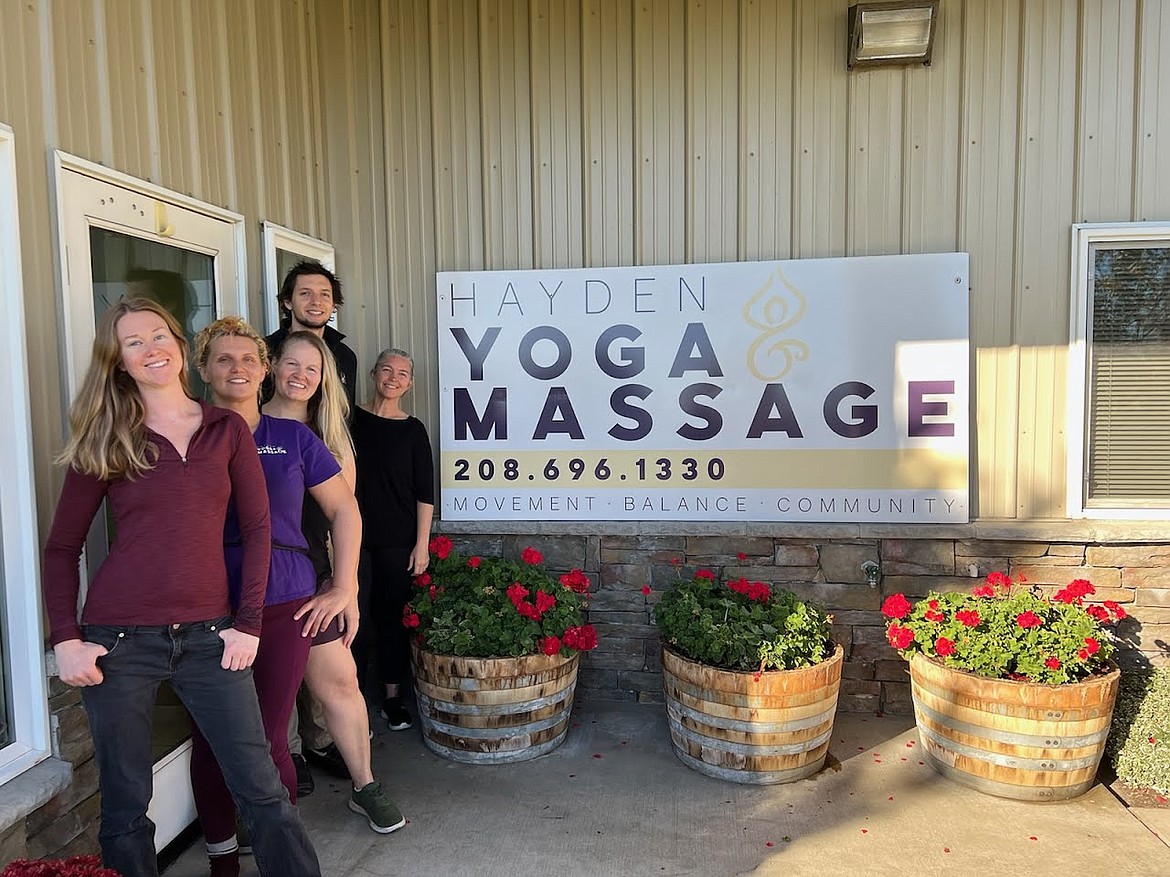 From left: Julia Norris, Danielle Dees, Sarah Digre, Jake Digre and Rachel Schell of Hayden Yoga & Massage.
Previous
Next
A Developmental Disability Agency (DDA), Chrysalis has opened at 280 W. Prairie Ave. (Suite 3). Between 150-200 people, mostly clients and families, came to celebrate the open house two weeks ago.
A DDA provides support, training and personal development for people with various disabilities. Chrysalis serves people who have very low cognitive and/or physical skills to those with extremely high skills but specific challenges.
Classes include things such as how to order from a menu, purchase a loaf of bread and say "hello" in a social setting. Other skills include assistance in obtaining jobs, writing resumes and responding to interviews.
With hours of 8 a.m. to 4 p.m. weekdays, key people include Terri Johnson, president, and Rosanne Yates, vice president. Phone 208-660-5737. Check www.chrysalis-dda.com.
CAMFIT opens on Sunup Avenue
Offering golf fitness and personal training, CAMFIT has opened at 199 Sunup Ave. in Coeur d'Alene.
The one-on-one training is for golfers, non-golfers and seniors focusing on strength, flexibility and functional movements necessary for the golf swing as well as life as people age.
The personal training studio opened in 2020 in Dalton Gardens and is open as a private-by-appointment facility with Cam Abey, Madi Brown, Derek Kolar and Gabe Dorosh. Phone 208-964-4076. Check www.CAMFITCDA.com.
The grand opening will be 11 a.m. to 2 p.m. Oct. 28 with golf and fitness competitions and a silent auction with proceeds to benefit Safe Passage.
Hayden Yoga & Massage opens in Hayden
With therapeutic massage, yoga, energy healing and miscellaneous workshops and events, Hayden Yoga & Massage has opened at 181 W. Commerce Drive in Hayden.
Owners Jake and Sarah Digre started the joint business in 2015 and now have a team of more than 25 employees and contractors. The new space has five treatment rooms and a 1,600-square-foot yoga studio.
Massages began at the new location Oct. 11. Yoga will move from 9751 Government Way (Suites 4 and 5) to the new place Oct. 28 with the first class at 8 a.m. Office hours are 8:30 a.m. to 6:30 p.m. Monday through Saturday and 10 a.m. to 3 p.m. Sundays. Phone 208-696-1330. Check www.haydenyoga.com.
Now the Tidbits
• With a grand reopening and expansion event planned for 5 to 9 p.m. Oct. 29, Madrone Beauty has reopened in a larger facility at 157 W. Hayden Ave. (Suite 102). Hours are 10 a.m. to 7 p.m. daily with appointments on request. Phone 208-809-8009. Check www.Madronebeauty.com. Check Instagram and Facebook.
• Specializing in men's haircuts, beard trims, brow waxing and shaves, Man Shop will have a new location at 1438 W. Appleway in late October or early November. Discounts include seniors, veterans and first responders. Hours will be 9 a.m. to 7 p.m. weekdays, 9 a.m. to 6 p.m. Saturdays and 10 a.m. to 5 p.m. Sundays. Check www.themanshops.com. Another new place will be at Stateline in March.
• Possibilities has closed on Sherman Avenue and moved to an area inside Seasons restaurant building on Lakeside.
• Offering a wide range of medical, health and wellness concerns, Ironwood Family Practice will be expanding to a new facility at 3815 Schreiber Way (Suite 102). The physician-owned clinic has been at 920 W. Ironwood Drive (Suite 101) since 1986. Hours are 6:45 a.m. to 5 p.m. weekdays. Phone 208-667-4557. Check www.ironwoodfp.com.
• Built specifically for patients with mobility problems who need orthopedic outpatient surgery, the Hayden Surgery Center is under construction at 8552 Government Way.
• French Cleaners has closed at 305 E. Locust Ave. after 63 years in business. Unclaimed items will be held until Nov. 7 and then donated to charity.
• Canton Asian Restaurant at 113 N. Fourth St. is renovating to become a Hula Pot restaurant in December.
• Opening later this fall, The Mill at 1705 Government Way is offering move-in specials for prospective tenants. The four-story building has 43 apartments with amenities of a prime location, a fitness center, a community clubhouse and a roof-top deck. To check the early-bird specials, phone 208-664-5081 (Ext. 216). The main floor is completely leased to the commercial tenants of the Ten/6 restaurant, Copal Salon, Heart City Barber, Fiore Beauty & Wellness and Lia at the Lake.
• Planning a mid-November completion, Legacy Heating & Cooling is building a new complex at 110 W. Lions Way in Hayden. The company offers commercial heating and cooling repair, replacement, maintenance and new construction. Phone 208-762-2777. Check www.legacyheatingcooling.com.
• After more than 25 years in Kootenai County, Hayden Lake Physical Therapy & Aquatics is adding a new place at the corner of Highway 41 and Early Dawn in Post Falls. Check www.Haydenlakept.com.
• A large combination gas station and convenience store called Lancaster Market is being built at 6308 W. Lancaster Road in Rathdrum. Dan and Amanda Duvall will offer snacks, hot food, cold drinks and a huge selection of beer and wine when it opens in December.
• With a focus on positive customer experiences and protecting the environment, a Metro Express Car Wash is being built at 418 Fryeburg Ave. in Hayden.
• The TownPlace Suites by Marriott Hotels will open in the spring where the Outback Steakhouse restaurant was in Northwood Center Court southeast of the intersection of Interstate 90 and Northwest Boulevard.
• With 100% wood-fired, Neapolitan-inspired products, Cascadia Pizza Co. is "coming soon" to Rathdrum at 8083 W. Main St. (at the corner of Mill Avenue). It should open in the spring with indoor and outdoor seating and take-out. Check www.Cascadiapizzaco.com.
• With many options for food and beverages in an elevated space and on a patio, Rooted Social House is planned for 310 N. Spokane St. in Post Falls.
• A four-story 151-room Hyatt Place Hotel is planned for the Millworx development on Fourth Avenue in Post Falls.
• Taco Bell on Hanley Avenue is closed for remodeling.
• Mountain View Business Center is offering commercial leases for flex space in the new building at 9044 W. Prairie Ave. Pacific Mechanical & Electric is one tenant. Three other spaces are available through Jeffrey Simonds of Coldwell Banker Commercial Schneidmiller Realty at 208-518-8860 or 208-765-2222.
• Yummy Crab will be in the former Golden Corral building off U.S. 95.
• Describing it as a "new product vendor mall," Marketplace@Miles is under construction on the southeast corner of Government Way and Miles Avenue in Hayden. Spaces in a variety of sizes are available for retail vendors with additional onsite storage offered. It should open before the holiday shopping season. Information is through Commercial Real Estate Consultants at 208-691-5328 and www.marketplaceatmiles.com.
• A new facility for Bolton Law is being built at 2317 N. Merritt Creek Loop just off Northwest Boulevard on the east end of Riverstone. The new location should open in the spring. Check www.kjboltonlaw.com.
• New coffee drive-throughs will be Jitterz at 1422 Northwest Blvd. and Wake-Up Call at Cherry and U.S. 95. Watch for other changes also at Cherry and U.S. 95.
• Watch for a change of occupant at 245 W. Bosanko.
• A third location for Riverstone Dental Care is being built at the intersection of Ramsey Road and Prairie Avenue. Planning to open at the end of the year, it will join the company's current locations at 2344 N. Merritt Creek Loop in Coeur d'Alene and 3095 E. Mullan Ave. (Suite 400) in Post Falls. Phone 208-676-8500. Check www.riverstonedental.com.
• Three suites are available in a new building at 2420 Government Way. Ranging from 898 to 915 square feet, each unit is a shell with a fully finished bathroom with tenants finishing the balance of the space. For information, contact Danny Davis of Coldwell Banker Commercial Real Estate at 2000 Northwest Blvd. Phone 208-765-2222.
• Commercial spaces on the first floor and 24 apartments on the second and third floors are planned for a new Appleway Quarter building planned for 281 E. Appleway (behind the existing Wellness Bar and Hometown Chiro building). Three of the four spots are temporarily reserved on the first floor with 5,000 square feet remaining. The apartments will include 16 two-bed, two-bath units and eight one-bed one-bath, all with access to a third-floor barbecue sun deck and private gym. Construction should start this year with completion in fall 2024. Contact Chad Oakland of Northwest Realty Group at 208-664-4200 or www.northwestrealtygroup.com.
• The Wellness Bar has opened a new location in Riverstone. It offers cold, pressed juices, acai bowls, smoothies, ginger shots and more at a shop next to the Culinary Stone, 2133 N. Main St., Coeur d'Alene. Hours are Monday to Friday 7 a.m. to 7 p.m. and weekends 8 a.m. to 3 p.m. Info: www.niwellnessbar.com
• Selkirk Sport will relocate its pro shop from 12037 N. Tracey Road in Hayden to 7878 Government Way later this year.
• Huetter Business Park, which is three flex industrial and office buildings owned by Etco Services, will open in late fall on Huetter Road north of I-90 and Seltice Way. About 8,600 square feet and yard space are available in each building through leasing agent Jeffrey Simonds of Coldwell Banker Commercial Schneidmiller Realty at 208-518-8860.
• Many commercial construction projects are happening between Stateline and Post Falls. Here's a list of the places. To see more precise locations, check the www.inlandnwbusiness.com website by Matt Behringer. The new places don't include a Trader Joe's or a Costco although many people wish they did. The businesses listed include a Circle K gas station and convenience store, Napa Auto Parts, Wendy's, The Joint Chiropractic and The Man Shop, Gesa Credit Union, Nutex Post Falls Emergency Hospital, Popeye's Louisiana Kitchen, Dutch Bros. Coffee, Taco Bell and Thai Bamboo. Other new buildings will include apartments, condos, warehouses and storage spaces.
• The children's activity center Make It Messy and the marine construction company R&R Northwest is opening in a new building at 1857 W. Hayden Ave. Make It Messy is a blend of an arts and crafts space, sensory play and activities such as at a children's museum. People of all ages can express themselves creatively, expand their imaginations and stimulate their senses. It can host birthday parties or private family events through owner Heather Gillis. Hours will be 10 a.m. to 6:30 p.m. weekdays, 10 a.m. to 7:30 p.m. Saturdays and noon to 5 p.m. Sundays. Check www.makeitmessycda.com. R&R Northwest and founder Brandon Richardson are booking projects for summer 2024. Check www.rrnorthwest.com.
• A new ambulatory surgery center is under construction by Northwest Specialty Hospital at 1624 E. Mullan Ave. directly east of its main campus at 1593 E. Polston Ave. in Post Falls. The 9,600-square-foot place will be used for surgeries that don't require overnight stays and will have two outpatient surgery rooms with options for future expansion. It should open in early 2024. Phone 208-262-2300. Check www.nwsh.com.
• With buildings of 168,000 and 238,000 square feet, The Pointe at Post Falls should be complete in October on North Beck Road and Pointe Parkway. Zoned industrial, the buildings have deck-high loading doors and eight ground-level drive-in doors. Check Darren Slackman for lease rates at dslackman@naiblack.com. Phone 509-622-3593.
• New buildings for Idaho Guns & Outdoors and Hayden Sharp DDS are being built in the Athol Crossings complex east of U.S. 95 in Athol. They are joining several other new places with the key business of Super 1 Foods.
• A new Marriott Hotel will evidently be built downtown.
• A Gates Dental building will be at 2208 N. Merritt Creek Road.
• With 16 luxury apartments on floors 2 and 3 and an Akamai Coffee Co. on the ground floor, the Midtown Centre Apartments building should be complete soon at 821 N. Fourth St. The contact is John Beutler of Century 21 Realty at 208-765-5554.
• Two 1,550-square-foot suites with 2,500-square-foot shop areas will be available for lease in Anderl Plaza under construction at 8512 N. Wayne Drive in Hayden. For information, contact Hayden Anderl at 208-964-0234.
• U-Haul Self-Storage will be at Seltice Way and Herborn in Post Falls. Make-A-Wish Idaho is new at 362 N. Herborn.
• Lake Forest Interior Design at 9245 Government Way is under construction in Hayden.
• A commercial building with three suites is being constructed at 9041 N. Hess St. (just north of Walmart) in Hayden. The suites of 1,100 square feet each can contain retail or office places with easy access and visibility to U.S. 95. Contact Josh Beebe at Coldwell Banker Schneidmiller Realty at 208-699-7980.
• The neighboring Anthem Corners project has one of the three suites leased with two units available. They can be combined for a 3,920-square-foot unit. Contact Joel Johnson of Coldwell Banker Schneidmiller at 208-771-6068.
• The Lighthouse Motel is being renovated at 2018 Sherman.
• A large building planned to open in late summer or fall at 851 Fourth Ave. (at Idaho Street) in Post Falls will be called Kindred & Co. with books, home goods and a bistro.
• Spoon Junkie or Rogue Carnivore evidently will be a new place at 400 N. Fourth St.
• Phase I of the new Kinder Prep Learning Center is under construction at 1847 W. Prairie Ave. The curriculum promotes hands-on, sensory and play-based learning experiences for ages 18 months to 5 years old in an environment that is nature-themed and community-driven. For information on pre-enrollment, check www.kinderpreplearningcenter.com. Phone 208-916-0265.
• A medical office will be at 909 W. Canfield.
• A 20,000-square-foot structure called Prairie Professional is under construction on the north side of the intersection of Prairie Avenue and Ramsey Road. The office building to be completed in December will have suite sizes from 2,200 to 10,000 square feet available. The main tenant will be Riverstone Dental Care. For information on the space available, contact Rob Kannapien of Coldwell Banker Commercial Schneidmiller Realty at 208-704-3832 or E-Fax 208-515-2385.
• Golden Rule Brake is coming to 3826 E. Seltice Way (near the intersection of Highway 41 and I-90) in Post Falls.
• Watch for Prime IV Hydration & Wellness to be in Ironwood Square.
• The Thomas George building planned for the corner of Third Street and Front Avenue will be 18 stories mixed with commercial places on the first floor and 60 condominiums above.
• Kimes Ranch and Wrangler are western-wear stores that will be coming into the Silver Lake Mall.
• Many of the 16 commercial spaces are available in the planned Prairie Crossing Shopping Center on the northeast corner of Highway 41 and Prairie Avenue.
• The PACR office building is under construction at 1857 W. Hayden Ave. All four commercial units are leased.
• An automotive service center will be built at 185 W. Clayton Ave.
• "Coming Soon" signs in Hayden are for Dirty Bird Self Car Wash and a Consign Furniture.
• A new commercial and residential building, Midtown Centre, is being built at 821 N. Fourth St.
• A DOMA Coffee Roastering Co. will be on the over-the-river side of a development being built where the end of Atlas Road meets the Spokane River.
• Pilgrims Market will expand to a building across the street.
• A new pizza place will be in the former Syringa building on Fourth Street.
• On a TV show, the historical educators talked about the Three R's of Reading, (W)Riting and (A)Rithmetic.
• • •
Contact Nils Rosdahl at nrosdahl@cdapress.com.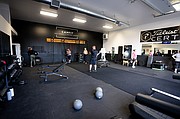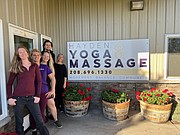 Recent Headlines
---