Ness receives Star Garnet Award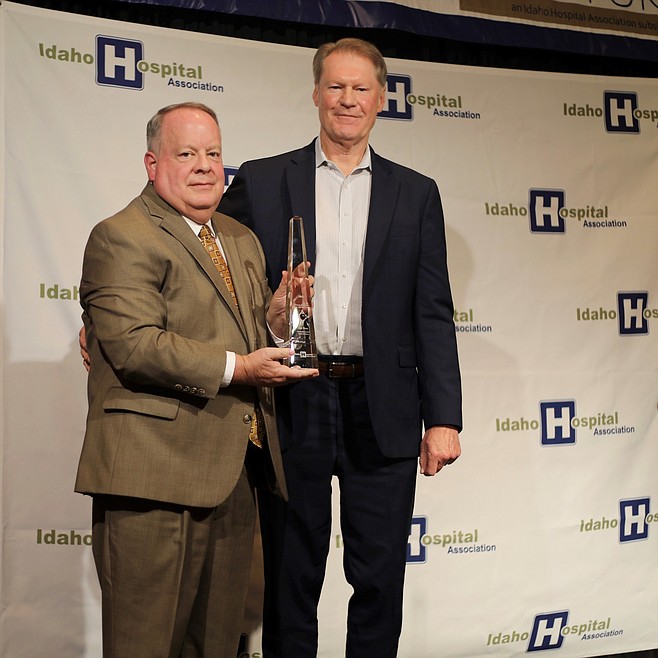 Jon Ness accepts the Star Garnet Award from a representative of the Idaho Hospital Association.
Courtesy of the Idaho Hospital Association
The Idaho Hospital Association announced Friday that Jon Ness, CEO of Kootenai Health, has been honored with the Star Garnet Award, which recognizes outstanding leadership, innovation and dedication to advancing health care services in the state.
Named after the Idaho Hospital Association's former president and CEO Steve Millard, the Star Garnet Award is the highest honor bestowed by the association.
"Under Ness's guidance, Kootenai Health has consistently set the standard for excellence in patient care, community engagement and health care innovation. His visionary leadership has driven the hospital's transformational initiatives, positioning it as a hub of medical excellence and a cornerstone of the local community," said a news release. "The hallmark of his leadership has been to focus on increasing access to quality and affordable health care while maintaining a safe and compassionate workplace."
Ness said he was deeply honored to receive the award.
"This recognition is a testament to the dedicated team at Kootenai Health who work tirelessly to provide exceptional care to our community," Ness said. "I am humbled by this award and remain committed to advancing health care accessibility, quality, and innovation in Idaho."
Brian Whitlock, president and CEO of the Idaho Hospital Association said Ness's contributions to the health care industry in Idaho are "immeasurable."
"His commitment to delivering high-quality patient-centered care, fostering collaboration among health care professionals, and implementing groundbreaking health care solutions truly exemplifies the values that the Steve Millard Star Garnet Award represents," Whitlock said.
Ness was noted for playing a pivotal role in advocating for health care policy improvements, nurturing partnerships with community organizations, and championing initiatives that address the evolving needs of patients and their families.
Recent Headlines
---