Gookin under fire, fires back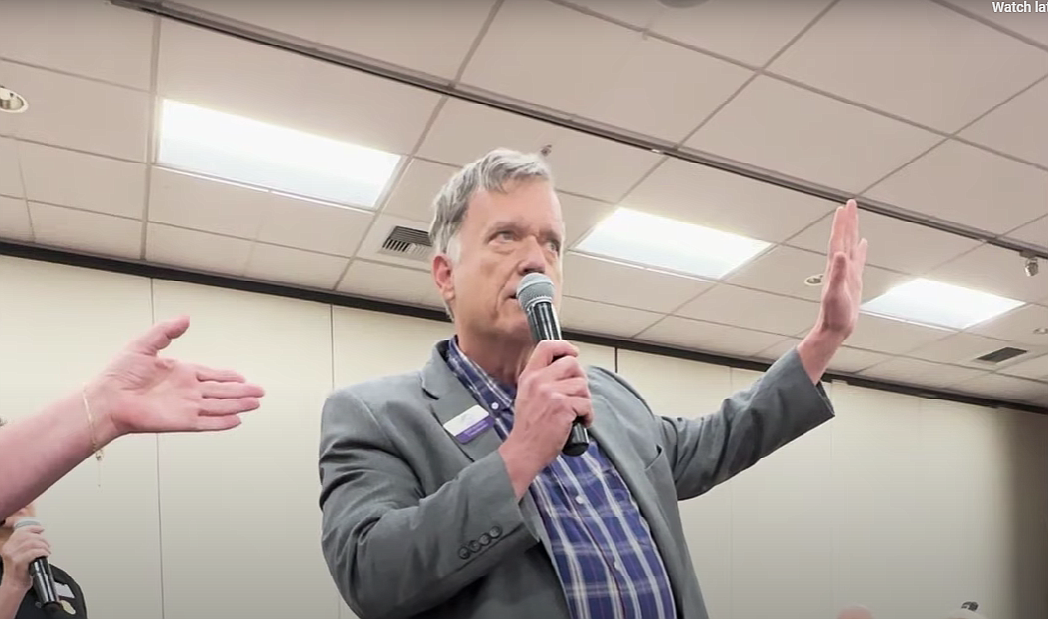 Coeur d'Alene City Councilmemember Dan Gookin, who is seeking reelection, addresses the Kootenai County Republican Women Federated during a luncheon at the Best Western Plus Coeur d'Alene Inn on Thursday.
Image courtesy of video provided by Dan Gookin
by
BILL BULEY
Staff Writer
|
October 7, 2023 1:09 AM
COEUR d'ALENE — Most candidate forums are routine affairs with questions, answers and vows of transparency.
The Kootenai County Republican Women Federated's forum for registered Republican candidates Thursday followed that script — until there was time for a few questions from the crowd.
That's when there were tears, raised voices, accusations and a microphone was pulled from the hands of a candidate as he was speaking.
About 100 people attended the meeting at the Best Western Plus Coeur d'Alene Inn.
Things turned tense when Coeur d'Alene council member Dan Gookin was asked about "derogatory comments" he has made "toward Christians, toward Republicans, toward a lot of people in our community" on his YouTube channel "Kootenai Rants."
"My question is, how do you reconcile that with yourself? How do you reconcile that with the community, the public?" asked Nina Beasley.
Gookin, who is running for reelection, said he was not seeking a job as a video presenter online, but "to represent you in the government.
"I believe in limited government and I believe in private property rights," he said.
He said his role as an elected official is to make sure government powers do not get out of hand.
Gookin went on to say that "if you have an issue with me in my private life, you can deal with me privately. That's fine. I'm running for public office here. I'm running to represent you and your rights. That's my track record on the City Council. I'm happy to do that, to defend your rights. Thank you."
Another woman said she also had a question for Gookin.
She said she was a member of the KCRCC, to which Gookin also belongs. She said that on his program he has called KCRCC members "white supremacists, nut jobs, puppets and racists."
"I take that very personally," the woman said.
She said racism affected her life. She said she fell in love with and married a dark-skinned man and had biracial children.
"For you to say I am a racist, or that I would be on a committee or friends with people that are racist, not only boils my blood, but it is the most despicable thing you could say," she said.
She said Gookin did not attend KCRCC meetings.
"I joined the committee because my son gave his life for this country. I want to honor his sacrifice and fight for the country that he died for," she said. "And the country today is not the country that my son died for. And for you to say we are nothing but white supremacists on that group and that we are puppets ..." at which point her voice faltered.
Through tears and shaking hands, she then asked Gookin how he expected them to believe anything he said "when you so blatantly lied about a committee that you pretend to be on."
Gookin said he would defend himself and criticize people when they are wrong.
"If you have an opportunity to condemn racism on the central committee, you blew it, because you didn't," he said.
"You doubled down on the white supremacist and I will not stand for that," he said.
An upset Gookin, speaking loudly, said to have the official Republican Party refuse to condemn someone "who openly embraces white supremacy is wrong."
As he continued, KCRWF member Terri Seymour tried to interject. Gookin turned to her, pointed his finger and said, "You will give me my time. You told Christians not to vote for me. You judged me by my faith."
At that point, Seymour stepped forward and yanked the microphone from his right hand as some in the crowd gasped.
"No, give him his time," someone said.
As Seymour handed the microphone back, Gookin said, "Thank you for the YouTube moment."
A woman's voice could be heard, "Let him hang himself, Terri."
"Let him talk," another person said.
Gookin continued.
"You can hate me all you want. I will do what I think is right," he said.
Gookin turned to the woman who spoke about racism's impact on her life.
"I am sorry that you have had your feelings hurt by me, that is a personal thing. For that, I feel for you," he said. "You cannot tell me that and be part of a committee that refuses to condemn white supremacy."
He said KCRCC members were not critical thinkers and voted in unison.
"You use me as an example of what happens to someone who dares to challenge your cult," Gookin said. "And then you attack me."
As the crowd began to murmur, Gookin thanked them for their time.
"I am obviously not welcome here," he said.
He said he appreciated the attitude of many in the crowd.
"Remember what Christ said about how we treat our enemies, and the way you have just treated me," he said. "I am not welcome here."
Gookin said Friday in a phone interview with The Press he believed the questions about Kootenai Rants were a "set up" to try and cast him in a negative light.
He said the woman was reading from notes and another was recording his response.
"I'm pretty sure they were trying to set me up," he said, hoping to find something that could be used to campaign against him.
He said Friday that the KCRCC "doesn't like that I call them out on the BS."
He said Kootenai Rants was not an appropriate discussion item for a candidates forum.
While saying he understood why they thought what he said on Kootenai Rants was relevant, he said it was not a question that would apply to any other candidate. He said he was the only one questioned about activities in his personal life.
Seymour declined to comment Friday.
Beverly Guenette, KCRWF vice president, said Gookin was and is welcome at their meetings, "just like everybody else."
"He didn't like the questions he was asked and got upset," she said Friday. "Since he didn't like them, he got mad and left."
Guenette said Gookin could have remained at the luncheon.
"Nobody forced him to leave," she said.
Gookin said he felt he was under attack and has never had a microphone pulled from his hands as he was speaking, and it was unsettling.
"Who would expect someone to grab a mic?" he said.
Brent Regan, KCRCC chairman, was at the meeting.
In an email responding to a request for comment from The Press, he wrote that Gookin's "bizarre behavior is only the latest in a long history of a seemingly obsessive fascination with myself and the central committee.
"His rants, X political account and in person rhetoric are replete with hateful, bigoted and inaccurate ravings. I have not engaged him directly as conflict seems to be what he seeks," Regan wrote.
He wrote that since Gookin is a member of the central committee, "I am fastidious about treating him equally despite his apparent contempt to his fellow committeemen. I have been approached many times by committeemen with pleas to censure him and my reply is that what he does outside the committee is not within our jurisdiction."
At the KCRWF luncheon, Regan wrote that he was a guest, and it was not his duty to maintain decorum.
"Regarding Mr. Gookin's charge that we failed to condemn a white supremacist, I would say that our platform and our state party rules already assure equal treatment regardless of race," Regan wrote. "We don't need to condemn that which we have already outlawed. But if Mr. Gookin feels so passionately about the need to do so, then he, as a committeeman, has a power to make a motion to do so."
Regan said as chairman, he does not have the power to make motions.
"If (Gookin) wishes to blame the committee for not taking action he should look in the mirror," Regan wrote.
The KCRWF is sponsoring another forum for City Council candidates Oct. 21 at The Altar Church.
Gookin said he previously accepted an invitation to attend it, but he will not go, "given the way I was treated" Thursday.
"I am not welcome there and they will not treat me fairly," Gookin said.
"I don't want to pay for an armed escort," he added.
The KCRWF's next luncheon is scheduled 11:30 a.m. Nov. 2 at The Best Western Plus Coeur d'Alene Inn.
Recent Headlines
---