Silver Valley groups put Thanksgiving dinners on the table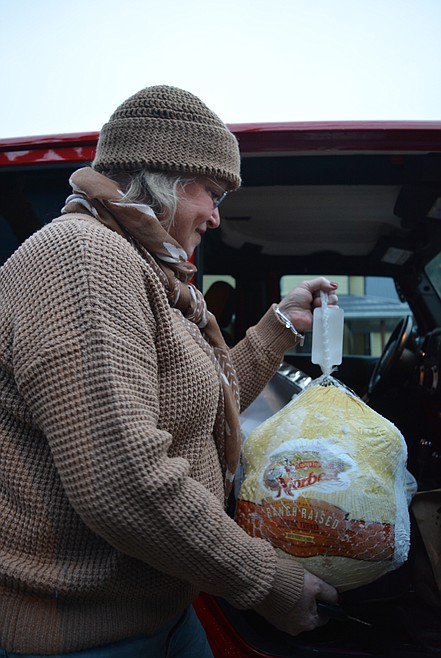 Cindy Lien loads a frozen turkey into her car for deliveries. Food for Thanksgiving meals were delivered ahead of time to residents who unable to make it to the Wallace Elks for the community meal. Lien is a board member at the Wallace Elks, which will be hosting a free Thanksgiving dinner from 1-4 Thursday Nov. 23 in partnership with the Wallace Food Bank.
CAROLYN BOSTICK/Press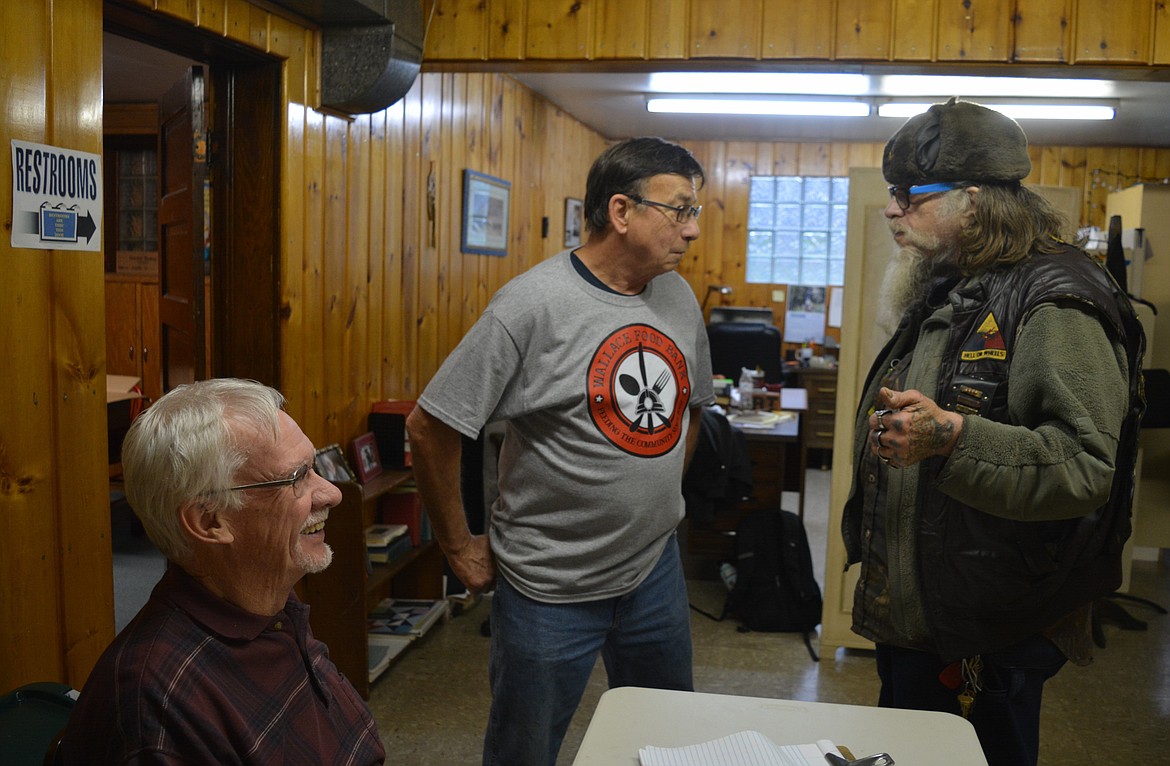 Individuals and families gathered at the Wallace Food Bank in the basement at 215 Fourth St., Wallace on Nov. 16 for food distribution.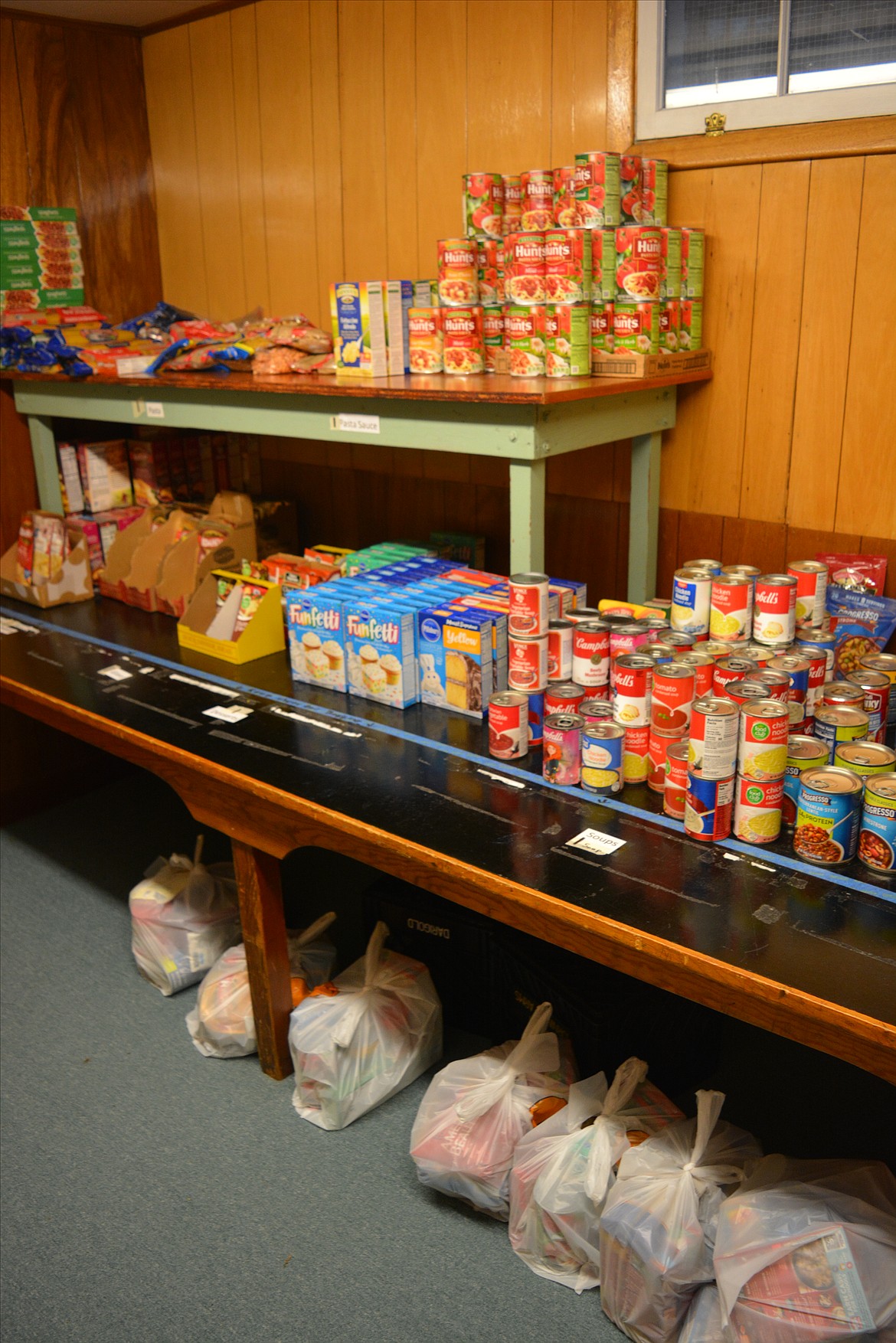 Folks getting food from the Wallace Food Bank get to shop from items stocked by the community, or they can take pre-bundled bags of a variety of food items. While they're waiting for a turn to shop, they're able to get a hot meal.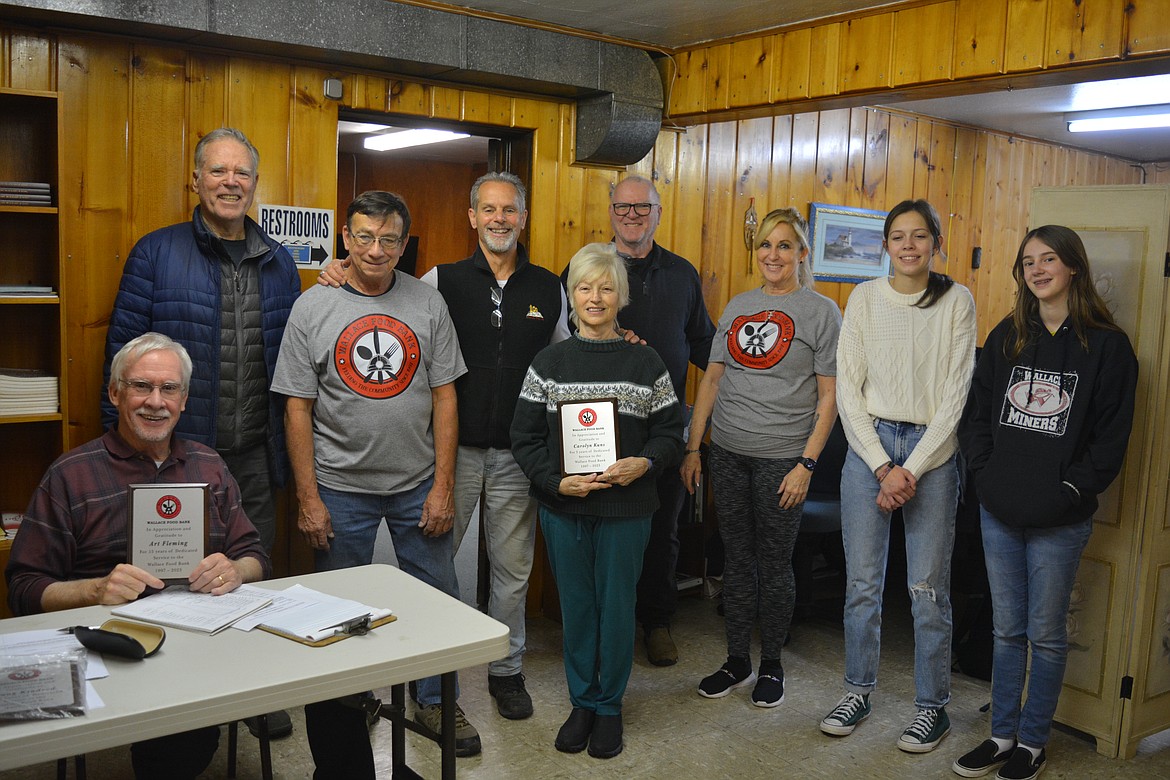 Members of the Wallace Food Bank were honored for their work over the years at a special distribution day in the church basement at 215 Pine St., Wallace. Pastor Art Fleming and Sallie Sprute, Doug Kindred, and Carolyn Kunns received plaques commemorating their service to combating food insecurity in the area.
Previous
Next
WALLACE — A wave of voices and the smell of hot soup wafted through the Prayer Station basement on Fourth Street on Thursday. The room was packed with a mix of individuals and families, many of whom were enjoying soup as they waited to take their turn choosing food from the stock to bring home.
Some folks hefted turkeys and materials for all the Thanksgiving fixings as they made their way home. The Wallace Elks and Wallace Food Bank banded together to open up a community Thanksgiving to anyone in need this year. For those who were unable to attend or pick up their own materials, food was delivered ahead of time so everyone could enjoy tasty holiday meals.
Cindy Lien said that though the Elks have hosted community Thanksgiving dinners in the past, this year they have expanded to feed about 200 people. About half of folks served in the Silver Valley through the program will be reached through deliveries.
"It's kind of a big deal for us. The delivery aspect was really important to us this year. We've done other Thanksgiving dinners in the past, but this is the first one that is absolutely 100% free. We're delivering a lot of dinners as well. I just want everyone to feel welcome," Lien said. 
Food distribution need has been creeping up over the past months and local agencies have been rallying to make sure there's enough food going into people's homes and stomachs through Silver Valley food banks. 
Wallace Food Bank President Michael Hoffman recently estimated that the food distribution offered in Wallace and Osburn has more than doubled. The twice monthly offerings used to attract about 25-30 people and in the last few months, the turnout has reached the 65-80 range. 
Rather than competing for food resources, the Wallace Food Bank partners with Grace Evangelical Free Church and other entities in Smelterville and Mullan to make sure everyone's larder is full and area residents have enough to eat. For the Thanksgiving meals, the agencies combine lists from different churches and nonprofits to ensure everyone is included.
"We're all trying to work together," Hoffman said.
The community has come together to provide for friends and neighbors in need, with Pinehurst Library having held a food drive in honor of the national homelessness and hunger awareness week and Wallace JR/SR High School students collecting enough supplies to half fill a pickup truck with non-perishable items.
"Before that, this room back here was almost empty. I couldn't believe how much we got, I was just blown away," Hoffman said.
The food couldn't have come at a better time. 
Food vouchers were raised to $35 this year to try and stay with the growing cost of food. This year, where $13,000 for food vouchers used to stretch, the food bank has already given out about $22,000 in voucher money. 
Michael Hoffman likes to joke when the topic of the food distribution partnership in Osburn comes up that he and Reverend Nick Hoffman aren't related, though their teams often work together.
"I first started coming and volunteering here when Pastor Art was running it and I didn't even ask my church, I just said, 'We're on it.' We took our old Sunday school room and turned it into this one. People in the community who just want to help. We're just going to make it happen and God's going to help us make it happen. We've gotten pretty self-sufficient," Rev. Hoffman said.
Both the food bank sites in Wallace and Osburn have a guided shopping setup. People walk through and shop for themselves or their families or can choose from pre-bagged food items. Empowerment is just as important as keeping folks fed. 
"The goal is to have them feel like they're shopping and not like we're giving it to them. It feels like it's more personal for them," Rev. Hoffman said.
If you go
What: Community Thanksgiving dinner 
Where: Wallace Elks Lodge, 419 Cedar St, Wallace
When: Doors open at 11 a.m., meal offered 1-4 p.m.
How to help
Non-perishable donations can be made to the Wallace Food Bank through the Stardust Motel during lobby hours at 410 Pine St, Wallace. 
For more information, contact Michael Hoffman at 916-764-9252 or by email at wallacefoodbank@gmail.com.
Recent Headlines
---