NIC ATHLETICS: A 'special second' ... Cardinals finish runner-up in NWAC volleyball tourney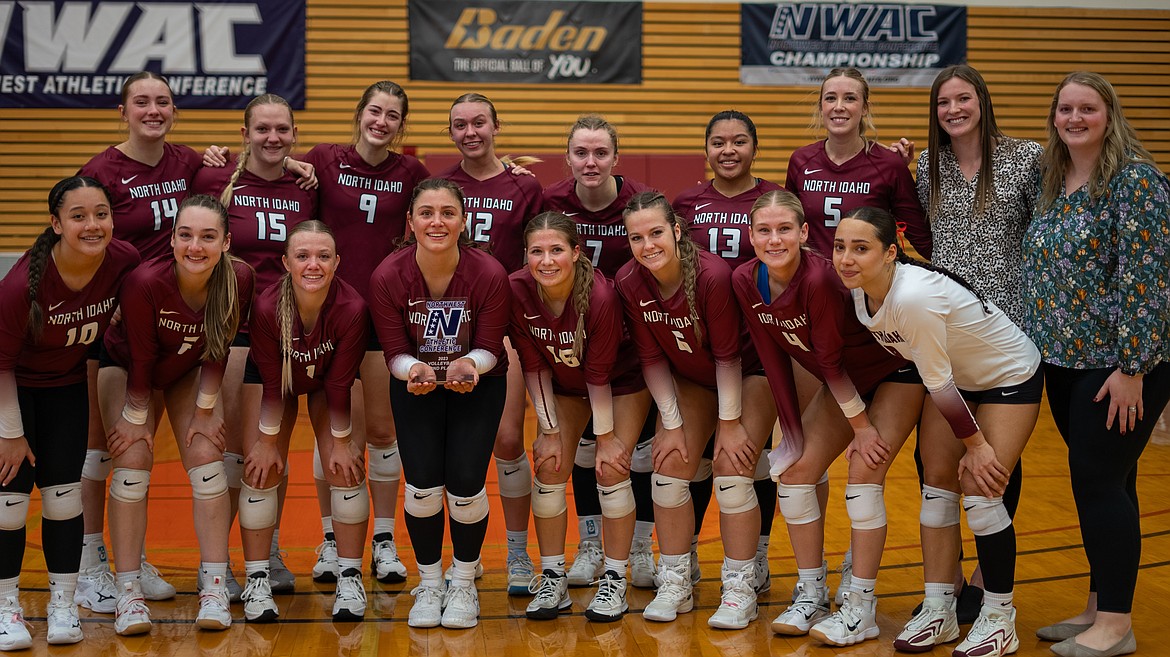 Photo courtesy of NIC ATHLETICS The North Idaho College volleyball team finished runner-up in the Northwest Athletic Conference Tournament on Sunday at Pierce College in Lakewood, Wash. In the back row, from left are Madilyn Harper, Lily Leidenfrost, Rylee Hartwig, Gracie Keisel, Abigail Beaton, Karolyne Wolfgramm, Rachael Stacey, assistant coach Melissa Fleshman and head coach Brittany Tilleman. In the front are Amelia Kinikini, Anna Ellingboe, Brooklyn Minden, Jessica Stires, Allie Hone, Hailey Hillman, Morgan Claus and Omayra Valle.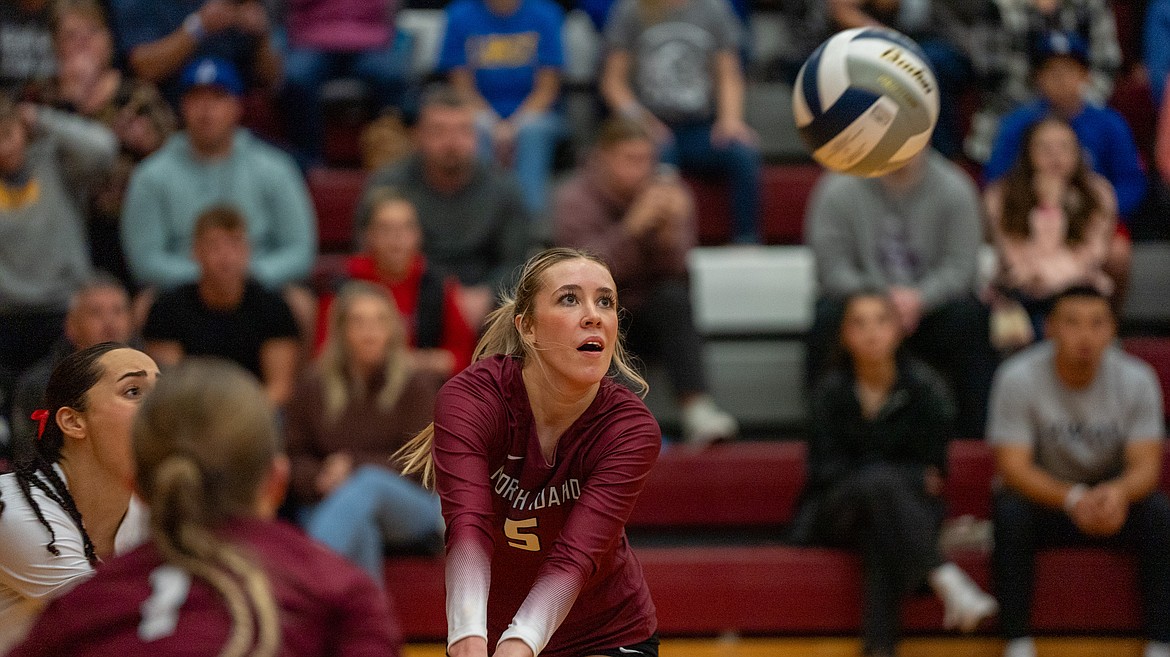 Photo courtesy of NIC ATHLETICS North Idaho College sophomore outside hitter Rachael Stacey digs up a ball during the fourth set of Sunday's Northwest Athletic Conference Championship match at Pierce College.
Previous
Next
|
November 20, 2023 1:15 AM
VOLLEYBALL
LAKEWOOD, Wash. — First-year North Idaho College assistant coach Melissa Fleshman knew this team had something in them at the start of fall camp.
On Sunday, that special season fell a little short of the ultimate goal.
After winning the first set, NIC dropped the final three, falling to Linn-Benton 22-25, 25-16, 25-19, 25-12 in the Northwest Athletic Conference Championship match at Pierce College.
NIC, with its only two losses of the season to Linn-Benton (36-0), finishes 32-2.
"We came out very excited and ready to play," first-year NIC coach Brittany Tilleman said. "After winning the first set, we almost got too comfortable against a team that's won three straight titles. It's been a while since we've been in that situation and I think they lost the belief that we could win. Linn-Benton knew what it takes to win, and they did. They just played great."
Linn-Benton beat NIC in a tournament at Columbia Basin College on Sept. 1. The Cardinals did not lose again until Sunday, winning 25 straight.
"After the match, I hugged each girl and told them you've got to be proud of the season we had," Tilleman said. "We played with so much trust and energy when we're on. Our practices help us compete for moments like this. It's always been us against us. To do it against a team like that, we just weren't prepared for that. Our season was a complete team effort and everyone involved. I'm sad to see the sophomores go, but I'm proud of them."
Rachael Stacey, a sophomore outside hitter from Helena, Mont., had 11 kills, sophomore Rylee Hartwig of Post Falls nine kills, sophomore Omayra Valle of Puerto Rico 16 digs and freshman Karolyne Wolfgramm 39 assists and 13 digs for NIC. Both Stacey and Hartwig were named to the all-tournament first team. Valle was a second-team pick.
"Since fall camp, we knew this team was different," Fleshman said. "It's sad we fell, but we knew this team was special and we could get here."
NIC will return to the NJCAA next fall as the school transitions back to the Scenic West Athletic Conference after departing after the 2014 season.
WRESTLING
Poe-Hatten wins at Spokane Open
SPOKANE — North Idaho College's Noah Poe-Hatten, a freshman from Flathead High in Kalispell, Mont., won the 184-pound title at the Spokane Open at The Podium.
Poe-Hatten beat Providence's Caleb Warner by a 10-8 decision. 
Other NIC placers were Elijah Cater (second at 125 pounds), Kobi Johnson (third at 125), Conan Northwind (sixth at 174), Logan Massie (fifth at 174), Chandler Loveless (sixth at 184) and TJ Takafua (sixth at 285).
Ledger Petracek, now at NAIA Menlo College in Atherton, Calif., was runner-up at 174. Petracek was fourth for NIC at 165 pounds in the NJCAA Tournament in March.
NIC competes in the Battle of the Rockies Dec. 1-2 in Great Falls, Mont.
WOMEN'S BASKETBALL
Elite Prep 66
North Idaho 50
COEUR d'ALENE — Oliviyah Edwards, a sophomore with offers from Pac-12 Conference schools, as well as South Carolina, had 29 points and 17 rebounds for Elite Prep of Issaquah, Wash., in a win over the Cardinals at Rolly Williams Court.
Kendall Pickford, a sophomore guard from Lake City High, scored 18 points for NIC (3-4), which faces Casper College in the Casper College Thanksgiving Classic on Friday in Wyoming. Addie Kiefer, a sophomore from Lakeland High had 17 rebounds in the loss.
"Addie worked her tail off today," NIC coach Nathan Covill said. "Anna (Serret) and Aaliyah (Clemons), they got some minutes today and played really well for us, though the stats don't really show it. We just didn't play well defensively and struggled. We need to find someone that wants to be a stopper. We've got to be better, and I've got to be better as a coach."
Brynna Pukis, a junior receiving interest from schools in the West Coast Conference, had 19 points, hitting five 3-pointers for Elite Prep.
ELITE PREP
Brynna Pukis 7-19 0-0 19, Presley Crawley 3-9 1-4 8, Paige Ary-Turner 2-8 0-0 6, Stella Gilley 0-4 2-2 2, Oliviyah Edwards 13-19 1-1 29, Hailey Reff 1-1 0-0 2. Totals 26-60 4-7 66.
NORTH IDAHO
Anna Serret 1-6 0-0 3, Deniece Ryan 1-9 0-0 3, Addie Kiefer 2-6 0-2 4, Faye Davis 3-9 0-0 6, Kendall Pickford 6-21 0-0 18, Tayler Adams 2-7 3-4 7, Diana Morales 1-2 0-0 2, Aaliyah Clemons 2-7 0-0 5, Iratxe Amorrotu 1-3 0-0 2. Totals 19-70 3-6 50.
Elite Prep    19    13    16    18    —    66
North Idaho    19    12    8    11    —    50
3-point goals — EP 10-31 (Pukis 5-16, Crawley 1-1, Ary-Turner 2-8, Gilley 0-2, Edwards 2-4), NIC 9-30 (Serret 1-3, Ryan 1-3, Pickford 6-20, Clemons 1-3, Amorrotu 0-1). Rebounds — EP 32 (Edwards 17), NIC 44 (Kiefer 17). Assists — EP 14 (Crawley 6), NIC 12 (Davis 4). Team fouls — EP 6, NIC 8. Fouled out — none.
Recent Headlines
---