'Hurts … really bad' — Vikings come up short against Rams in thriller of a state title game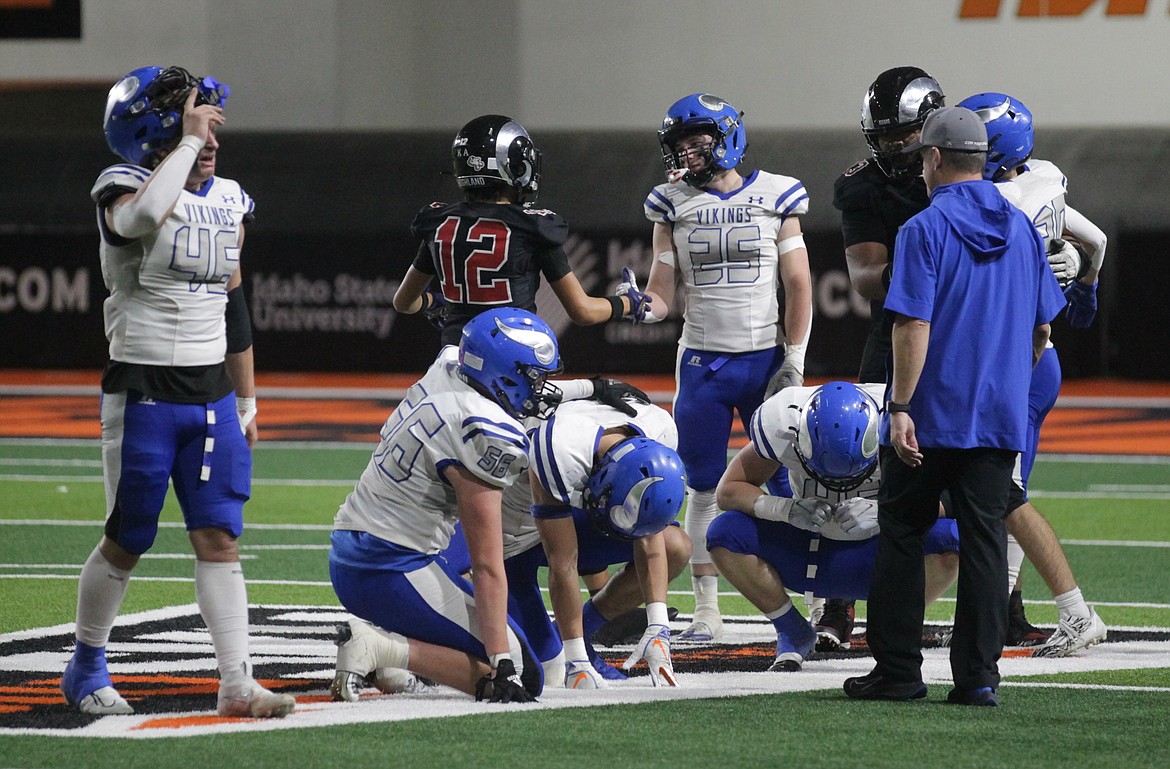 MARK NELKE/Press Coeur d'Alene players react after the Vikings lost to the Highland Rams 35-28 in the state 5A football championship game Saturday afternoon at Holt Arena in Pocatello.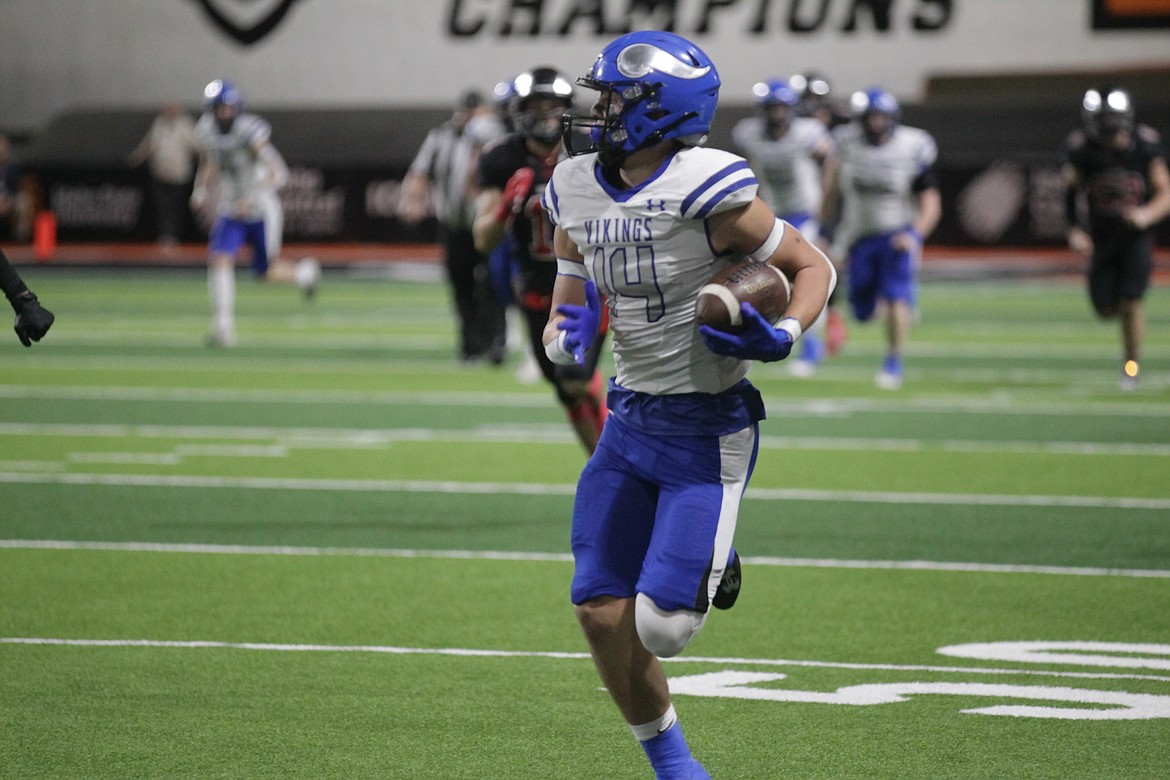 MARK NELKE/Press Coeur d'Alene junior Kai Wheeler looks back as he races to the end zone to complete an 84-yard scoring pass from Joe Hagel in the first quarter against Highland at Holt Arena in Pocatello.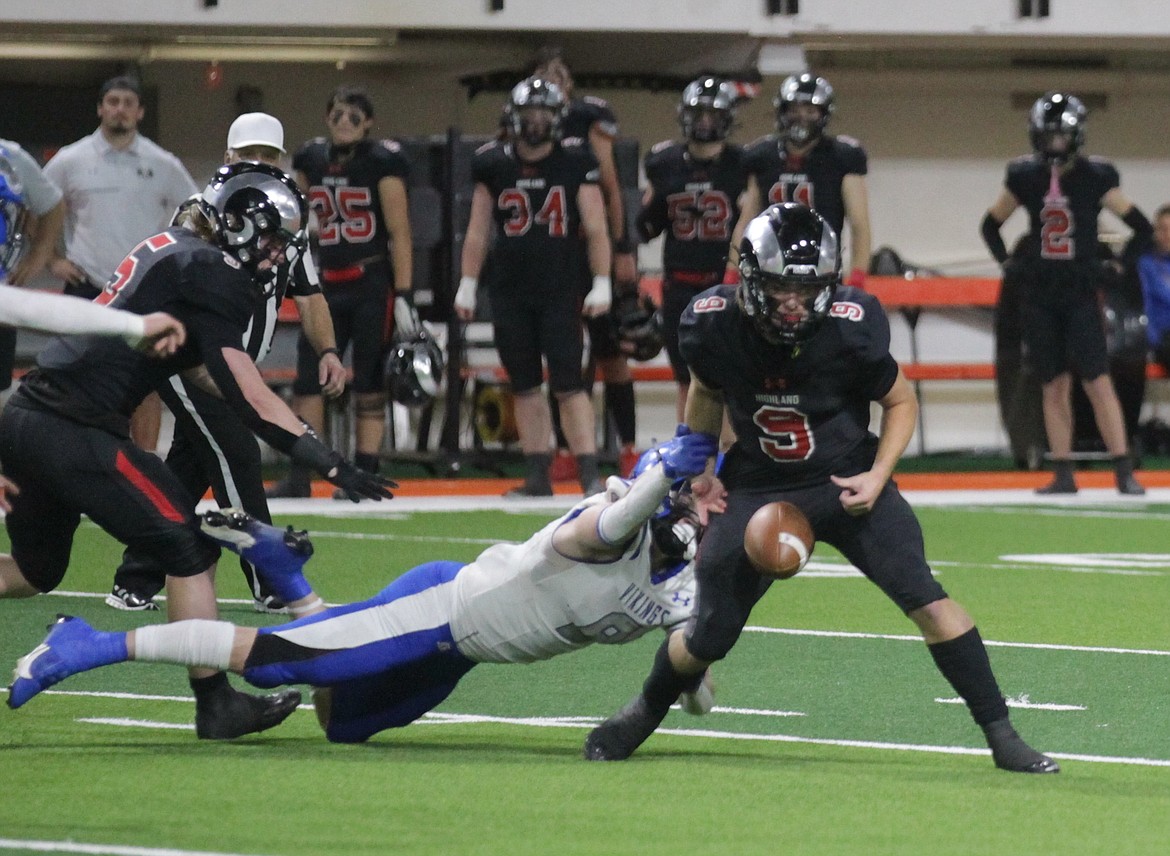 MARK NELKE/Press Tucker Booth of Coeur d'Alene forces a fumble from Highland quarterback Drew Hymas during the first half Saturday at Holt Arena in Pocatello.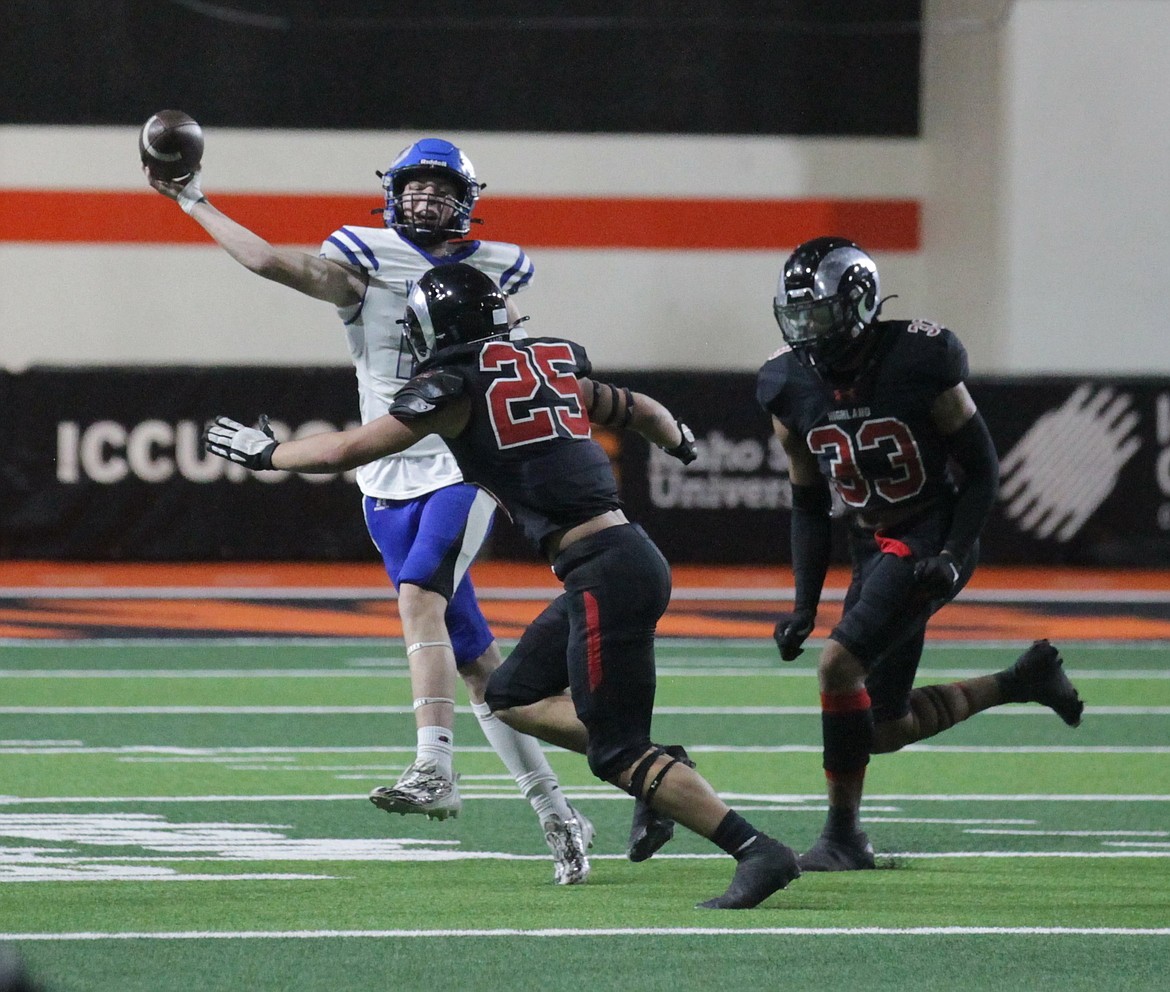 MARK NELKE/Press Coeur d'Alene sophomore quarterback Caden Symons throws on the run while pursued by Kody Hite (25) and Markell Bowens (33) of Highland on Saturday at Holt Arena in Pocatello.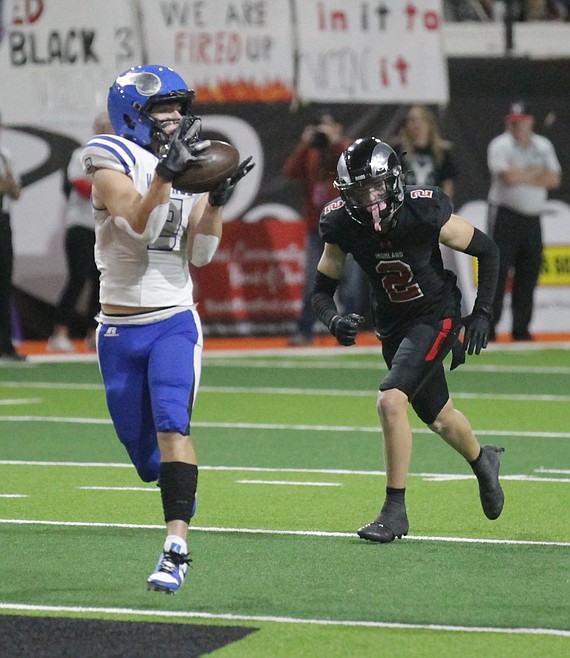 MARK NELKE/Press Coeur d'Alene senior Joe Hagel (2) hauls in a pass on the run as Kannon Kunz (2) of Highland pursues Saturday at Holt Arena in Pocatello.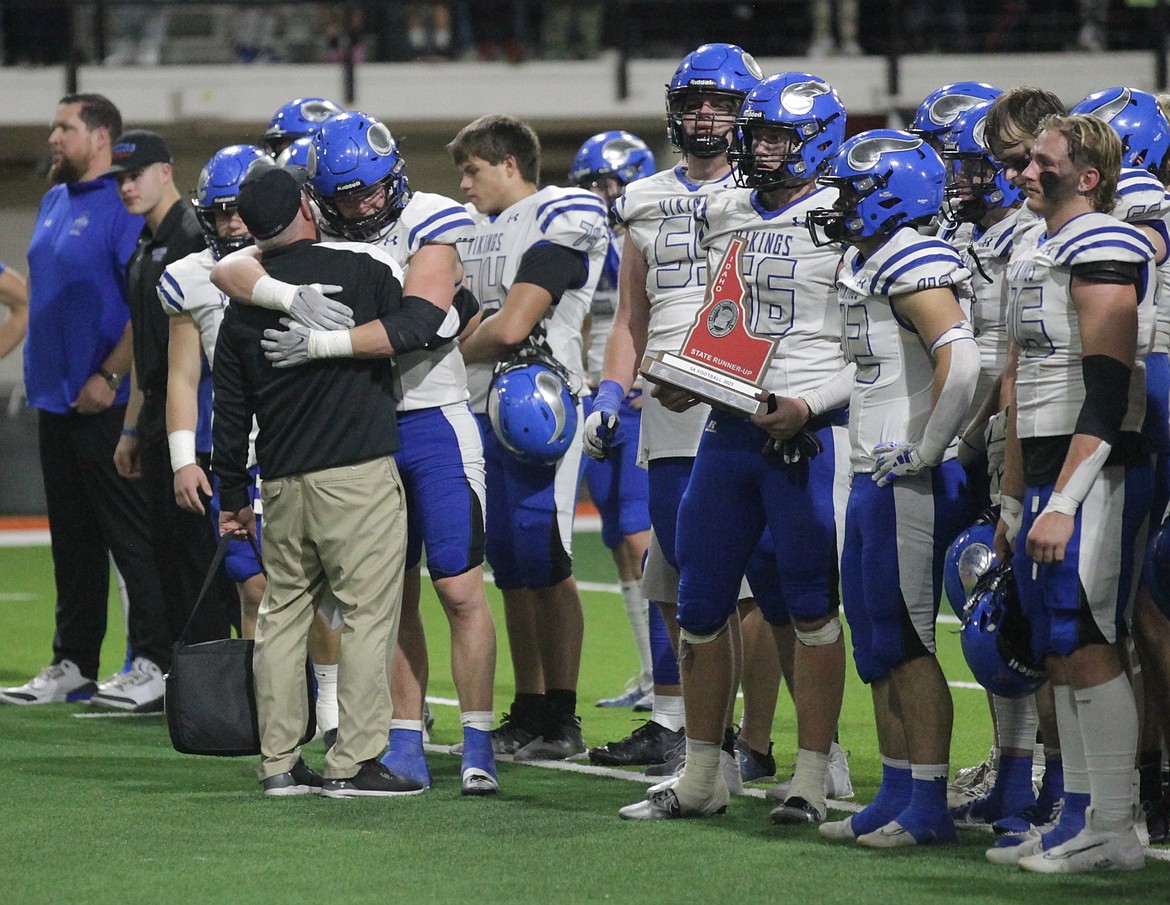 MARK NELKE/Press Coeur d'Alene High football coach Shawn Amos, left, hugs Viking senior Shea Robertson, as senior Tanner Ackley holds the second-place trophy after Coeur d'Alene lost to Highland 35-28 in the state 5A championship football game Saturday at Holt Arena in Pocatello.
Previous
Next
|
November 19, 2023 1:35 AM
By MARK NELKE
Sports writer
POCATELLO — The long, steep walk up the ramp from the playing field to the locker room at Holt Arena seemed longer and steeper for the Coeur d'Alene Vikings on Saturday afternoon.
But hey, at least Coeur d'Alene was in position to make that long, steep walk — especially after last year's un-Viking-like season. 
On Saturday, old friends Coeur d'Alene and Highland of Pocatello met once again, this time to decide the state 5A football championship. Momentum swung back and forth throughout the instant classic, with Highland making the last big play to beat the Vikings 35-28.
"I think both teams were expecting more of a defensive struggle, and it turned out pretty high scoring," Coeur d'Alene coach Shawn Amos said. "Highland made enough plays to win it. Super proud of our kids, and coaches; they did all we asked them to do."
"Hurts … really bad," Coeur d'Alene linebacker Shea Robertson said. "It sucks, especially since we've come so far from not being good last year to making it all the way to the state finals and losing by a touchdown … it really hurts."
What was expected to be a battle between two of the state's top defenses turned into a shootout, chock full of big plays and nearly 1,000 yards of combined total offense.
It started with Coeur d'Alene wide receiver Joe Hagel throwing an 84-yard touchdown pass on the Vikings' first play, and ended with Highland quarterback Drew Hymas zipping left and down the sideline for a 47-yard touchdown with 4:28 remaining to break a 28-all tie.
"That's not how I envisioned that game going," said second-year Highland head coach Nick Sorrell, a longtime Rams' assistant before succeeding Gino Mariani. "Two great defenses … but you can't ask for a better game, in a championship, than that. Two great teams, battling back and forth, the ebbs and flows of the game, seeing the kids come back from adversity … that was special; that was a lot of fun."
In its 21st title game appearance since 1984, Highland (11-1) captured its 12th championship, most in the state. It was the Rams' first state title since 2017, when it beat Coeur d'Alene at Holt Arena.
Coeur d'Alene (9-3), second in state titles in 5A, was bidding for its sixth championship, and first since 2013. The Vikings were in their first title game since 2019. Amos, in his 27th season, was coaching in his seventh title game in the past 14 seasons, and eighth overall. It would have been his fourth title.
Coeur d'Alene totaled 505 yards of offense, led by sophomore quarterback Caden Symons, who threw for 346 yards. Kai Wheeler had five catches, including the TD grab from Hagel, for 139 yards. Hagel had four receptions for 133 yards.
Owen Harris ran for three touchdowns, and carved out 66 rushing yards.
"They were awesome," Sorrell said of Coeur d'Alene. "They're so well-coached. My hat's off to coach Amos; he's the real deal. And those kids play hard. They fly around; they make things difficult, no matter what you try to do. But man, what a game."
Highland totaled 491 yards. Hymas, doing his best Taysom Hill impersonation, threw for 302 yards and two scores, and rushed for 113 yards and two TDs, on a combination of designed keepers, plus a few scrambles.
Running back Jackson Riddle did equal damage as a receiver, catching seven balls for 57 yards and a touchdown. He ran for 67 yards and one score on 17 carries.
"Our D guys, they knew (about Hymas), and they definitely had a plan, but he's a really good football player," Amos said. "And they have a really good football player (Riddle) right next to him, so you can't just focus on the quarterback, because the running back is a stud. Sometimes, great athletes make great plays, and he (Hymas) certainly did."
After Coeur d'Alene started the fireworks with the trick play from Hagel to Wheeler, Highland answered with a 77-yard scoring drive. Riddle was wide open in the left flat, and took a pass from Hymas and dashed in for the score.
Highland went up 14-7 midway through the second quarter when Rhidge Barela got behind the secondary down the right sideline and hauled in a 53-yard TD pass from Hymas.
Highland had the ball in Coeur d'Alene territory three other times in the first half and failed to score. On one, the Vikings forced a fumble from Hymas while he was trying to pass, and Parker Neff recovered. 
Highland nearly threatened to take a 21-7 lead late in the half, but a completion inside the Viking 5 was brought back because of a holding penalty, and Zerek Younis missed a 53-yard field goal.
Coeur d'Alene, which punted on its next four possessions following the opening TD, then turned the ball over on downs in Highland territory on the next drive, suddenly came to life offensively. 
A swing pass from Symons to Harris resulted in a 22-yard gain. Symons connected with Evan Williams down the middle for 23 more, then with Wheeler for a 30-yard completion on a jump ball down the left sideline. Williams ran it in from the 5 on the next play, and it was 14-all at halftime.
At the half, Highland outgained Coeur d'Alene 256-243 in total yards.
The Vikings took the second-half kickoff and drove 83 yards in five plays for a 21-14 lead. Harris broke loose for 17 yards, Symons and Hagel connected on passes of 33 and 15 yards, and Harris ran it in from the 5.
But Highland answered, Hymas connecting on 4 of 4 passes for 58 yards, the biggie a 32-yarder deep to Kai Callen that set up Hymas' 3-yard keeper, and it was 21-all.
Coeur d'Alene then lost a fumble at midfield, and the Rams went 49 yards in seven plays, Riddle circling right end on the option from 14-yards out with 29 seconds left in the third quarter.
Symons and Hagel hooked up on a 75-yard pass-and-run to the Highland 5, but the Vikings lost a fumble at the Rams' 1. 
Coeur d'Alene forced a three-and-out, and Jamison Kizziar caught a short pass from Symons, bounced off a defender and rambled 58 yards to the Highland 15. On third and five, Harris ran it in from 10 yards out; 28-all with 7:28 remaining.
Back came the Rams. On third and 1 from the Coeur d'Alene 47, Hymas kept the ball out of the shotgun and ran left, then cut back and raced to the end zone to put Highland up 35-28 with 4:28 left.
Coeur d'Alene went three-and-out, but got the ball back on its 18 with 2:13 remaining. On the second play, Younis picked off a Viking pass. And after Hymas kept it and ran right for 10 yards on third-and-8, the Rams took two knees and celebrated, while some Viking players dropped to the turf.
"I'm so proud of our guys," said Robertson, an Eastern Washington commit. "To make it to the state championship was awesome. I would have been happy just making it to the state playoffs after last year, but to go all the way to the state finals is a dream come true. The only thing that would have made the season better is if we had won it."
For some, those thoughts might come later.
"We won't reflect on that too much, because this one still stings; we were definitely at the same caliber as them, so the losing is painful," Amos said. "We'll feel sorry for ourselves for a little while, and then look back and be proud of what we accomplished."
Coeur d'Alene     7    7    7    7    —    28
Highland    7    7    14    7    —    35
First quarter 
Cd'A — Kai Wheeler 84 pass from Joe Hagel (Jayson Cady kick), 9:59
High — Jackson Riddle 18 pass from Drew Hymas (Zerek Younis kick), 6:17
Second quarter 
High — Rhidge Barela 53 pass from Hymas (Younis kick), 6:34
Cd'A — Owen Harris 5 run (Cady kick), 1:03
Third quarter
Cd'A — Harris 5 run (Cady kick), 10:23
High — Hymas 3 run (Younis kick), 6:27
High — Riddle 14 run (Younis kick), :29
Fourth quarter
Cd'A — Harris 10 run (Cady kick), 7:28
High — Hymas 47 run (Younis kick), 4:28
INDIVIDUAL STATISTICS
RUSHING — Cd'A, Harris 19-66, Myers 2-4, Symons 1-3, Hagel 1-2. High, Hymas 21-113, Riddle 17-67, Barela 2-8, Beckles 1-1.
PASSING — Cd'A, Symons 21-37-1-346, Hagel 1-1-0-84. High, Hymas 24-33-0-302, Barela 0-1-0-0.
RECEIVING — Cd'A, Wheeler 5-139, Hagel 4-133, Coey 4-30, Williams 4-23, Robertson 1-14, Harris 1-22, Myers 1-4, Kizziar 1-58, Cady 1-7. High, Riddle 7-57, Reno 6-40, Callen 5-113, Barela 3-69, Durham 2-28, Alvarico 1-5.
Recent Headlines
---