Donald E. Fabian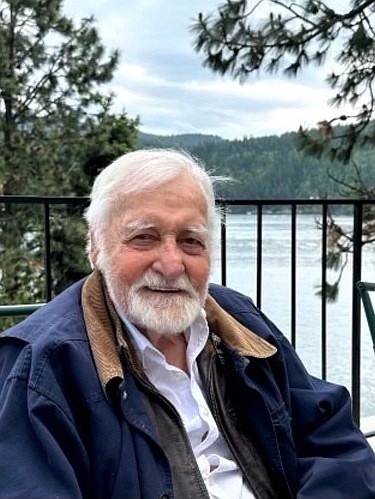 |
November 19, 2023 1:00 AM
In loving memory of Donald E. Fabian.
With heavy hearts, we bid farewell to a remarkable man who lived life to its fullest with great courage and always with a smile on his face. Donald passed peacefully at home Nov. 9, 2023, with his wife of 41 years by his side. He is survived by his wife, Paulette Fabian, and her twin sister, Susan Pharis. He always said, "He broke up the set!" Additional family survivors include his son, John Fabian, and grandson Christopher Fabian, both in Chandler, Arizona. 
Donald was a good and honorable man. Friends and family knew him as funny, clever, very smart, heroic, determined, charming and debonair. He possessed many talents and had several diverse careers. As a young lad, he rode horses which led to odd jobs at riding academies and then rodeo exhibitions in bare-back bronc riding, wrestling steers and roping calves at state fairs and rodeos. He earned several belt buckles and called himself Tex Fabian, although he lived in New York. In high school, Donald earned a college football scholarship but only stayed a while before he decided to join the United States Marine Corps.  
As a Marine Corps sergeant, Don served in combat in the Korean War, including on the front lines at the frozen Chosin Reservoir. He was wounded in action and awarded the Purple Heart.  Being a Marine was one of his proudest accomplishments. Upon the conclusion of his military service, he studied engineering and enjoyed a long successful career in radiology with several large companies, including many years with the DuPont Corporation primarily in Southern California. After retiring in 1990, he and Paulette moved to Coeur d'Alene.   
In retirement, Donald turned his artistic ability into a graphic art business. He loved computers and worked continuously to improve his skills. He was passionate about learning and always strove for excellence. Donald also started to carve and create many masterpieces, especially his Christmas Santas. He remodeled the Coeur d'Alene home, and friends would come by and marvel at the talents of this "renaissance" man.  
But his biggest joy in moving to Coeur d'Alene was fishing! He fished for over 30 years on Lake Coeur d'Alene clocking in thousands of hours and catching countless fish. No weather was too cold or rainy! He was a valued member of the Lake Coeur d'Alene Anglers Club. He was a great host, and storyteller and loved entertaining with his grilled salmon or smoked Kokanee. 
After a stroke in June 2022 left Donald blind and with various other health issues, he continued to be strong and resilient, never complaining about his handicaps. He was a testament to "staying the course" and always looking for the good in any situation.  
As we mourn our loss, may we also celebrate a life well lived and a soul that has found peace. Please visit Donald's online memorial and sign his guestbook at www.yatesfuneralhomes.com.
A military service and celebration of life will be held at a later date.
Recent Headlines
---