Former Eastern Washington coach, Gonzaga staffer Krause dies at 87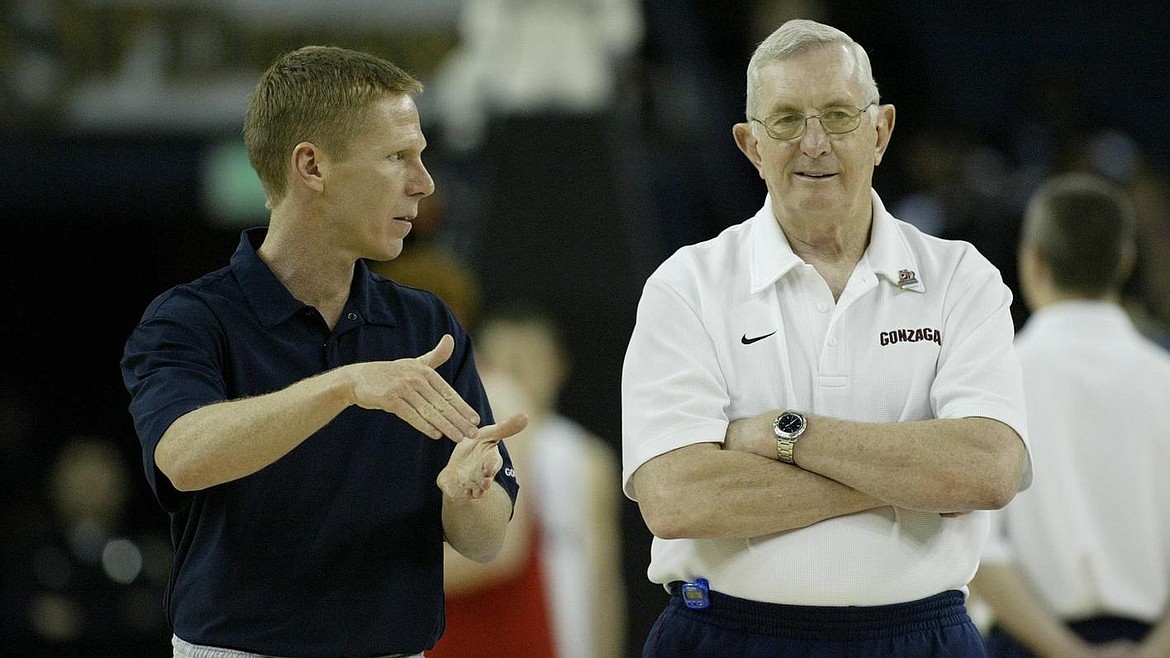 Courtesy GONZAGA ATHLETICS Jerry Krause, right, then Gonzaga men's director of basketball operations, and Zags head coach Mark Few.
Jerry Krause, who coached Eastern Washington's men's basketball team for 17 seasons, and later spent 20 years in operations roles at Gonzaga, died Wednesday night at age 87.
Krause was head men's basketball coach at EWU from 1967-85, compiling a 262-195 record. Eastern was affiliated with NAIA for most of those seasons before the Eagles moved to NCAA Division II and eventually Division I in the early 1980s. His best season at Eastern was a 25-4 finish in 1976-77 as Eastern came one victory away from a berth in the NAIA Tournament.
Krause helped build the men's and women's basketball programs at Gonzaga into national powers. He held the Director of Operations position for the GU men from 2001 to 2015, before assisting the women's program on the bench. Krause asked Lisa and Craig Fortier to interview at Gonzaga for graduate assistant positions prior to the 2004-05 season.
"Coach Krause was one of the most impactful coaches I have ever been around," said Lisa Fortier, who was a Gonzaga women's assistant for seven years before being named head coach in 2024. "He cared about people and their development in a way that made those he mentored feel confident and capable. He believed in me and invested his time to help make our program better.
"Coach Krause taught me the value of teaching the game of basketball and focusing on details and fundamentals. There was always a life lesson wrapped into the conversations about our offensive or defensive efficiency. I am so grateful that he helped me and Craig get to Spokane as graduate assistants. He has made me a better person, teacher, and a better coach. The void doesn't seem like one that can easily be filled, but his legacy is one that will live on."
Krause received the Cliff Wells Appreciation Award in 1998 from the National Association of Basketball Coaches. He was a pioneer in basketball research and coaching education, for which he was honored with the NABC Guardians of the Game Pillar Award for Advocacy in 2003 for his research in developing a standardized rim testing program. Krause is also a former member of the NABC Board of Directors and the NCAA Men's Basketball Rules Committee that oversaw the adoption of the shot clock and three-point line.
This past November, Krause was inducted into the National Collegiate Basketball Hall of Fame at a ceremony in Kansas City. He was selected to join the NAIA Hall of Fame in 2000 and the Eastern Washington University Athletics Hall of Fame in 2005. In 2013, Krause became part of the Inland Northwest Sports Hall of Fame.
Krause had over 60 released works in basketball, with most of them being movies and books. He wrote a best-selling instructional book, "Basketball Skills & Drills," in 1999, which is considered the most widely sold and used fundamentals book in the world.
During a sabbatical from EWU in the 1982-83 season, Krause completed two books while serving as an assistant for Ralph Miller at Oregon State. In summer 2005, Krause completed "Lessons from the Legends," a capstone trio of books on Naismith Hall of Fame coaches.
"I am sad to hear the news about Jerry, but what a life he had," Gonzaga men's basketball coach Mark Few said. "He had a big impact on all of us, especially Dan Monson, me, Billy Grier, Leon Rice, and those of us that kind of came up as young coaches back in the day. That's a great thing about Jerry, he had such a big impact on the game of basketball after his head coaching was done. He was a coach, a mentor, a friend, a teacher, and an author. I think he's far and away the most published guy on basketball. He was also an incredible clinician. He was doing clinics up to the very end. He was at the Final Four this year doing a clinic.
"Jerry had probably one of hardest jobs ever when he worked for us and that was helping me with scheduling. We would go round and around on stuff all the time, but we always got it right in the end. He was way before his time, and I don't know if people realize this, but he was into analytics before really anybody else. We were analyzing our games much like the way we do now with his own system, that really worked with our coaching styles. Jerry's impact on the game is why he was inducted into the College Basketball Hall of Fame, which was a really big deal to him, and it should be because that's a huge honor. Jerry was just a great friend to everybody who has ever been through Gonzaga. Whether they played here, coached here or just been around here. He always talked about having an attitude of gratitude and I think he really exemplified that in his life."
Jerry is survived by his wife Cathy Kelly.
Recent Headlines
---