Downtown in full bloom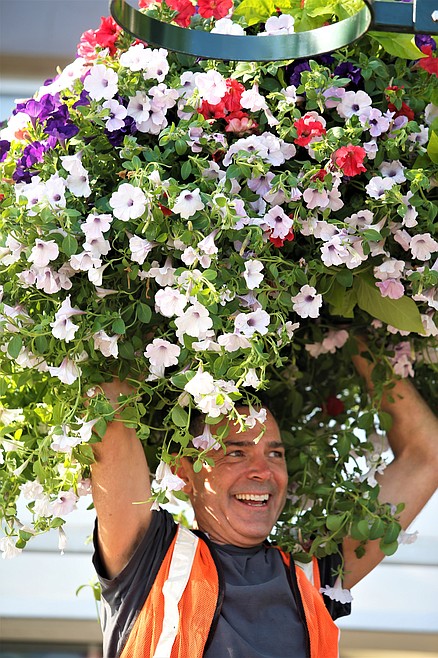 Adam Graves hangs a flower basket on Sherman Avenue Thursday morning.
BILL BULEY/Press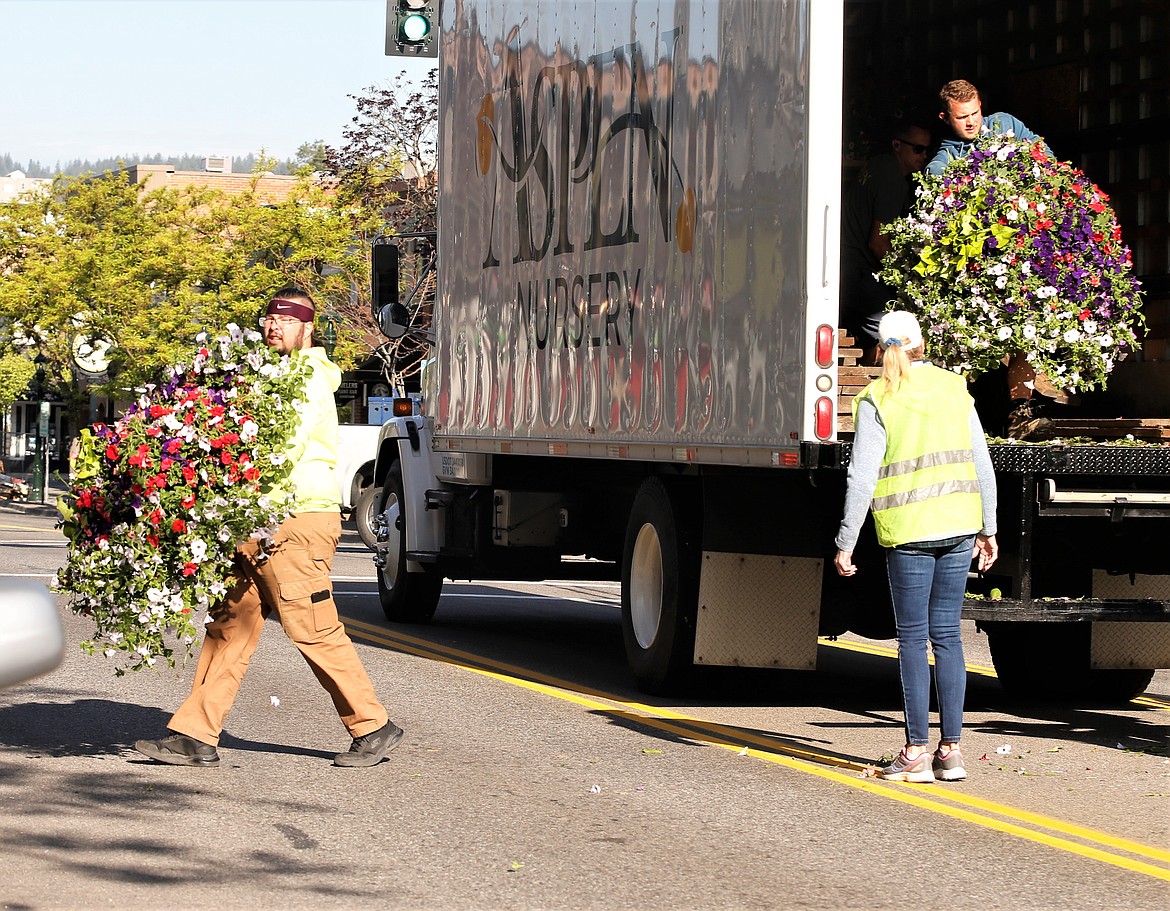 Duncan Andersen with the Coeur d'Alene Downtown Association carries a flower basket across Sherman Avenue on Thursday.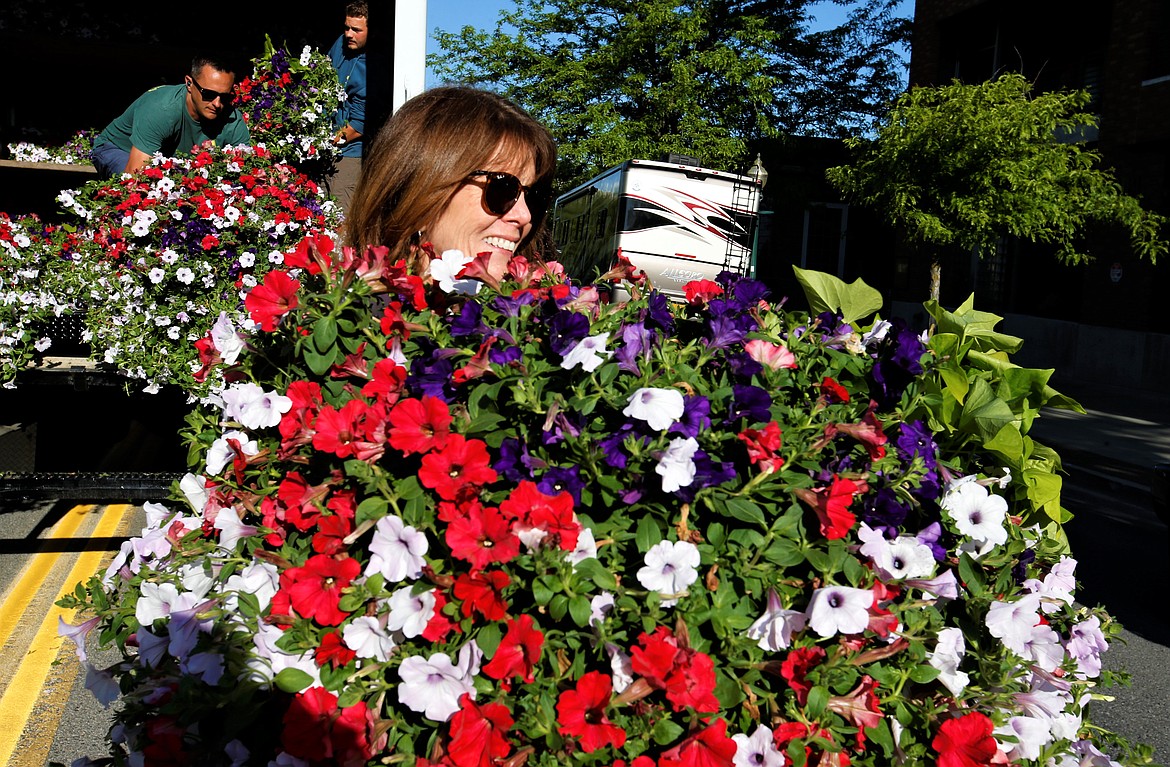 Bridget Lee carries a flower basket so it can be put in its place on Sherman Avenue on Thursday morning.
Haydn McKee, right, and Clint Baxter, of Aspen Nursery survey Sherman Avenue as they distribute flower baskets Thursday morning.
Previous
Next
COEUR d'ALENE — Adam Graves remembers what downtown Coeur d'Alene was like in the 1980s: Lots of vacant storefronts and not a lot of people.
"Downtown was dead," he said.
On a sunny Thursday morning, it was brimming with life, starting with baskets of colorful flowers Graves and about 20 volunteers put up on Sherman and Lakeside avenues and cross streets.
"Anything to keep downtown bustling and alive is important," said Graves, president of the Coeur d'Alene Downtown Association, after he hoisted another 70-pound basket into a circular holder on a light post.
The association's Flags and Flowers program provides 170 flower baskets and 70 American flags that line downtown streets throughout the summer.
The baskets were created in partnership with Aspen Nursery and, this year, they were big and bold.
They included Supertunia Really Red, Supertunia Royal Velvet, Supertunia Mini Silver and Ipomea Sweet Caroline.
"We had a really good growth season," said Clint Baxter, Aspen manager. "We had a lot of sun this year. A lot of times, when it's cloudy, they don't grow as fast."
The Flowers and Flags program costs about $25,000 a year and relies on donations.
The flowers are planted the first week of February and will last until fall's first freeze.
They are watered daily by the downtown association.
"A lot of love and care go into them," said Emily Boyd, the association's executive director.
Boyd said they couldn't do it without the volunteers.
"It's a full operation," she said.
An Aspen Nursery truck crept along Sherman Avenue as baskets were distributed to waiting volunteers, who carried them to others waiting on lifts to set them in their circular homes for the next four months.
Bridget Lee was among them.
"I love coming down Sherman and seeing all the flowers," she said.
Rae Fellenberg said she volunteers with several downtown events and decided it was time to be part of the flower basket program.
"Why not do this and make it pretty?" she said.
The hard work pays off.
"Flowers make downtown a beautiful place to be," Boyd said. "I know a lot of people in the community look forward to coming downtown once the baskets are up. It just makes it a really vibrant, warm place to come down to work, play and shop."
Donations to the Flags and Flowers program can be made at cdadowntown.com/flower-baskets or mailed to Coeur d'Alene Downtown Association at 105 N. First St., Suite 100, Coeur d'Alene, ID 83814.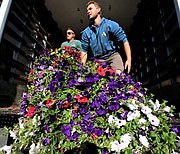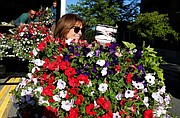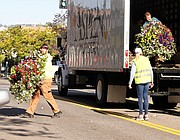 Recent Headlines
---