LEGION BASEBALL: AA Lumbermen load up in chase for state on home turf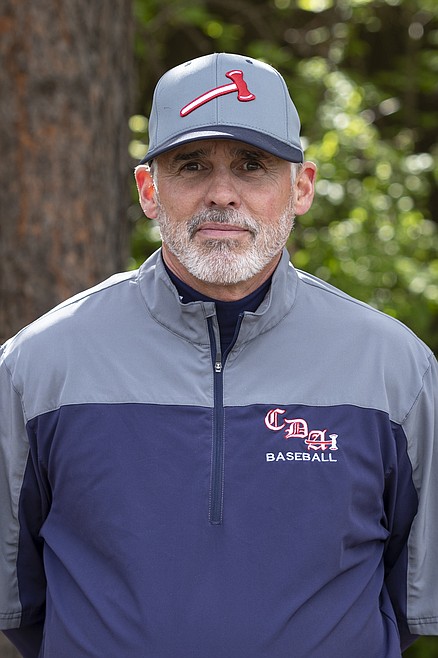 By JASON ELLIOTT
Sports writer
Chasing a fifth-straight Class AA Area A title, Coeur d'Alene Lumbermen coach Darren Taylor and his squad can throw a lot of different looks at its opponents this year.
And he means a lot.
"We're going to be a good team," said Taylor, in his third season as coach. "We were talking about looking a little like the Los Angeles Dodgers a little this year because they can all play multiple positions. It's going to be interesting to see how it's all going to fit together, but it's going to be a fun season. We'll see if we can get from A to B."
A being its season-opening trip to the Missoula Mavericks Memorial Day Tournament starting Saturday. The Lums will open with the Helena Senators and Vauxhall Academy.
"Helena's a really good team and Vauxhall is always a tough matchup," Taylor said. "We'll have a couple of practices to get ready to go."
B will be the state tournament July 24-29, scheduled for Thorco Field in Coeur d'Alene.
As a result of hosting state, both Coeur d'Alene and Lewis-Clark — the only two AA teams in North Idaho — will advance to state this year. The teams will play four league games to determine seeding to state June 11 in Coeur d'Alene, and again July 19 in Lewiston.
"It's going to be cool to have state here this year," Taylor said. "We're the four-time defending district champion, so it's going to be fun to see if we can repeat and see if we can be at our best for the state tournament."
Jayden Butler, a pitcher from Post Falls, was projected to be the Lums' No. 1 starting pitcher, but will miss the season due to Tommy John surgery. Owen Benson, a graduate of Coeur d'Alene High who is redshirting at the Community Colleges of Spokane, returns to the mound this summer. A.J. Currie, a junior from Lake City High, will also be part of the rotation this year.
"Having Jayden injured really hurts us," Taylor said. "It's a huge blow to not have him."
Jerad Taylor, a redshirt at Walla Walla, returns and will catch for the Lums this year along with Joe DuCoeur, a senior from Lake City High, who was recently named 5A Inland Empire League MVP after helping lead the Timberwolves to the state 5A championship game.
"Joe's going to be a key guy for us and has started every game for us since his sophomore year," Darren Taylor said. "We'll be leaning on him to catch all the big games this year."
Kyle Bridge, a senior outfielder from Coeur d'Alene High, will return to the outfield for the Lums, along with Lake City senior Eric Bumbaugh and Coeur d'Alene senior Cooper Erickson.
"Kyle's been battling some injuries and is going to be out for a few weeks, but has started two years straight," Taylor said. "Eric did a great job in the outfield and I was impressed that he was closing some games on the mound at Lake City. Cooper is going to be around the infield and pitch a little bit as well."
Coeur d'Alene seniors Jesse Brown and Bryce Hall will also split time in the infield and outfield. Coeur d'Alene junior Nolan Christ will roam the outfield as well.
Coeur d'Alene added Post Falls junior Isaac Ziegler — a left-handed pitcher/outfielder — as well as Lake City junior outfielder Ty Shepard to its roster, as well as Timberlake junior infielder/pitcher Caden Robinett.
"Isaac and Ty will really help us out a lot this year," Taylor said. "Caden wanted to see what the next level was like and if he's going to play at the next level, he's going to need to see good hitting and pitching each day."
Seniors Kyle Seman (Coeur d'Alene) and Karl Schwarzer (Lake City) will primarily be used as pitchers this summer.
"We've got a good group of guys," Taylor said. "We'll see how it all plays out."
Coeur d'Alene's home opener will be against the Inland Northwest Iron Pigs, a men's amateur baseball team, next Wednesday at Thorco Field starting at 5:30 p.m.
"We were having trouble finding an opponent and they stepped up to play us," Taylor said. "We're really thankful for them to come to and play us. One of our assistant coaches, Ryan Hunt, plays for them, and he'll probably start for them and try to shut us down."
Coeur d'Alene will also compete in the Dwight Church Tournament in Lewiston June 16-18 and the Bozeman tournament June 22-25, as well as a tournament in Seattle July 13-16, in addition to the annual Fourth of July Wood Bat Classic on June 30 to July 3.
"That Bozeman tournament is going to be like a state preview with drawing Twin Falls, Pocatello and Nampa and will be a good trip for us," Taylor said. "Playing in Seattle will be a good indication of where we stand right before state."
Recent Headlines
---