Hayden City Council approves zone change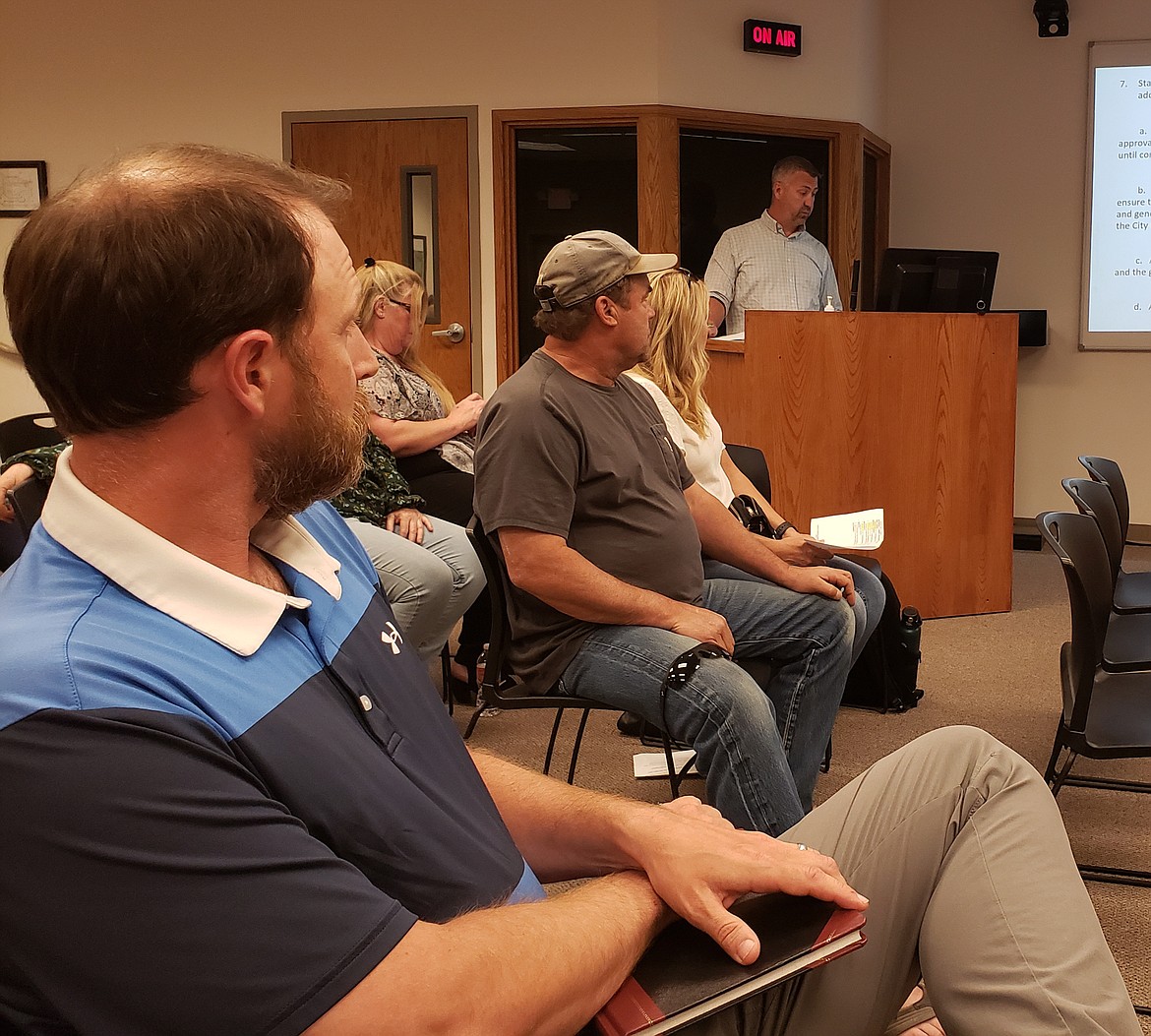 From right, Jeramie Terzulli presents to the Hayden City Council Tuesday, on behalf of Bassett Construction owner Paige Bassett, with owner of Olson Engineering Eric Olson.
JOSA SNOW/Press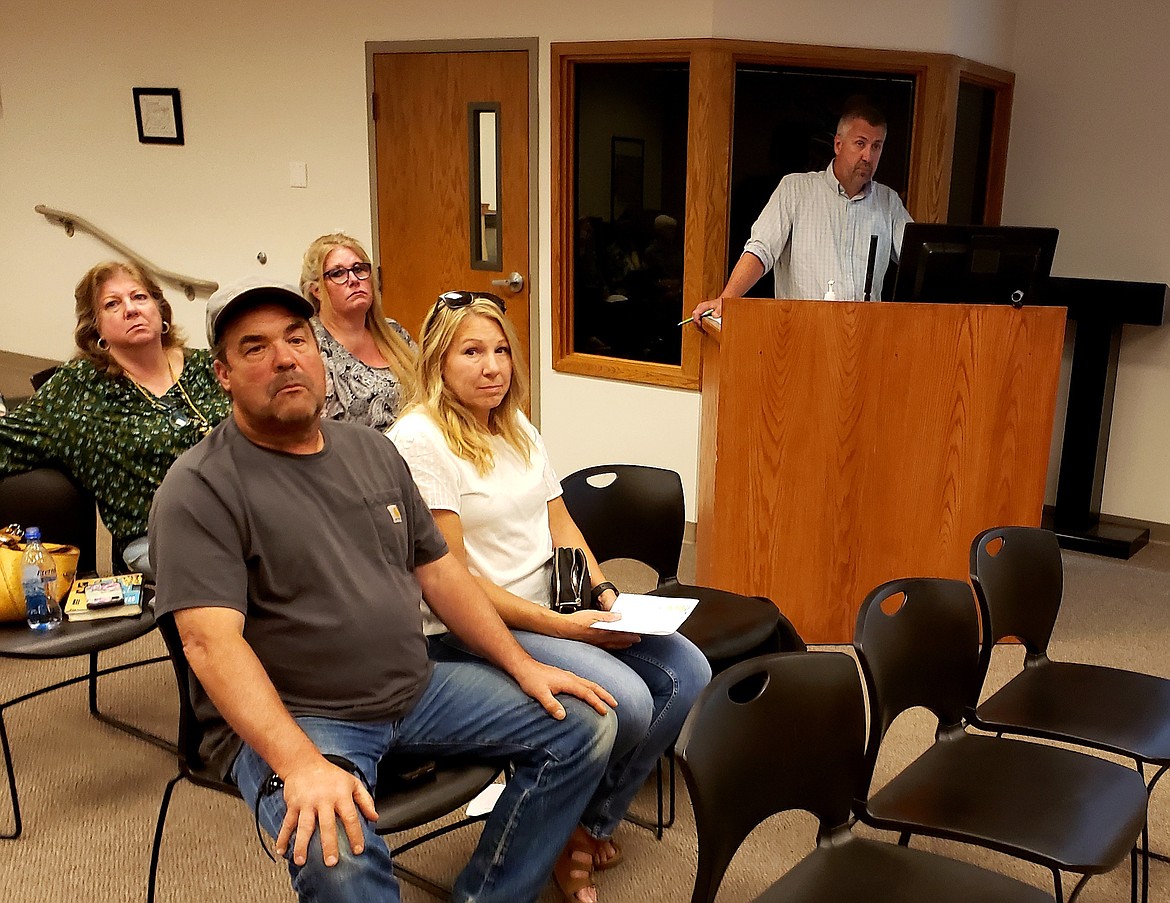 From left, owners of Bassett Construction Paige and Kellie Bassett, and Jeramie Terzulli of Olson Engineering submit a request for a zone change at a Hayden City Council meeting Tuesday.
Previous
Next
by
JOSA SNOW
Staff Writer
|
May 25, 2023 1:00 AM
Hayden's City Council has changed zoning for a property on Reed Road south of Miles Avenue.
Council members Tuesday approved 3-1 the change from suburban to single-family residential for the nearly 1.5-acre lot. The request was made by Olson Engineering on behalf of property owner Bassett Construction as an initial step in subdividing the lot.
Councilwoman Sandra White cast the lone opposing vote. Council President Matt Roetter was initially torn on his decision, but ultimately voted to approve the zone change.
"On the one hand, we need to protect open lots," Roetter said. "However, as a dad who has three daughters, and knowing the challenges that are out there for people to find housing. ... Housing has become so unaffordable that it's hard for teachers, nurses, policemen, firemen and first responders to find places to live."
The zone change paves the way for Paige Bassett, owner of Bassett Construction, to build two homes on the lot that he could sell to his two daughters, students in the medical field, at cost.
Bassett would also likely build four other single-family homes in the remaining space, to sell at a profit. The project hasn't been approved or formally proposed to the city yet, but it's in planning phases, and building six homes on roughly quarter-acre lots would be the goal.
Bassett doesn't consider himself a developer, and this will likely be the only parcel he tries to develop in his career, Olson Engineering's Jeramie Terzulli said.
The city received some opposition to the zone change in public hearings, with seven comments against and three in favor, critics citing traffic and crowding.
Sharla Pace, who lives on neighboring property to the south, spoke in favor of the change.
"It would definitely be to our advantage if you approve this," said Pace. Her daughter, Lindsay, has expressed an interest in building a home on the back of the Paces' property. The Bassetts' proposed subdivision could include a road that would give Pace's daughter easier access to the back of her parents' lot.
"She could be the owner of her own home, and it would be affordable to her," Pace said. As a single female, she says she hasn't been able to enter the city's competitive market.
Access to housing is a challenge in an inflated housing market across Kootenai County. Excessive demand for housing and high interest rates require creative solutions from career people trying to buy property, especially with a single income. Combining resources like land, money and skills will give the Pace and Bassett families opportunities to build wealth in their family.
"That's probably the No. 1 thing I hear from constituents — their kids can't afford to live here," Councilman Roger Saterfiel said. "I'd like to see an opportunity where we can keep our kids here."
The zone change comes during a wider community debate in Hayden. Residents are often opposed to "irresponsible" city growth that cuts into open prairie space and increases traffic. But a lack of access to entry level housing is also pushing longtime residents out of the market.
"I'm also torn," White said. "Leaving the suburban residential zone gives us greater variety, because residential suburban is going away so much."
There are 284 suburban residential lots left in the city of Hayden, each at least half-an-acre.
Those lots can cost as much as many residents' single-family homes and take up at least twice as much space. Subdividing suburban lots can provide greater access to affordable housing, but it also backfills open lots and contributes to the city's overall density.
A few developments proposed by Olson Engineering were already denied by the council in recent months, so the future of the Bassett Construction development is in no way certain with the zone change.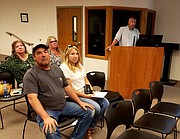 Recent Headlines
---