Sisters' road trip to a new life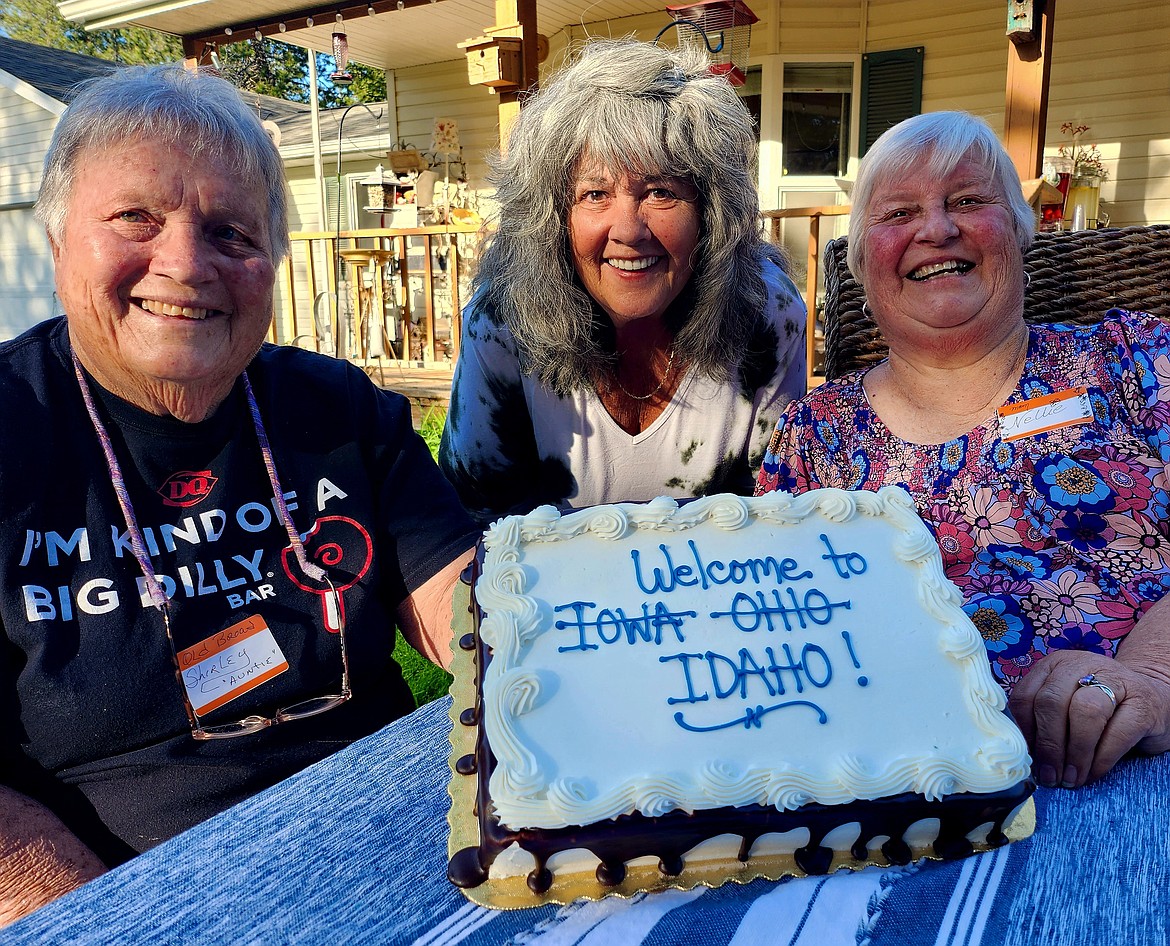 Kerri Thoreson, center, with Shirley Kincaid, left, and Nellie Thompson at their Welcome to Idaho party.
Photo courtesy of Kerri Thoreson
Two new members of the Main Street Birthday Club were born in the merry month of May. Sisters Nellie Thompson and Shirley Kincaid became Idahoans on May 1 after an incredible road trip adventure. The octogenarians sent the moving van on ahead and caravanned in their cars from Humbolt County, Calif., to Spirit Lake. Also along for the ride was Nellie's reluctant traveling cat, Snack Pack.
After a meandering drive of just under 1,000 miles, with overnight stops here and there, the sassy sisters are enjoying the hospitality of their daughter/niece, respectively, and son-in-law, Suzanna and Bob Spencer. They'll soon be roommates in independent living as long as there's a kitchen big enough for both to cook and bake.
Suzanna hosted a Welcome to Idaho gathering so her mom and auntie could meet people and it was an absolute treat. The cake (pictured) was so funny and true.
Happy 89th birthday last week to Shirley and 83rd birthday to Nellie on the 19th. Welcome home!
• • •
Now that I'm 71, I have a new 10-year goal thanks to 81-year-old Martha Stewart appearing on the cover of the Sports Illustrated Swimsuit Edition looking beautiful. When I expressed this goal on Facebook, Kiki Miller cheered me on: "A couple of well-placed fluffs, ruffles and airbrushing and you totally got this."
I'll be on the lookout for fluffs in the coming years.
• • •
Oh my gosh, I see a lot of promotions for events and celebrations, but every so often there's one that's so laugh-out-loud funny and wicked clever that it deserves a shout-out. I hope you all will mark June 1 on your calendar and meet up in Athol at 3:20 p.m. at the corner of Menser and Sixth near Athol Elementary School. The city of Athol, population 755, is celebrating its first-ever sidewalk with a ribbon cutting. Not only is this the city's first sidewalk but there are also two new Rectangular Rapid Flashing Beacons on Highway 54.
So while it sounds fun to celebrate the first sidewalk in Small Town, USA, it's part of the Children's Pedestrian Safety Funding Program, which makes it worth celebrating!
• • •
The loss of beloved pastor Bill Hemenway on May 10 is felt by many in the community he served for decades. A note from Christ the King Lutheran Church announced the Service of Praise and Thanksgiving for the Reverend on Friday, May 26, at 11 a.m. The last line definitely would have brought a smile to Bill's face. "A 'good ol' fashioned Lutheran potluck" will be held in Bill's honor in the church gym following the service."
• • •
Happy birthday today to Bryan Myers, Allison Krutulis, Jared Janke, Brad Finney, Shawntel Shofner, Brad Enders and Christine Brannon. Tomorrow Vicki Isakson, Lauren Hopkins, Jeanne Helstrom, Amy Corbett, Tom Ball, Corky Chadderdon, Shaun Johnson and Tina Haskin share a birthday. On Friday Laura Stensgar Penney, Nellie Thompson, Tom Lien, Vera Brown, Julie Kohut, Jessica Smalley McGreal, Tammy Rupinski and Rick Nowoj eat their birthday cake. On Saturday Jeannie Steele, Heather Hart, Barry White, John Goedde, Billie Gross, Shawn Nash, Tina Smith, Jana Hull and Lindsay Herbert blow out the candles. Donna Jessick Atwood, Jessica Bauman, Ruth Fullwiler, Jessica Capaul, Dick Epstein, KV Nelson, Pam Freeman and Carter Hamby celebrate the day of their birth Sunday. Kalil Barkie, Michelle Fehling Purcell, Fred Glisson, Ken Keast, Tasha Seath and Jonathan Larson celebrate Monday. Marlo Faulkner, John Webb, Margie McGaughey, Theresa Williams, Tom Morgan, Susan Ballinger, Joel Riner, April Needham, Steve Vick and Elaine Pandolfi were born May 23.
• • •
Kerri Rankin Thoreson is a member of the National Society of Newspaper Columnists and the former publisher of the Post Falls Tribune. Main Street appears every Wednesday in The Press and Kerri can be contacted on Facebook or via email mainstreet@cdapress.com. Follow her on Twitter @kerrithoreson.
Recent Headlines
---