'Idaho is flying high'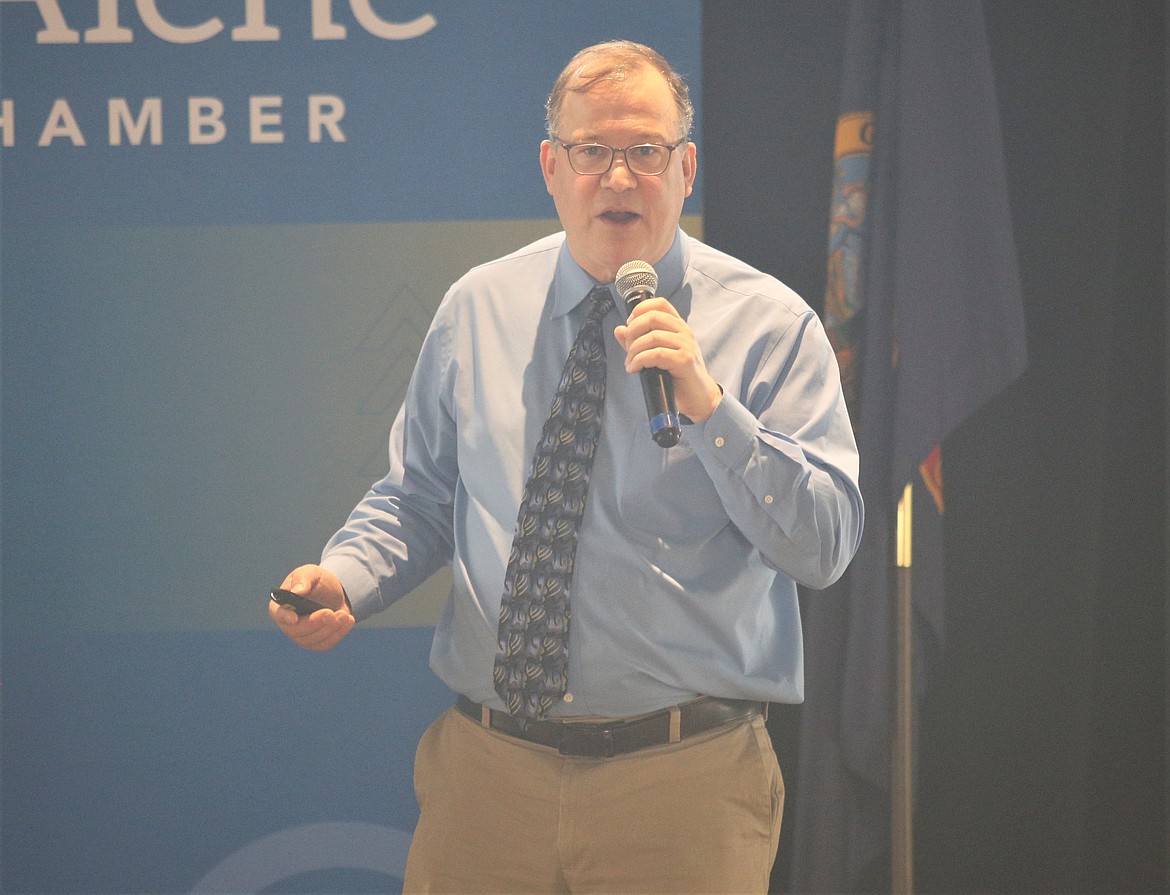 Jeremy Chase with the Idaho State Department of Commerce speaks before the Coeur d'Alene Regional Chamber at the Hagadone Event Center on Tuesday.
by
BILL BULEY
Staff Writer
|
May 10, 2023 1:06 AM
COEUR d'ALENE — Expectations couldn't be much higher for tourism this summer in North Idaho.
"It's an economic engine that makes us all run, and it's something to be excited about," said Jeremy Chase, marketing and innovation administrator at the Idaho State Department of Commerce.
Chase, in a 13-minute talk Tuesday before the Coeur d'Alene Regional Chamber, highlighted areas of the state's economy that indicate it is thriving and is projected to grow as temperatures rise in the coming months and more people visit the Gem State.
He said tourism is Idaho's third-largest industry, only behind agriculture and technology.
Chase said the state's 2% lodging tax has generated $16.8 million through March, up nearly 5% over a year ago, which was up substantially over 2021.
"Idaho is flying high," Chase said, as he referenced his PowerPoint presentation before about 200 people at the Hagadone Event Center.
Chase said Idaho was first, or top 10, in the nation for growth in travel spending, pandemic recovery, revenue growth, economic outlook and momentum, lowest energy costs, least government regulations and fiscal tax policy.
"These are wonderful things that help position us for continued growth and success on the economic front," he said.
Representatives from Silverwood Theme Park, Coeur d'Alene Summer Theatre and The Hagadone Marine Group all indicated they were gearing up for an influx of guests this summer.
Linda Coppess, chamber president and CEO, said they are excited about the summer season. With perhaps record visitors headed this way, it will be a great opportunity for businesses to get their brands out there, she said.
"I would encourage you all to look at it as an opportunity," Coppess said.
According to Visit Idaho, the top reasons visitors come to North Idaho are to visit friends and family, experience the outdoors and tour the region.
The top five visitor activities in North Idaho include sightseeing, shopping, hiking and backpacking, and camping, according to Visit Idaho.
Top activities of special interest are historic places, cultural activities, brewery tours and beer tasting, winery tours and tasting and exceptional culinary experiences.
According to 2021 reports, $1.9 billion was spent by visitors to Idaho staying in hotels and motels, $685 million was spent by visitors in short-term rentals, and $148 million was spent by visitors at campgrounds.
Chase said 84% of tourism spending is generated by out-of-state visitors.
Overall tax collections in Idaho have been up every month this year compared to last.
"People experience this place and have a wonderful time and that keeps that engine going. And that is a recipe for success," he said.
Mark Robitaille, executive director of the Coeur d'Alene Convention and Visitors Bureau, said 2021 and 2022 were both banner years for tourism in Idaho, and this year should see increased visitor spending again.
The bureau received many inquiries asking about outdoor opportunities like biking trips, camping and lakes.
"I think we're in for a strong summer," Robitaille said.
Recent Headlines
---