GOP boycott in Oregon halts bills on guns, abortion and more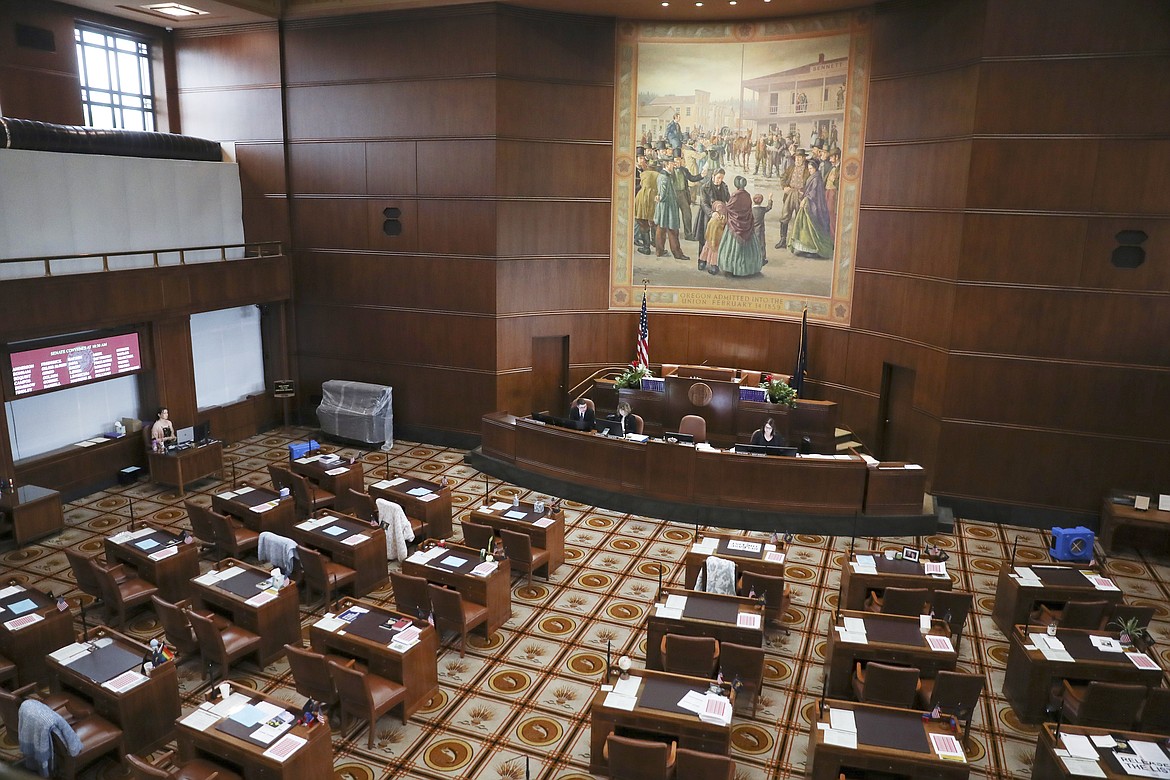 The Senate chambers sits nearly empty at the Oregon State Capitol in Salem, Ore., Thursday, May 4, 2023. Republican members of the Oregon Senate on Thursday extended their boycott of Senate proceedings into a second day, delaying action by the majority Democrats on bills on gun safety, abortion rights and gender-affirming health care. (AP Photo/Amanda Loman)
By CLAIRE RUSH and ANDREW SELSKY
Associated Press
SALEM, Ore. — Republican members of the Oregon Senate on Thursday extended their boycott of Senate proceedings into a second day, delaying action by the majority Democrats on bills on gun safety, abortion rights and gender-affirming health care.
The stayaway prevented a quorum, with Senate President Rob Wagner calling for another try on Friday. Republican lawmakers have used walkouts in the past, but this time — if they continue to stay away — they'll be testing a law approved overwhelmingly in a ballot measure last November that bans lawmakers with 10 unexcused absences from running for reelection.
The boycott comes as several statehouses around the nation, including in Montana and Tennessee, have been battlegrounds between conservatives and liberals. Oregon has increasingly been divided between the liberal population centers like Portland and Eugene, and its mostly conservative rural areas.
Republicans say they are protesting over bill summaries not being written in plain language, citing a 1979 state law requiring summaries of bills to be readable by those with an eighth or ninth-grade education — measured by a score of at least 60 on the Flesch readability test, GOP Senate Minority Leader Tim Knopp told a news conference Wednesday.
Knopp was present on the Senate floor Thursday. As he walked away after the day's session was closed, he said Republicans are still deciding about continuing the boycott. He later got on the phone with Gov. Tina Kotek, a Democrat and former House speaker.
Knopp told a press conference a day earlier that Kotek has an agenda she wants the Legislature to pass, most importantly combatting homelessness.
"So I think the governor, as the leading official in state, is ultimately going to have to become involved, because we obviously can't have a session that is going awry and that jeopardizes her agenda for this session," Knopp said. "And I don't want to see the governor's agenda derailed."
Knopp's spokesperson, Ashley Kuenzi, said Kotek expressed willingness in the call with the senator to help resolve the impasse.
The existence of the readability law, passed by the Legislature in 1979 with bipartisan support, was discovered in April by a Republican caucus staffer. Knopp said he does not know when the law was last employed to make bill summaries easy to read.
"But it's important that we follow the law because, if we're passing laws today, are we just expecting in, you know, 20, 30, 40 years that people are just going to ignore the laws that we have on the books that we all passed," Knopp asked at the news conference. "I don't think we would appreciate that."
Asked if the Republican boycott was due to the bills on gun control and abortion and gender-affirming care, Knopp said, "It's about every bill. But those bills specifically also don't qualify under this law, and they refuse to fix them."
Democrats said it's clear the moves are aimed at delaying votes on those bills, which stand a good chance of passage in the Democratic-controlled Hose and Senate.
Some local leaders, labor organizations and activists supporting reproductive and LGBTQ+ rights in Central Oregon called on Knopp, who is from Bend in Central Oregon, to end the Republican walkout.
"Senate Republicans are ... walking out over issues that Oregonians overwhelmingly support: the right to make our own healthcare decisions, to access abortion and the care we need, and to marry who we love," the activist group Basic Rights Oregon said in an emailed statement. The activists planned to hold a rally later on Thursday.
GOP lawmakers employed the same boycott strategy in 2019 and 2020 to freeze legislation capping greenhouse gas emissions, among other things. Oregon has a two-thirds quorum rule, meaning the state House and Senate need two-thirds of their members to be present to conduct business. In the Senate, that's 20 of its 30 members. Currently, 17 senators are Democrats, 12 are Republicans and one is an independent.
If Republican senators deny a quorum for the rest of the legislative session, which doesn't end until late June, they could theoretically kill the bills on gun control, abortion rights and gender-affirming care.
The wide-ranging bill on abortion and gender-affirming care would shield patients and providers from lawsuits originating in states where abortion and gender-affirming care are now restricted. It would also allow doctors to provide an abortion to anyone regardless of age and bar them in certain cases from disclosing that to parents.
The gun control measure would increase the purchasing age to 21 for AR-15-style rifles and similar guns, impose penalties for possessing undetectable firearms and allow for more limited concealed-carry rights.
---
The Associated Press receives support from several private foundations to enhance its explanatory coverage of elections and democracy. See more about AP's democracy initiative here. The AP is solely responsible for all content.
Recent Headlines
---