Cd'A CHAMBER: Launching tomorrow's leaders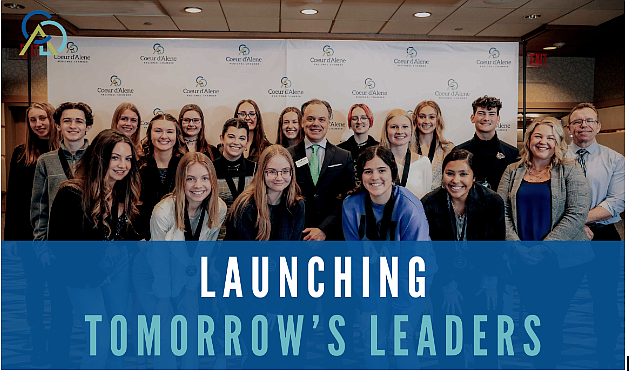 by
LINDA COPPESS
|
March 26, 2023 1:00 AM
Spring is in the air! The snow has melted (mostly), the birds are singing and tiny blossoms are starting to sprout. It is the wonderful season of renewal and rejuvenation after a long and dark winter. It's been a difficult week for our community, especially for our friends in the education sector after the levies failed. But following this notable setback, I am encouraged to see signs of rebirth, showing an awakened resolve to work together in support of our students, educators and the future of our business community.
One of my most favorite parts about being in the chamber is getting to witness firsthand the kindness and generosity that is alive and well in our region. During this time of uncertainty, one thing is clear, the members of the Coeur d'Alene Regional Chamber are FOR education and I am excited to share proof.
Our Top Scholars and Scholarship Breakfast is coming April 11, where we will celebrate the academic achievements of 50 outstanding seniors from high schools in the Coeur d'Alene area and give out much anticipated scholarship awards. It is quite an inspiring experience — to honor our graduates and help them build connections with our local businesses.
For the second year in a row, I am humbled to announce that Chief J. Allan, Chairman of the Coeur d'Alene Tribe has pledged to match every $1,000 scholarship donated to the program! "Education is the great equalizer, the single most important factor for success in life. That's why the Coeur d'Alene Tribe makes real investments in education in our community, to help make sure everyone has the best chance they can get. I challenged business leaders in our community to step up and join us in that investment and I'm very pleased to see that happen. This is awesome."

The Chamber has a rich history of awarding three to five annual scholarships. We raised the bar in 2022, where 52 students received $1,000 scholarships. This year, I am beyond excited to share that we have raised $82,000 in scholarships. THANK YOU to all our amazing scholarship sponsors!
$1,000 Allegra Marketing, Print, Mail; Avista; Avondale Dental Group; Axis Spine Center; Coeur d'Alene Tractor; D.A. Davidson & Co.; Express Employment Professionals; Haddock & Associates; Heidi Rogers; HREI; Idaho Central Credit Union; J.A. Bertsch Heating & Cooling; J-U-B, STRATA Geotech, Welch Comer; Kootenai County Democrats; Kootenai Electric Cooperative Foundation; Mountain West Bank; North Idaho Higher Education; Northwest Specialty Hospital; NWSH | Urgent Care; NWSH | Pediatrics; NWSH | Institute for Digestive Surgery; Orthopedic Surgery and Sports Medicine; Parker Subaru; Parker Toyota; Parkwood Business Properties; Stan Craft Companies; STCU; TDS Telecom; Salvation Army Kroc Center; Thorco, Inc.
$2,000 Paige and Steve Leifer
$3,000 CDARC Board of Directors
$5,000 Lola Hagadone Foundation
If you were unable to donate a scholarship, you can still help honor students! Please consider donating an item for their gift bags. To do so, kindly bring a quantity of 110 of your donated items to the Coeur d'Alene Regional Chamber by 5 p.m. Wednesday, April 5.
If you would like to show your support, please attend April's Upbeat breakfast. Or, to sponsor an item for the gift bags, please email: Ann@cdachamber.com.
---
Linda Coppess is president and CEO of the Coeur d'Alene Regional Chamber of Commerce.
Recent Headlines
---