Pet and people friendly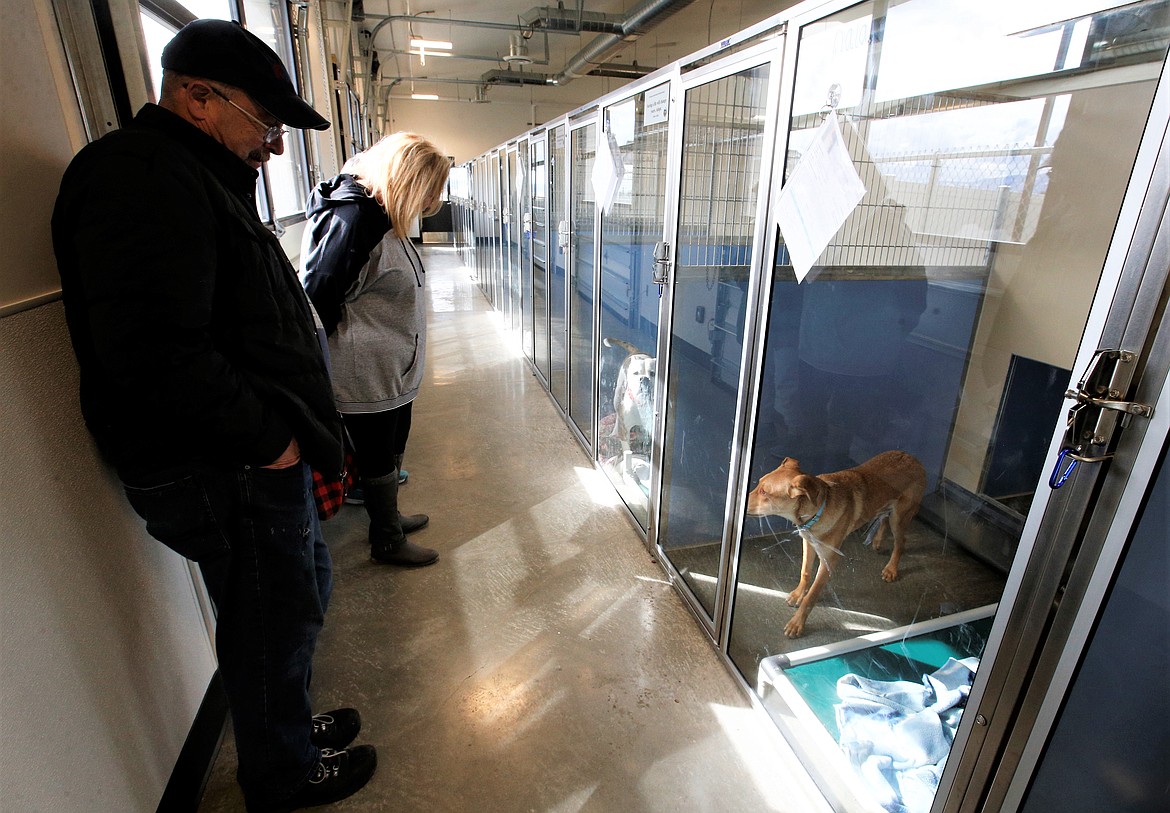 Dennis and Dawn Wright look over dogs, including Lola, a recently surrendered American Bulldog, center, at Companions Animal Center that opened Saturday. The Wrights adopted Lola.
BILL BULEY/Press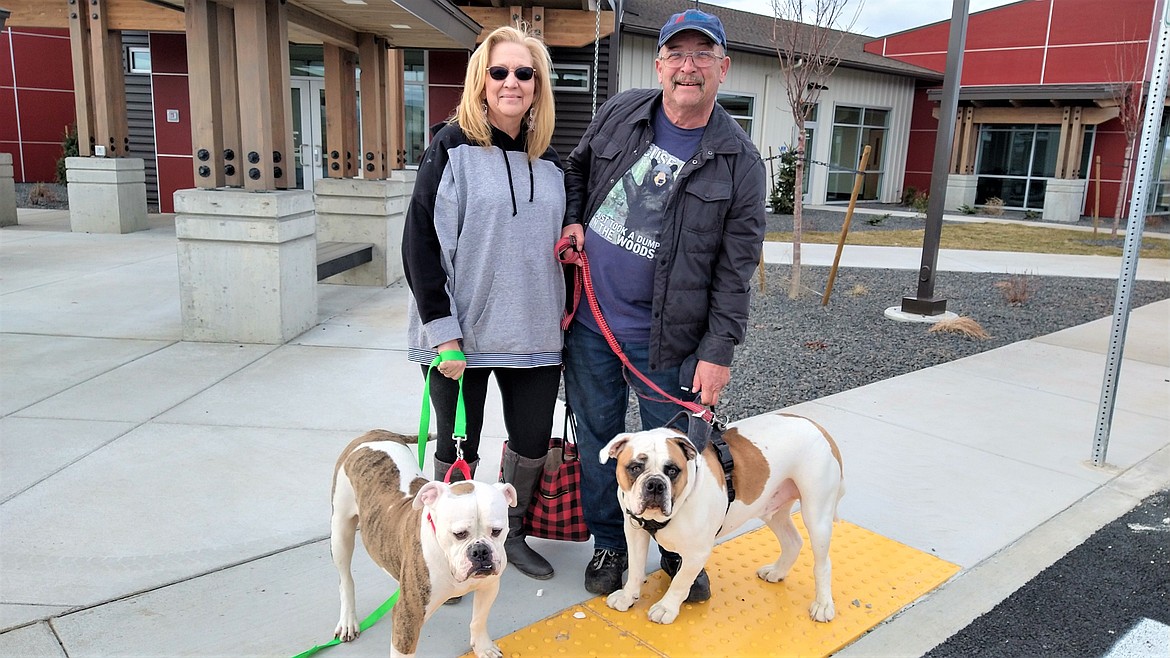 Dennis and Dawn Wright adopted Lola, left, as a playmate for their dog, at Companions Animal Center on Saturday. Photo by Vicky Nelson/CAC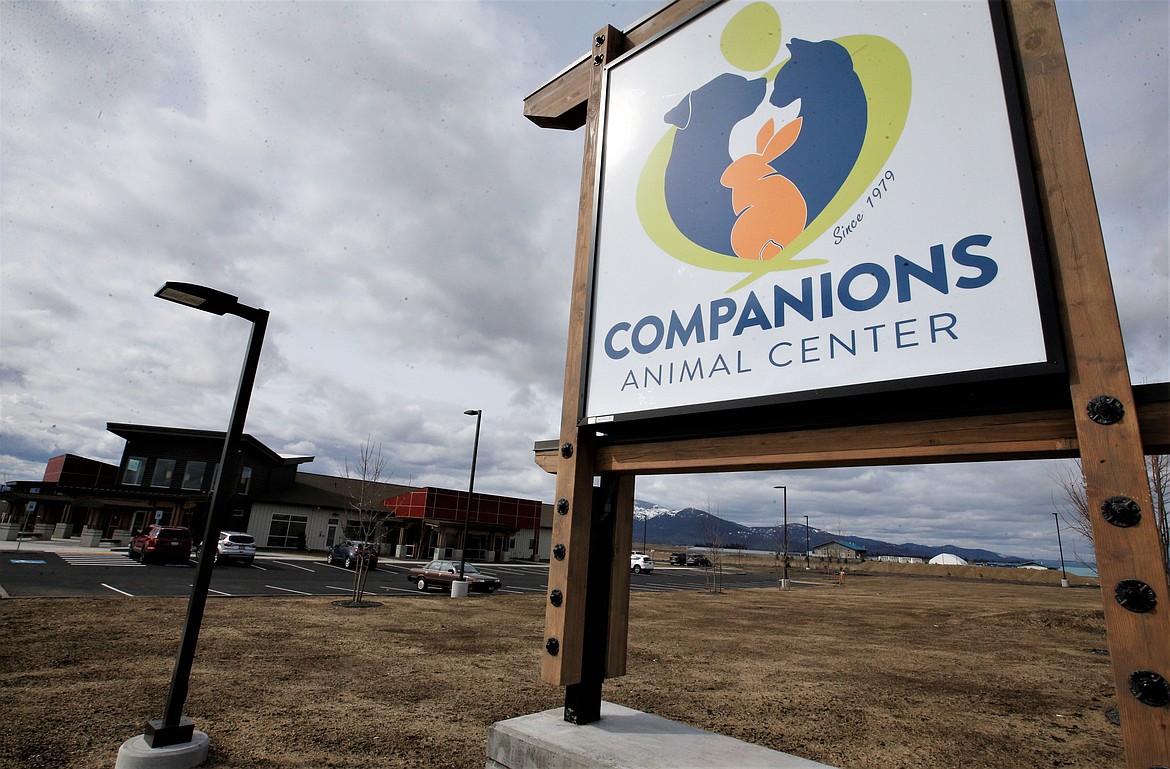 The $8 million Companions Animal Center on Atlas Road in Hayden opened Saturday.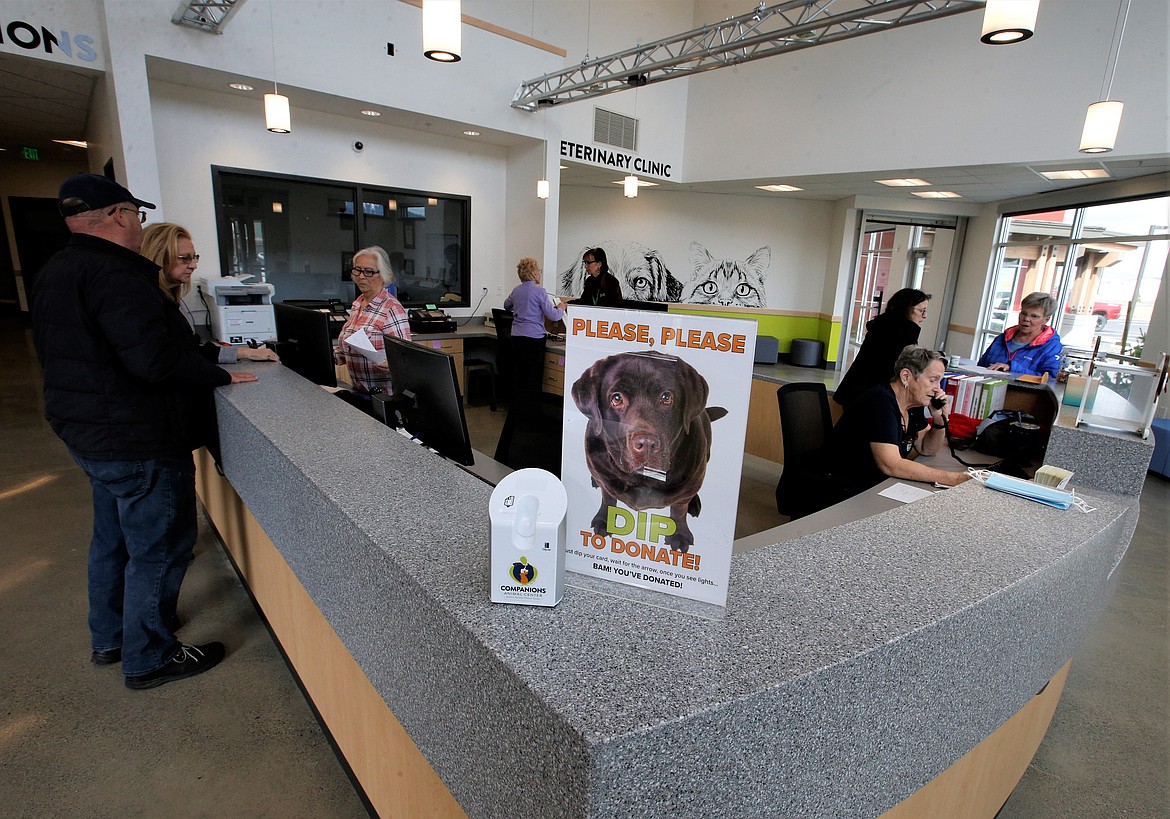 Companions Animal Center staff talk with visitors in the lobby area Saturday.
Previous
Next
by
BILL BULEY
Staff Writer
|
March 26, 2023 1:08 AM
HAYDEN — Lecia Moore got her first look at Companions Animal Center on Saturday.
And yes, she liked it. A lot.
"Unbelievable," Moore said. "I think it's going to be a cool shelter."
Moore was joined by two friends from Oregon, and tried to explain to them the condition of the old shelter on Ramsey Road.
"It was really bad," she said.
Say goodbye to dreary, run-down and crowded and hello to light, state-of-the-art and open space.
Companions Animal Center, formerly the Kootenai Humane Society, opened its doors to the public Saturday.
Some came out to take a look at the $8 million facility on Atlas Road. Some were even hoping to adopt a four-legged friend.
Count Laura Schmidt among them.
"It's just beautiful. Lots of light," she said.
Schmidt said the shelter was spacious, with plenty of parking and in a nice, quiet location. The dogs were in large kennels with acrylic doors and the cats had comfortable homes, too.
"I really like it," Schmidt said.
Vicky Nelson, CAC development director, said it was a smooth opening day, with several adoptions and surrenders.
One goal of the name change is to help people understand how the shelter is funded.
The old name gave some the idea it was associated with the government of Kootenai County. Others believed it was connected with the Humane Society of the U.S.
Both gave the false impression the shelter was receiving designated funds from government or other sources, Nelson said.
"We hope this helps people understand we are 100% community funded," she said.
The 22,000-square-foot building like heaven on earth for CAC's staff of about 17. It has a veterinarian clinic and specific wings for dogs and cats. The lobby is large, bright and welcoming. Administrators have offices and there are rooms for storage, laundry and medical supplies.
A large community room is available to rent.
A long path on the grounds will give volunteers a peaceful setting to walk dogs.
"We are hoping that this building is inviting for the community, that it creates an environment that's inviting for people to come and look at the animals," Nelson said.
A grand opening is scheduled April 30.
Fundraising efforts began about five years ago and have brought in just over $6 million. Donations are still needed to reach the $8 million goal.
A groundbreaking was held in November 2021. Young Construction Group of Idaho, Inc., was the project's general contractor.
The decades-old shelter on county property was plagued with problems and will be torn down. It is expected to become part of the Coeur d'Alene Airport.
Dennis and Dawn Wright of Spokane drove to CAC in search of a companion for the 90-pound American Bulldog they previously rescued.
He had been confined to a crate for six months.
"When we got him, he couldn't walk," Dennis said. "We turned him loose and loved him. And he's the best dog."
But he needed a playmate, so the Wrights arrived with hopes of finding another American Bulldog.
"If we can rescue another one, great," Dennis said.
They got their wish.
Following a meet-and-greet, they adopted Lola, recently surrendered, but a smart, strong and friendly 79-pound American Bulldog.
The Wrights were delighted, both with Lola and Companions Animal Center.
"You can tell people care about the animals," Dennis said.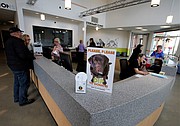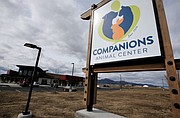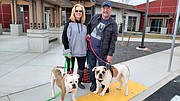 Recent Headlines
---