Levy failure prompts student walkout
Lake City High School junior Luke Sharon addresses the crowd Friday as students stage a walkout and rally in response to school levy elections failing at the polls March 14.
DEVIN WEEKS/Press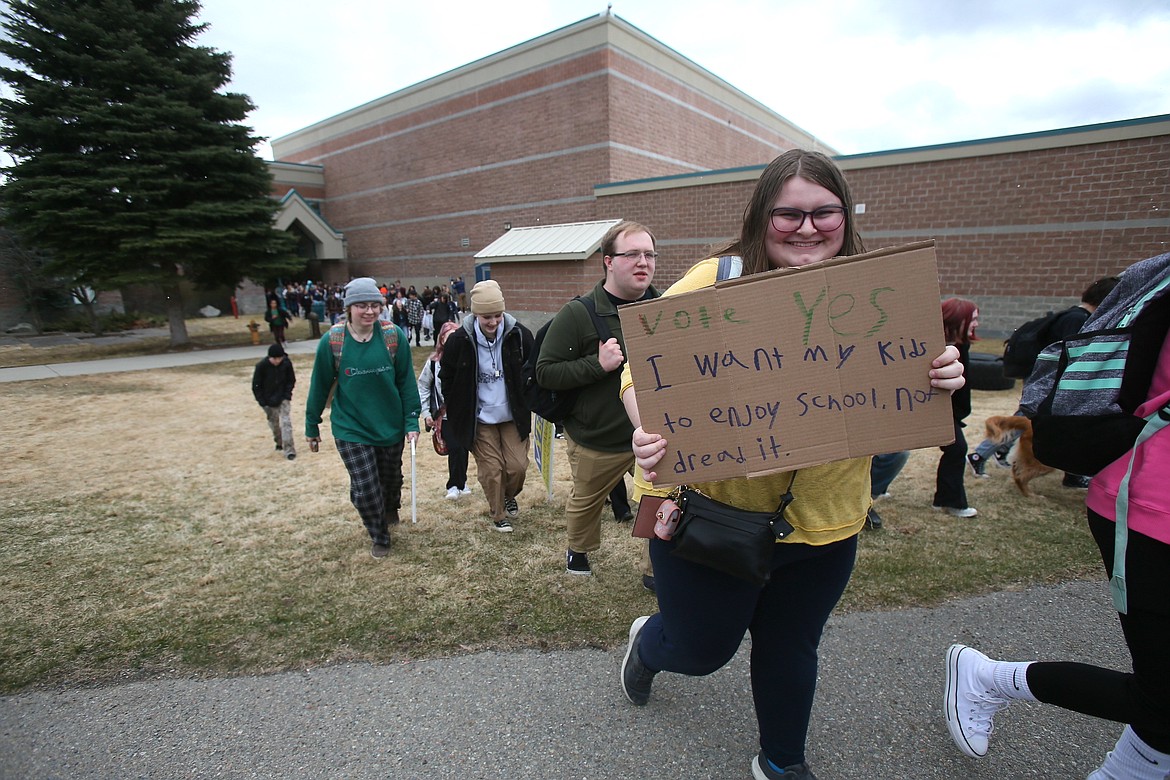 Senior Piper Benzon carries a sign as she and her classmates walk out of school Friday to rally in response to Coeur d'Alene School District's supplemental levy failing for the first time since 1986.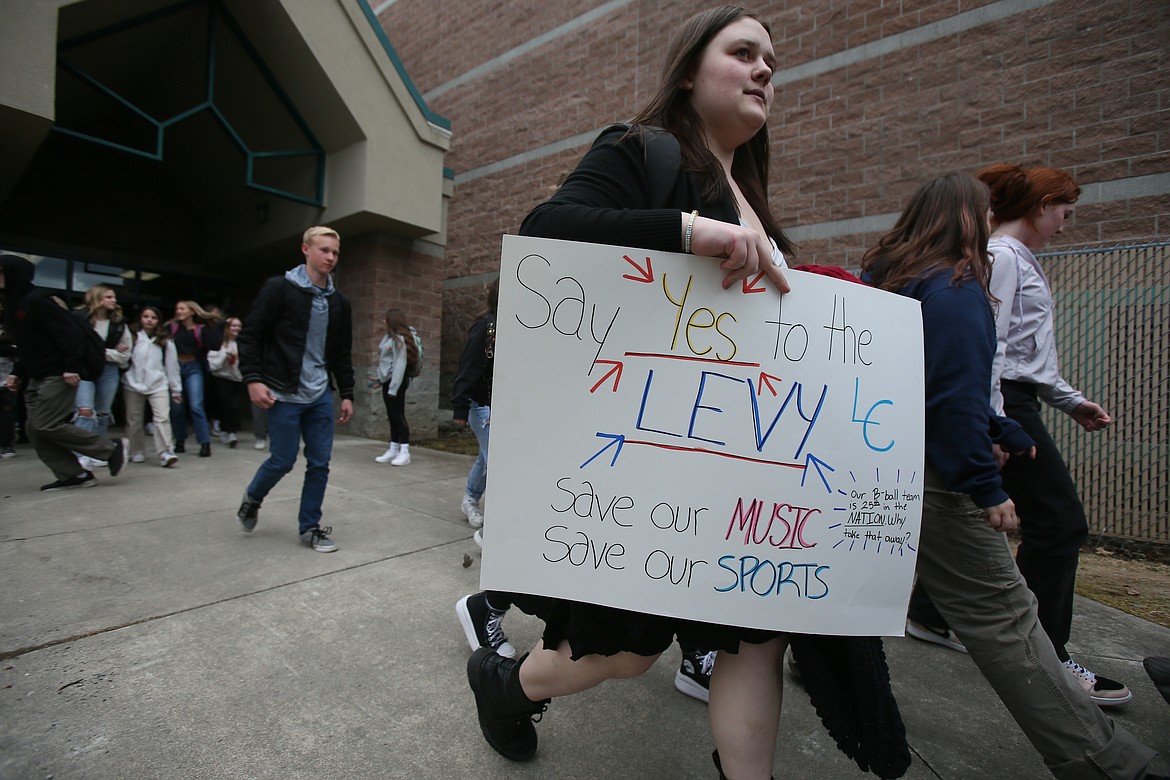 Students carry signs and rally Friday in response to the March 14 failure of the supplemental levy.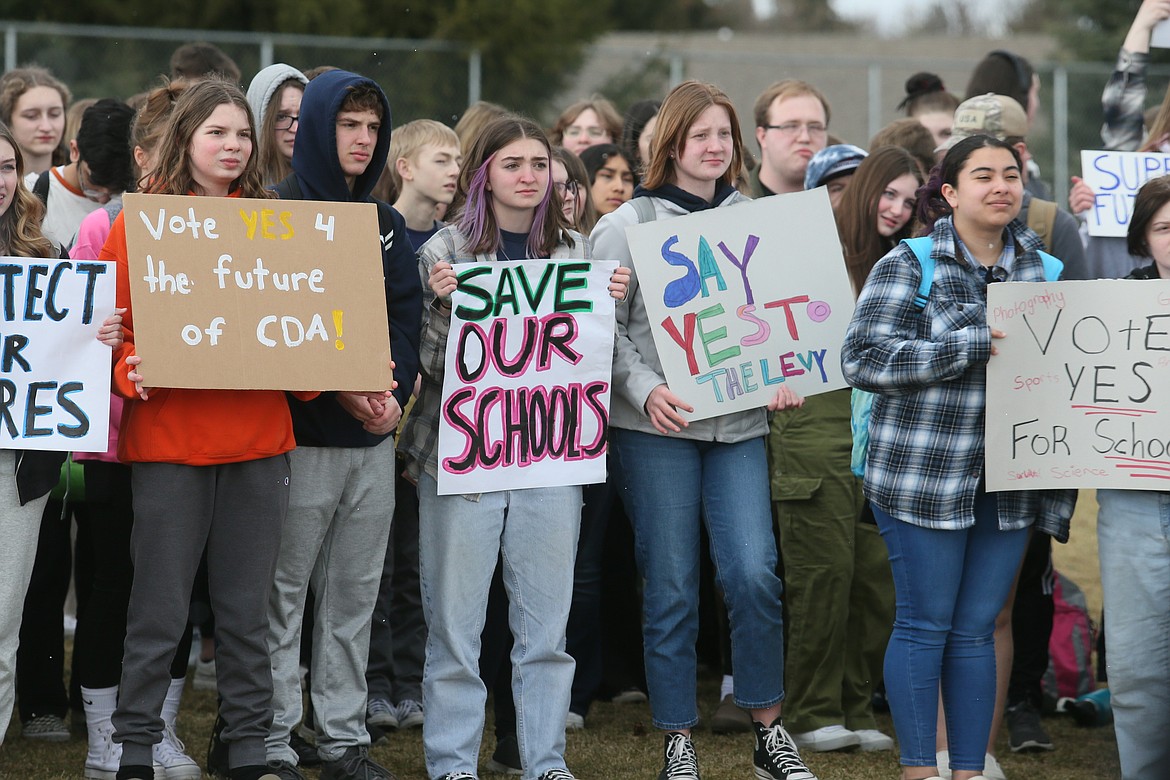 Students hold signs as they gather for a peaceful rally Friday at Lake City High School in response to people voting against the supplemental levy, which funds 25% of the Coeur d'Alene School District's budget. Students are urging community members to vote "yes" May 16 when the levy measure will again go before voters.
Previous
Next
by
DEVIN WEEKS
Staff Writer
|
March 25, 2023 1:09 AM
Students marched with signs in their hands and fires in their hearts as they staged a walkout and rally Friday afternoon on the field behind Lake City High School.
Through biting wind and light snow, they made their voices heard. Students from all grades expressed support for their school, their teachers, their peers and their district.
They walked out at 2:05 p.m. — 25 minutes before the school day ended — to symbolize a loss of $1 million per minute, or 1% of the Coeur d'Alene School District's budget, 25% of which is supported by funds from the supplemental levy. A request for a $25 million-per-year perpetual levy failed at the polls March 14.
"We love our teachers and want to support them and the extracurricular activities our schools provide," Lake City High Associated Student Body President Jacob Carter told The Press.
Carter said the walkout was completely student organized and not prompted by teachers or adults.
Supplemental levy funds cover the gap left by the state of Idaho, which only covers about 75% of the district's operating expenses. Funds cover athletics, textbooks, teacher compensation, art programming, electives and more.
The Coeur d'Alene School District will hold another levy election May 16, this time for a $25 million-per-year, two-year levy.
"If this next levy does not pass, our community's future is in jeopardy," Jacob said.
Senior student Piper Benzon carried a sign that read, "Vote yes — I want my kids to enjoy school, not dread it." She said she was disappointed the levy did not pass.
"I'm out here to support all the electives," she said. "Being here for three years, it's made such an impact on me. I want to be able to have my children have the same opportunities as me."
Faith Elkins, senior, said the levy failing is unfair for teachers and students.
"I really feel like a lot of the underclassmen won't be able to experience things I've experienced at this school," she said. "There are teachers that put their soul and heart into work. That's about to all go away if we don't get this renewed."
Junior Luke Sharon was one of several organizers of the walkout.
"We're here today to support our extracurriculars, we're here to support our teachers and we're here to support the sports that we love," he said. "If this levy doesn't pass, it takes away opportunities from all kids to experience those kinds of programs."
The last time students held a peaceful walkout and rally of this magnitude was in response to the Marjory Stoneman Douglas High School mass shooting in 2018, said LCHS Principal Deanne Clifford.
"We are following the same plan we did in 2018 because students came to me and said, 'Hey, we want to do a walkout. Are we going to get in trouble?' I said, 'Of course not,'" she said.
Clifford said it is profound how so many students have voiced concerns about teachers losing their jobs. LCHS losing its block schedule, which it has operated on since about 1998, has also been on students' minds.
"We can't run the block schedule without our electives, and that would obviously be the area that we'd lose," Clifford said.
Clifford, the LCHS principal for 13 years, said she can understand how many of the students are feeling.
"What I care deeply about is that they have the right to voice opinions, they have that freedom of speech and I don't want to stand in the way of that. No matter what their opinion is, I don't feel comfortable standing in the way of free expression," she said, adding that what is so beautiful about this school is how people can "have differing opinions and we can share them and still care about each other as human beings."
Teachers and administrators throughout the district have been communicating with employees and families what is at stake if the May levy fails.
Clifford sent a communication Friday to students and families with details.
"We have to reduce our high school staff by 39 positions," she wrote. "We are starting by gathering information about how many resignations and retirements we have and then identify areas we can cut that will not affect our ability to ensure students will meet state basic graduation requirements. Because many of these cuts will be in the electives area, we are looking at reducing the number of credits we offer through our daily schedule. The elimination of the block schedule seems inevitable."
Sports and activities will be cut, she wrote, as well as the school's resource and campus safety officers. Building budget cuts will be made, the school nurse will be let go and the school will no longer have access to KTEC (Kootenai Technical Education Campus).
Bryan Elementary Principal Kristin Gorringe shared a similar message Thursday with Bryan families. As one of the smaller elementary schools, Gorringe wrote she is unable to answer whether Bryan would close if the levy fails. She wrote that Bryan would no longer have art, music, P.E., a library, technology or an advanced learning program if it did remain open.
Regarding Bryan staff losing jobs: "Even if we are not one of the elementary schools closing, the likely answer is, yes. We will be losing staff from all areas, including classroom teachers, classified positions and administration."
Lake City High School walkout participant Ike Johnson, a freshman, plays football and tennis at the school.
"We can't breathe without our sports," he said.
He said it was heartbreaking and devastating to see the supplemental levy fail.
He had a message for those in the community who did not support the levy: "Leave."
"Don't come to Coeur d'Alene if you're going to vote 'no,'" he said. "Just dip on out. Go to a different school district."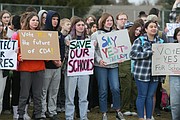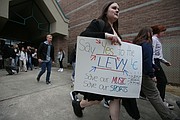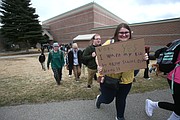 Recent Headlines
---