NIC athletics conference change unlikely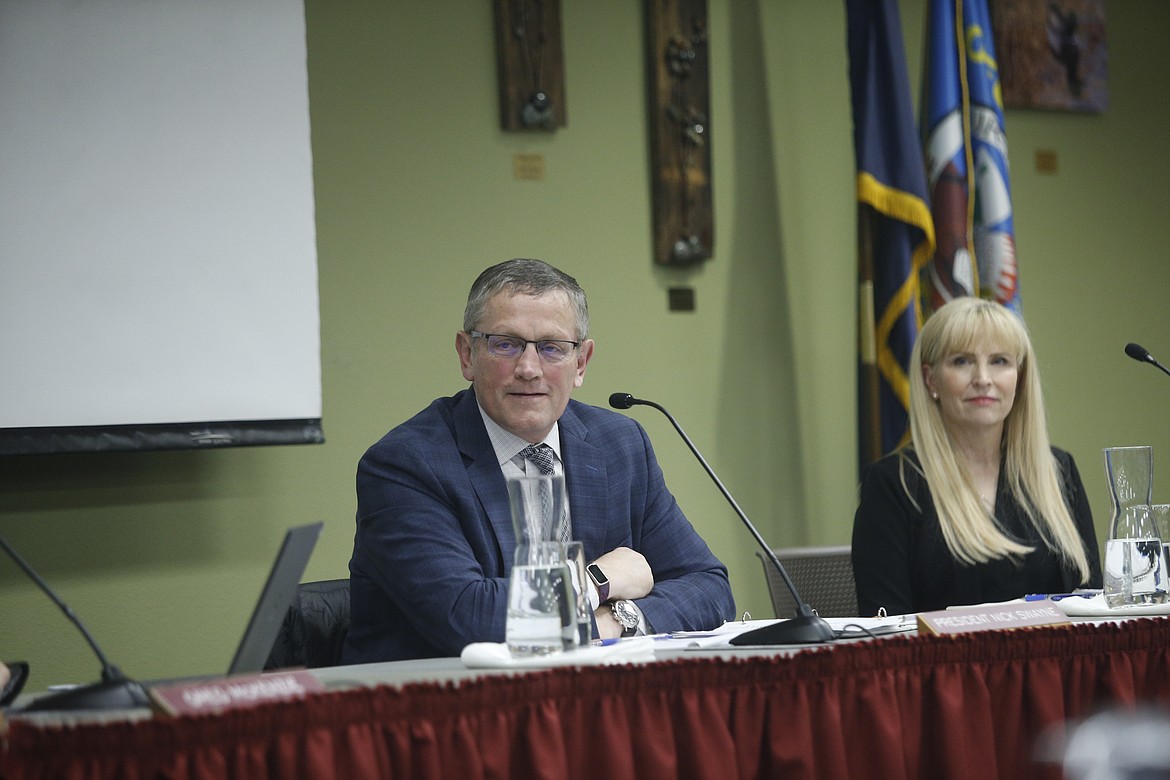 Wednesday night marked the first regular meeting of the North Idaho College trustees since they voted to reinstate President Nick Swayne. KAYE THORNBRUGH/Press
by
KAYE THORNBRUGH
Staff Writer
|
March 23, 2023 1:09 AM
COEUR d'ALENE — North Idaho College won't change athletics conferences any time soon — and recent efforts to do so reportedly jeopardized NIC's relationship with the Northwest Athletic Conference.
NIC President Nick Swayne revealed during Wednesday night's trustee meeting that the National Junior College Athletic Association rejected proposals from NIC seeking to move some of the college's sports into the Scenic West Athletic Conference.
"Essentially what they said was 'You've got to fix your accreditation first and then if you want to reapply, do that for the 24-25 season,'" Swayne said.
The proposals came from Interim President Greg South, who reached out to the NJCAA in January and again in February after trustees voted in December to explore changing conferences. Though trustees stipulated that NIC would "open the budget" for such a change, no formal calculation of costs was performed.
Swayne said he recently spoke with Marco Azurdia, executive director of the Northwest Athletic Conference.
"He called up and said 'We're like this close to throwing you out,' because nobody coordinated with them, at least to their liking," Swayne said. "We were almost in this never-never land of not in NJCAA and also not in NWAC."
NWAC has agreed to let North Idaho College remain in the conference, Swayne said.
More than 100 people attended Wednesday's board meeting, the first since trustees complied with a court order to reinstate Swayne as active president.
Accreditation liaison Steve Kurtz gave an update on NIC's response to the show cause sanction issued by the Northwest Commission on Colleges and Universities. Show cause is the last step before loss of accreditation.
"The circumstances are really dire," Kurtz said. "I have to be honest with you. They are."
Kurtz expressed gratitude for the accrediting body, which he said has provided ample support and direction while NIC prepares a report explaining why the college should not lose accreditation.
"This is a very rare situation," Kurtz said. "It's one that we don't want to be in. It's something that NWCCU doesn't want us to be in. They're here to help us."
The report is due March 31. A team from NWCCU will conduct a site visit in late April.
Swayne emphasized that the problems identified by NWCCU are related to college governance, not academics.
"We're under show cause, but fundamentally, this is a wonderful institution," he said. "It is strong. It is financially sound. We have great faculty."
The show cause sanction has had a ripple effect. As a result of the sanction, the Joint Review Committee on Education in Radiological Technology (JCERT) conducted an unannounced site visit to NIC at the end of February.
Radiography Technology Program Director Matthew Nolan said the accreditor found NIC's program to be in substantial compliance with all standards, the highest possible finding.
"Clearly we have great outcomes, especially when you compare our outcomes to the national averages," Nolan said.
The site visit team noted that the actions of trustees have "potentially compromised the institution's accreditation status, indicating a lack of support for the program at the institutional level."
Trustee Todd Banducci sharply criticized the surprise visit, which was required under JCERT's policies after the show cause sanction.
"If they're watching, maybe they'll get mad at this," Banducci said. "Supposedly we have some governance issues. Does everybody just assume somehow we stopped teaching? What would make all these people show up and visit us like all of a sudden we're not doing our job and we're not educating and we're not teaching? None of this has ever been about the students or what's going on in the classroom."
Recent Headlines
---