Spring has sprung, but snow in forecast
by
BILL BULEY
Staff Writer
|
March 22, 2023 1:05 AM
COEUR d'ALENE — The first two days of spring brought sunshine and temperatures in the mid-50s.
The conditions had people riding bikes on the North Idaho Centennial Trail and parents with kids playing at McEuen Park on Monday and again Tuesday.
It even hit 51 degrees Friday, the area's first 50 degree day since Nov. 6. It hit a high for the year, 56, on Sunday.
"We're off to a great start," said Climatologist Cliff Harris.
But don't get used to it.
Harris expects it to cool off about 10 degrees, with lows in the 20s later this week and highs in the 40s, and chances of snow starting Friday and into the weekend.
He also sees a chance of snow in early April as a system moves in from the Gulf of Alaska.
"I still have my snow tires on," Harris said.
It has snowed 83.1 inches this season in Coeur d'Alene, right on his prediction of 83.
Harris is looking for a six-week cycle of warmer-than-normal conditions, perhaps hitting 70 degrees, starting in mid-April to early May.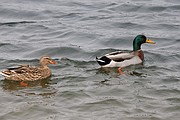 Recent Headlines
---