Special Forces Association preserves stories of vets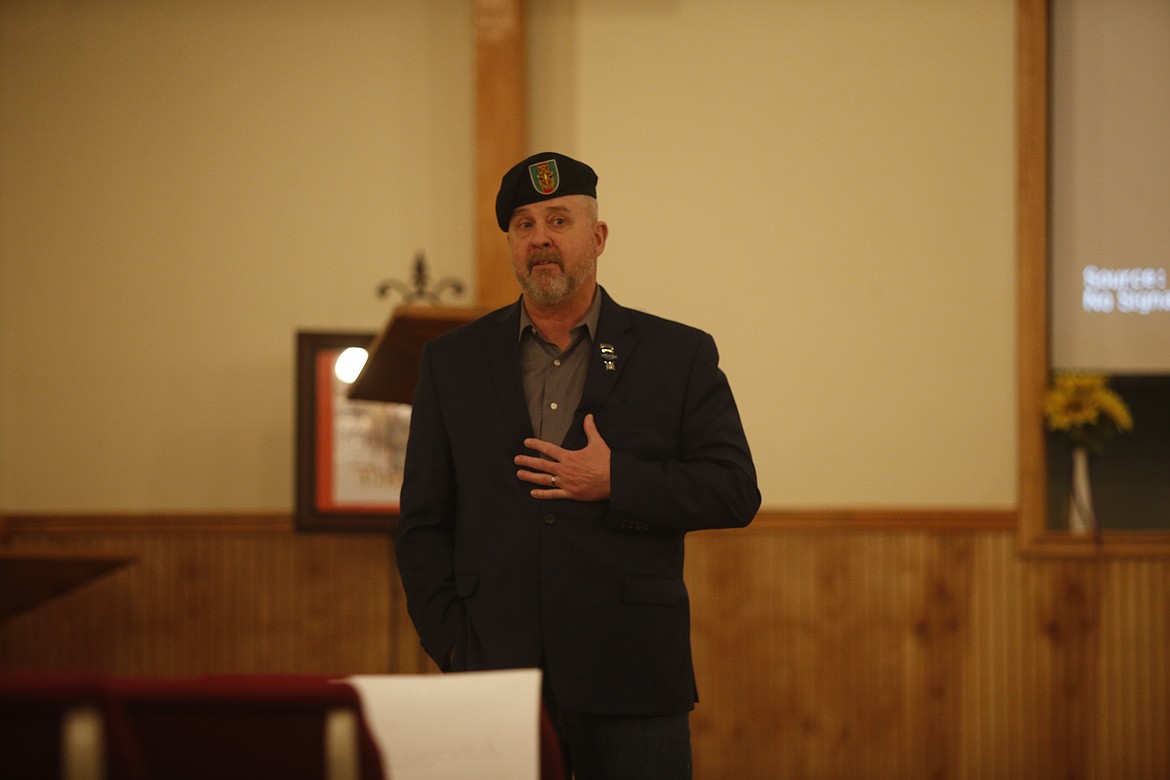 Retired Sgt. Maj. Stephen Durfee addresses community members at Mountain Lakes Bible Church on Saturday.
KAYE THORNBRUGH/Press
by
KAYE THORNBRUGH
Staff Writer
|
March 19, 2023 1:08 AM
COEUR d'ALENE — Mike "Budweiser" Barkstrom enlisted in the U.S. Army with the intention of becoming a helicopter pilot, only to discover he was colorblind.
"I didn't know what was going to happen," Barkstrom said. "The Army was going to do whatever they wanted to do with me. That was just the deal in those days."
Then a man in a "funny looking green hat" came around and challenged Barkstrom, who was just 18 years old, to a physical and mental test.
"So I took his tests and passed them both and then I had the opportunity to go into the Special Forces," Barkstrom said.
Community members gathered Saturday morning at Mountain Lakes Bible Church to hear Barkstrom's story, as well as the tales of two other Army Special Forces soldiers. All three served during the Vietnam War.
The veterans relayed their experiences in their own words, documented on video as part of the Honor Project, a series of video autobiographies about members of the Special Forces community and the U.S. Army.
Special Forces Association Chapter XLIII hosted the event. The Honor Project got its start from a different chapter.
"They came up with the idea to actually get history of some of our warriors out there that at some point aren't going to be here," said retired Command Sgt. Maj. Jason Legler, president of Chapter XLIII.
Barkstrom said the greatest thing about the Special Forces was the camaraderie he shared with the others wearing that funny green hat that couldn't keep the sun out of their eyes.
"It's knowing that guy who has earned that beret is always behind you," he said. "It doesn't make any difference what the circumstances are. If you need help, the help is there and you never have to worry about your six."
Retired Command Sgt. Maj. Carey Pennington shared a similar sentiment as he reflected on his time in the Army and the men he served with.
"They were superb men and I really loved them all," he said. "They would do anything for you."
Pennington went on to work as a contractor, but being in the Special Forces was like nothing else.
"It's never the same as working with your people," he said.
Kootenai County has one of the largest veteran communities in the state of Idaho, to say nothing of the veterans who reside elsewhere in the northern counties.
That means many community members can connect to the stories of veterans documented by the Honor Project, who volunteered to serve their country even during an unpopular war.
"That resonates through our Special Forces association, as well," said retired Sgt. Maj. Stephen Durfee, vice president of Chapter XLIII. "We are going to run toward opportunities to supply tangible support to our communities and our brothers on our left and right."
Recent Headlines
---