Jewell Ann (Cook) Wooldridge, 76
Jewell Ann (Cook) Wooldridge, of Coeur d'Alene, passed away peacefully March 11, 2023. Surrounded by loved ones, she entered heaven after battling breast cancer with unmatched determination, bravery and grace. Born May 25, 1946, in Coeur d'Alene, she was ninth of 11 children born to Ruth and John Cook. She enjoyed a fun-loving childhood with numerous siblings and lifelong friends; graduated from Coeur d'Alene High School in 1964 and married the love of her life, Dale Wooldridge, in 1970. Together they raised five sons and cherished 52+ years of marriage. Over the years, Jewell spent her days working hard and selflessly giving to kids, grandkids, siblings, extended family, friends and strangers.
Jewell and Dale began their shared adventure in Fort Bragg, Calif., moving onto Lewiston, Idaho, and Carson City, Nev., before settling in Elko, Nev., for the next 30 years. Jewell worked as a certified medical coder at Elko General Hospital while raising kids, spoiling grandkids, and participating in numerous bowling leagues and mixed doubles national tournaments before returning to Coeur d'Alene to be close to family in 2009. Jewell, aka "Gramma," was well known as being the ultimate planner, the greatest cheerleader, Elvis-adoring and always "all in." Her days were filled with crafting custom greeting cards, chasing family ghosts via genealogy, cheering (sweating bullets) for the Zags, attending grandkid activities, volunteering with the Lions Club and attending any and all family events, regardless of location.
Her family cherished the love and attention she put into everything she did for others: creating jean-pocket rock collecting pouches for her boys, traveling to numerous U.S. locations and Europe with grandkids, making her special cookies, hosting granddaughter tea parties, collecting every McDonald happy meal toy created for her kid toy stash, holding family barbeques and holiday celebrations, arranging s'more filled camping trips, swimming at city beach and area lakes, and picking Dale's treasured huckleberries lightning fast but never wanting to eat them.
Jewell lived for every moment, and she will be so incredibly missed. She is preceded in death by four brothers, three sisters and her parents. Survived by husband Dale, sons David, John, Dwayne, Butch and Quincy, daughters-in-law, numerous grandchildren, great-grandchildren, three siblings, nieces, nephews and extended family members. Service to be held March 25 at 11 a.m. at English Funeral Chapel 1133 N. Fourth St., Coeur d'Alene, with reception to follow. In lieu of flowers, please make donations to Children's Village in Coeur d'Alene, Idaho.
Visit Jewell's online memorial at www.englishfuneralchapel.com.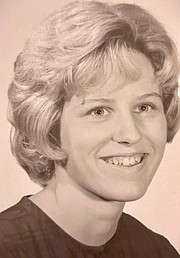 Recent Headlines
---