Jan Gertson, 85
Janet Wilma (Paulson) Gertson, age 85, has left this earth and reached her lifelong goal of meeting her Savior, Jesus Christ, face to face. A brief illness in December led to the discovery of an unrelated complex health issue which caused a rapid decline in health. She passed away peacefully at home Feb. 19, 2023.
Jan was born in Moscow, Idaho, on Oct. 22, 1937, to Ralph and Elizabeth Paulson. She spent most of her schooling years in Nampa, Idaho, and graduated from College High in 1955. She married the love of her life, Glenn Gertson, in Nampa in 1955 at the age of 17. After marriage they moved several times where Glenn held teaching and coaching positions in Burns, Ore., and Middle River, Minnesota. In 1961 they settled down in Ashland, Oregon. Jan earned her bachelor's degree from Southern Oregon University in 1965, followed by a master's in education. She became a librarian for the Ashland School District, a position she held until her retirement. After retiring, Jan and Glenn moved to Florence, Ore., where they were very involved in their church and community and enjoyed exploring the recreational opportunities of the Oregon coast with family and friends. Jan traveled the world during retirement throughout Europe, the Mediterranean and New Zealand. She spent a summer visiting her daughter who was teaching in Eswatini, Southern Africa, and traveled to Argentina in 2017 with her son to help build a church. Jan and Glenn moved to Coeur d'Alene in 2014, where all three of their children live.
Jan loved to sing, read, camp and fish. Jan sang in a Christian band in the '60s-'70s and led the church choir in Ashland. She was a nighttime disk-jockey for a local Christian radio station. At her most recent birthday celebration in October, she sang one of her favorite songs, Come Little Leaves, to over 60 guests. Reading was also a passion and Jan enthusiastically read hundreds of books to children at church and in her role as a librarian. As educators, Jan and her husband spent many summers camping and riding the dunes with their family and friends. The camping trips included riding three- and four-wheelers, lots of singing and storytelling and the unexpected hum of a sewing machine, as Jan and her daughters sewed clothing under the stars. Jan really loved to fish and she was very good at it. She was the person who caught her limit of fish first even though she was busy managing everyone's bait, snacks and sunblock. This past summer Jan enjoyed an excursion to one of her favorite places to fish in British Columbia at Barkley Inlet where she caught the most fish, again.
Jan was full of joy, always smiling and being a friend to those she met. She openly shared her faith and lived her life according to her beliefs. Her passing has left a large hole in the hearts of everyone who knew and loved her.
Jan was preceded in death by her parents and brother Robert Paulson. She is survived by her husband of 67 years, Glenn, her children, Brenda Paustian (husband Rod), Dawn Gertson and Gene Gertson (wife Tami Martinez), her sisters, Dianne McCormick and Claudia Paulson Parsons, her grandson, John Paustian, granddaughters Nicole (Gertson) Carpenter, Mariah (Gertson) Barrett and multiple step-grandchildren, step-great grandchildren, nieces and nephews, all who loved her dearly. No service is planned at this time. In lieu of flowers, please treat yourself to something yummy from Jan's friends at The Village Bakery in Hayden, sing your favorite song or read a good children's book out loud.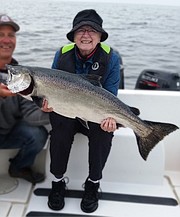 Recent Headlines
---