Cornerstone complex under construction in Riverstone
by
NILS ROSDAHL/Business Bits
|
March 19, 2023 1:07 AM
Construction is busy for Cornerstone, a four-story complex at 1579 W. Riverstone Drive (across from Red Robin) in the Riverstone complex.
The 67,000-square-foot building has 8,000 square feet of balconies for the 15 condos on the top three floors, underground parking, a covered plaza and drop-off area.
The 8,000-square-foot ground floor has three commercial spaces and two lobbies. One of the spaces will be for Ellie Mental Health. Architects West designed the building, and Casey Brazil of Kiemle Hagood Real Estate is the commercial broker. It should be complete in June.
Fit Body Boot Camp opening at Fred Meyer
With goals of inspiring fitness and changing lives, Fit Body Boot camp aspires to open Saturday in Suite B of the Fred Meyer complex at 560 W. Kathleen Ave.
Owners Jonny and Dani Kendall specialize in 30-minute "afterburn" workouts designed to burn calories using personal strength and interval training in a group setting.
Sessions are at 5:30, 6:30 and 8:30 a.m. and 4:30, 5:30 and 6:30 p.m. weekdays and 7:30, 8:30 and 9:30 a.m. Saturdays. Phone 208-210-7348.
Northwest Specialty medical places in Athol
Northwest Specialty Hospital and Northwest Urgent Care & Occupational Medicine have opened in Suites B and A at 7173 E. Super 1 Loop in Athol.
For details check www.nwsh.com/family-medicine (phone 208-561-9901) and www.nwurgent.com.
Now the Tidbits
• Medical Massage's grand opening was Saturday at 1112 Ironwood Drive. Phone 208-659-6459. Details next week.
• Beacon Cancer Care and Ironwood Family Practice will be in the large building under renovation at 3815 N. Schreiber Way. For spaces in the building, contact Helo Hancock at hhancock@beaconcancercare.com or Shayna Wood at swood@beaconcancercare.com.
• A two-story building is under construction at 8552 Government Way for Hayden Surgery Center.
• A branch of Orthopedic Surgery and Sports Medicine (OSSM), Orthopedic Physical Therapy Institute (OPTI) is building a new structure at 8468 N. Wayne Drive in Hayden. It should open May 1. Check www.ossmidaho.com.
• Two 1,550-square-foot suites with 2,500-square-foot shop areas will be available for lease in Anderl Plaza under construction at 8512 N. Wayne Drive in Hayden. For information, contact Hayden Anderl at 208-964-0234.
• With stoves, fireplaces, hot tubs, barbecues and outdoor furniture, Quality Stoves & Spas will open March 30 at 569 N. Syringa (just north of Interstate 90) in Post Falls. The grand opening will be May 12-14. Hours are 9 a.m. to 5 p.m. weekdays and 10 to 5 Saturdays. Phone 208-457-8868. Check www.qualitystovesandspas.com.
• A sports complex and optional suites will comprise Mountain View Business Center under construction at 9044 W. Prairie Ave. Two to four additional suites range from 4,180 square feet to 9,023 square feet. For timing and rates, contact Joel Johnson (208-771-6068) or Jeffrey Simonds (208-518-8860) at Coldwell Banker Commercial Schneidmiller Realty.
• Re/Max Realty is new at 1401 N. Lincoln Way.
• Ellie Mental Health will be in Suite 1100 at 1579 W. Riverstone Drive.
• Two Harbor Center docks are being constructed at the end of Academic Way where the road ends at the building with multiple college offices. Both docks with about 25 spaces will open about Memorial Day and be seasonally open from May to September. One dock will house KJ Watersports with a rental fleet including pontoons, ski boats and waverunners. Check www.kjwatersports.com. The other dock will have Hayden Lake Paddleboard & Jet Ski. Check www.cdaboatrentals.com. Phone 208-818-0494.
• Building permits have been issued for several businesses planning to be in The Mill building under construction at 1705 Government Way. Included are an apparel shop, a barber shop, a beauty-and-wellness place, a bone-and-dye place, a coffee shop and the Ten/6 restaurant. When complete, The Mill will be four stories of 43,000 square feet with retail on the ground floor and 43 apartments on the upper floors. The building owner is Widmyer Corp. real estate. Watch for a spring opening.
• New buildings under construction in Hayden include Lake Forest Interior Design (9245 Government Way), Orthopedic Surgery Sports Medicine (8468 N. Wayne Drive), Anderl Plaza (8512 N. Wayne Drive) and Hayden Surgery Center (8552 Government Way).
• A commercial building with three suites is being constructed at 9041 N. Hess St. (just north of Walmart) in Hayden. The suites of 1,100 square feet each can contain retail or office places with easy access and visibility to U.S. 95. They should be available May 1. Contact Josh Beebe at Coldwell Banker Schneidmiller Realty at 208-699-7980.
• A new building for Anthem Pacific Homes is being constructed at Highway 41 and 16th Avenue in Post Falls. Anthem Pacific will occupy one suite, and three suites of 1,800 to 2,000 square feet are available through owner Jeremy Voeller at www.anthempacific.com. Phone 208-981-0448.
• The neighboring Anthem Corners project has one of the three suites leased with two units available. They can be combined for a 3,920-square-foot unit available April 1. Contact Joel Johnson of Coldwell Banker Schneidmiller Realty at 208-771-6068.
• Planning to be complete in late March, Olson Engineering is building a new office at 1649 N. Nicholson Center St. west of the 16th Avenue-Highway 41 intersection in Post Falls. One half of the 2,800-square-foot building is available for lease through Jeramie Terzulli at 208-651-4152. Eric Olson is the owner.
• A Nothing Bundt Cakes bakery will be built at 201 W. Neider Ave.
• Construction has begun on major changes to Prairie Falls Golf Club at 3200 N. Spokane St., Post Falls. The 42,000-square-foot facility will have hotel suites with kitchenettes and oversize windows with mountain views and two executive suites and a presidential suite with a private balcony above the golf course. It will also have a large event center with a kitchen and bar, six golf simulator bays, a clubhouse, pro shop and local businesses such as River City Pizza. Owners Rob and Emily Angeli Clark plan to open it in June.
• A large building planned to open in late summer or fall for 851 Fourth Ave. (at Idaho Street) in Post Falls will be called Kindred & Co. with books, home goods and a bistro.
• What has been Asian Twist in Ironwood Square (behind Albertsons) will be Our Thai House with major changes. Details here soon.
• The Tuesday Morning store at 227 W. Appleway will close March 31.
• A Beau Monde Exchange will be at 9428 Government Way.
• Spoon Junkie or Rogue Carnivore evidently will be a new place at 400 N. Fourth St.
• Phase I of the new Kinder Prep Learning Center is under construction at 1847 W. Prairie Ave. The curriculum promotes hands-on, sensory and play-based learning experiences for ages 18 months to 5 years old in an environment that is nature themed and community driven. For information on pre-enrollment, check www.kinderpreplearningcenter.com. Phone 208-916-0265.
• Healthy fast food will be featured at Konala, a new restaurant under construction at 107 E. Seventh St. (behind the Bunker Bar on Spokane Street) in Post Falls. Owners Trace and Jammie Miller (also owners of The Bunker Bar and Burger Bunker) plan to open soon. The website will be www.konala.com.
• A 20,000-square-foot structure called Prairie Professional is under construction on the north side of the intersection of Prairie Avenue and Ramsey Road. The office building to be complete in December will have suite sizes from 2,200 to 10,000 square feet available. A main tenant will be Riverstone Dental Care. For information on the space available, contact Rob Kannapien of Coldwell Banker Commercial Schneidmiller Realty at 208-704-3832 or E-Fax 208-515-2385.
• Golden Rule Brake is coming to 3826 E. Seltice Way (near the intersection of Highway 41 and Interstate 90) in Post Falls.
• Coeur Climbing Gym is leasing a large warehouse space at 764 S. Clearwater in Riverbend Commerce Park in Post Falls to open soon.
• The fourth Kootenai County location of Dutch Bros Coffee will be built soon at 6299 W. Pointe Parkway (next to Panda Express near Cabela's and Walmart) west of Post Falls.
• The building being remodeled at 305 Sherman will have a Mix It Up home store and an office for owner Pepper Smock's Windermere-Coeur d'Alene Realty.
• Watch for the opening for new buildings called the Appleway Quarter at 271 and 291 E. Appleway (between Baskin-Robbins and Verizon). The 271 building contains The Well•ness Bar and will have Lonestar Locs. The 291 building will have Hometown Chiropractic and Chip Cookie.
• Watch for Prime IV Hydration & Wellness to be in Ironwood Square.
• Burke's Restoration is building a new place at 3801 W. Riverbend Ave. in Post Falls. Details soon.
• The Thomas George building planned for the corner of Third Street and Front Avenue will be 18 stories mixed with commercial places on the first floor and 60 condominiums above.
• Watch for details on new buildings under construction for corporate offices for Roger's Burgers on Government Way.
• Watch for a food truck court west of Highway 41 between 16th and Horsehaven avenues in Post Falls.
• Many of 16 commercial spaces are available in the planned Prairie Crossing Shopping Center in the northeast corner of Highway 41 and Prairie Avenue.
• A new building for Etco Services is under construction off Huetter north of Seltice and I-90.
• The PACR office building is under construction at 1857 W. Hayden Ave. It has four units for lease through Ashton Underdahl at 208-691-0691.
• The Mill will be a four-story mixed-use building at Government Way and Mill Avenue with businesses (including Ten/6 Restaurant) on the ground level and 43 apartments above.
• Orthopedic Physical Therapy Institute (OPTI) is constructing a new building in Hayden.
• An automotive service center will be built at 185 W. Clayton Ave.
• A Metro Express sign is at Highway 41 and Prairie.
• Gentlemen Sausages will be in the former Abi's Ice Cream location at 112 Fourth St.
• TownePlace Suites by Marriott Hotel is being built where the Outback Steakhouse was in the southeast corner of I-90 and Northwest Boulevard.
• Watch for an Indigo Urgent Care building under construction next to Starbucks in the Crossroads Center off Ramsey Road.
• A new commercial and residential building, Midtown Centre, is being built at 821 N. Fourth St.
• A spy says a restaurant will be built where Atlas Road meets the Spokane River.
• Watch for The Flats motel at Sherman Avenue and 21st Street.
• Fire Artisan Pizza has opened at 517 E. Sherman Ave.
• The "Jeopardy!" TV show clues always have the ," order reversed. "Exact same" is redundant.
• • •
Contact Nils Rosdahl at nrosdahl@cdapress.com.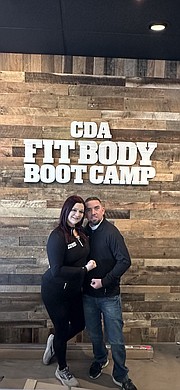 Recent Headlines
---