Lakeland levies will be on May 16 ballot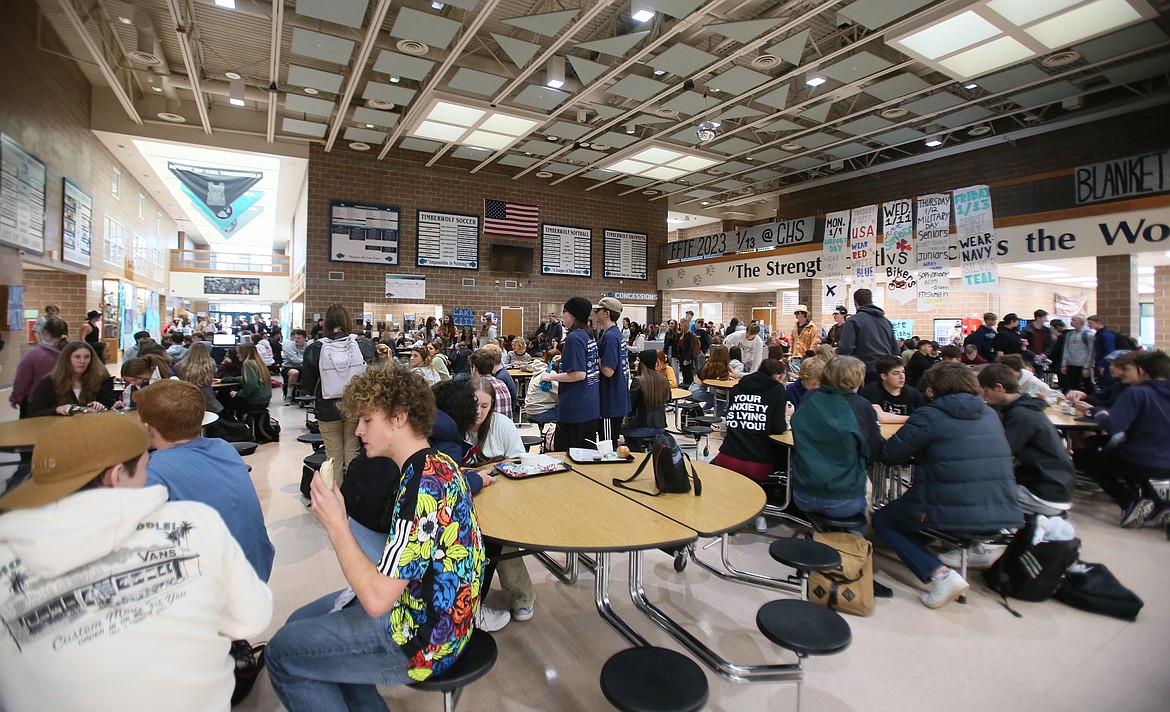 Students are seen in the Lake City High School cafeteria during Fight for the Fish Spirit Week in January. The Coeur d'Alene school board will have a special meeting Monday regarding the future of its levies, while Lakeland Joint School District has decided to go for another attempt following levy failures at the polls in both districts Tuesday.
DEVIN WEEKS/Press
by
JOSA SNOW
Staff Writer
|
March 18, 2023 1:09 AM
The Lakeland Joint School District board of trustees passed a motion Thursday to ask voters to again consider two levies that failed at the polls Tuesday, while trustees in Coeur d'Alene have not yet decided how to move forward since two levies failed to gain voter approval in that district as well.
The Coeur d'Alene school board will meet at ​4 p.m. Monday at the Midtown Meeting Center, 1505 N. Fifth St., Coeur d'Alene, to discuss future levy options.
"I'm looking forward to discussing with my fellow trustees next steps," Coeur d'Alene board Chair Rebecca Smith said Friday.
The Lakeland levies will be on the ballot May 16. One, a supplemental levy for $9.5 million per year for two years, will be run again as it was on the March 14 ballot. A school plant facilities reserve levy also presented to voters March 14, for $1.146 million per year for six years, will be shortened to two years.
The decision to re-run the levies was 4 to 1, with Lakeland Trustee Ramona Grissom casting the dissenting vote.
"We've already been down this road," Grissom said. "When they (the voters) say no, they mean no. I think you're going to make the community even more mad. We've already done this."
Re-running the levies will have to come with new strategies in a shorter time period. The information for the proposed levies has to be ready to submit to the county by March 27.
The funds from supplemental levies mainly support operations for school districts, while school plant facilities reserve levies provide funds that can be used for building maintenance.
During their discussion prior to voting whether to re-run the levies, the trustees acknowledged the ballot measures likely weren't marketed well enough, based on numerous emails they received from constituents who said they weren't aware of the levies.
"The vote was so limited in number as compared to the number of parents that we have," Trustee Bob Jones said. "We have 4,700-odd students, so we have at least 9,000 to 10,000 parents, plus people with a vested interest. Yet we got half that many votes. On that basis, I think we should re-run the levies."
Trustees discussed making the harsh budget cuts that would come from losing 25% of the district's operating budget with the failure of the supplemental levy.
"We spent some time yesterday creating a list of what that would look like," Superintendent Lisa Arnold said. "It's close to 100 staff, certified and classified, no security program, no extracurricular … We went through the things that wouldn't pull teachers out of classrooms and even with that, 50 of the staff cuts would be teachers."
Around 85% of the district's budget is payroll, so a 25% cut will automatically mean at least 10% in wage cuts or layoffs and staff reduction, Jones said.
When faced with that decision, the board opted to rerun both levies, though it thought shortening the facilities levy by two years would buy the board time to earn community trust.
"I'm going to put it out there: I think our community is mad at us," Trustee David Quimby said.
Jones said he understands that some people have heartburn about taxes.
"I pay as much taxes as anybody and I say we owe it to the kids in this school district to do what's right," he said.
---
Reporter Devin Weeks contributed to this article.
Recent Headlines
---