Celebrating great women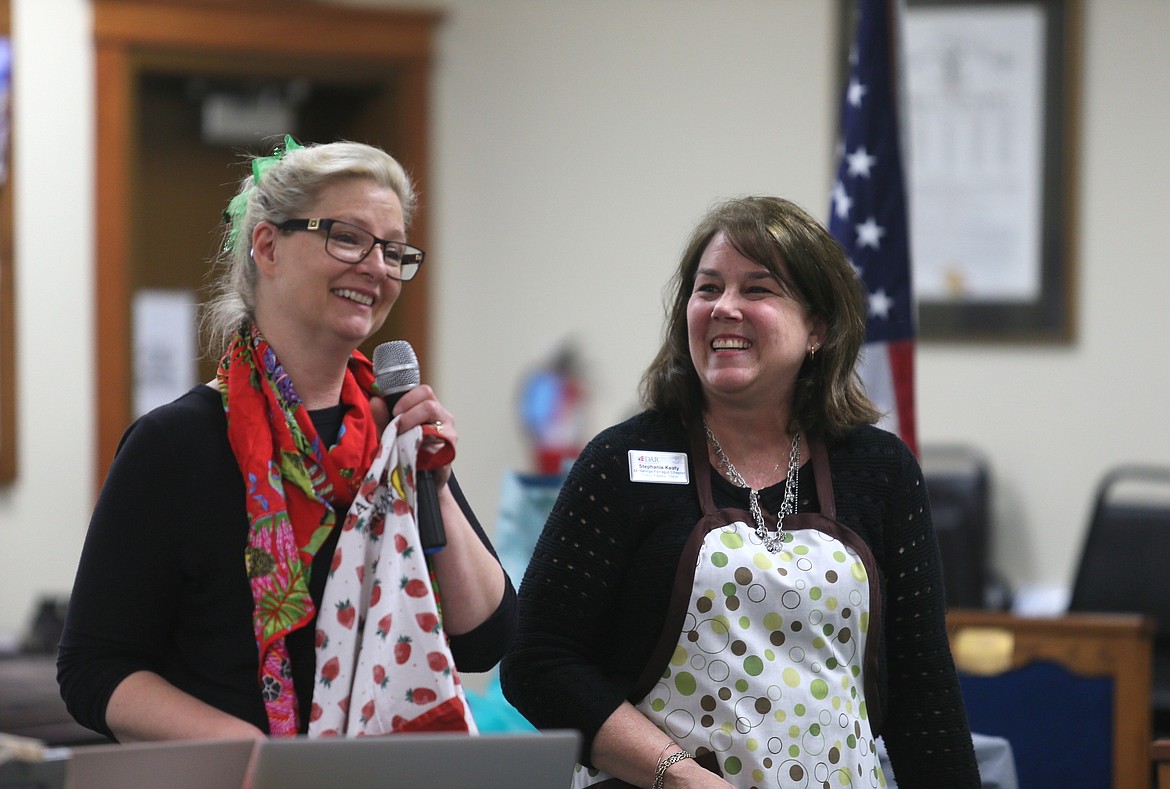 Village Bakery owner Dana Bellefuelle, left, shares a story about one of her workers Friday morning after receiving a Women in American History award from Daughters of the American Revolution Lt. George Farragut Chapter American History Committee Chair Stephanie Keaty.
DEVIN WEEKS/Press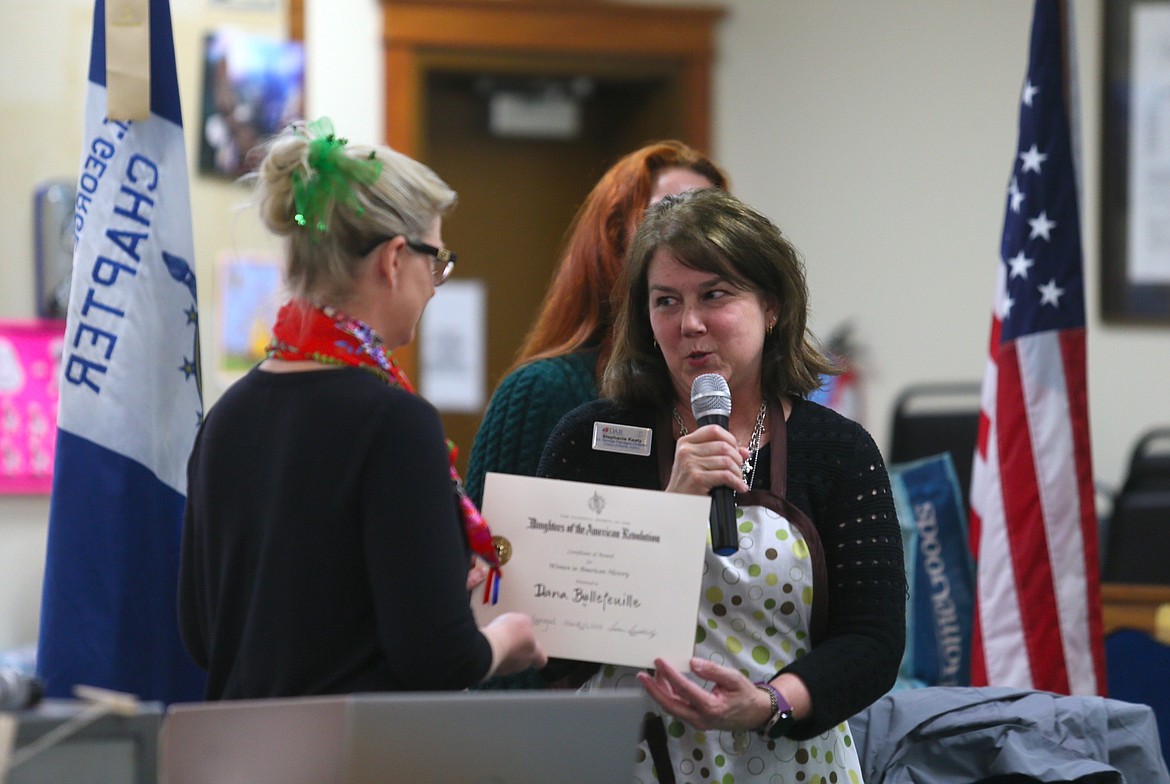 Daughters of the American Revolution Lt. George Farragut Chapter American History Committee Chair Stephanie Keaty on Friday presents Village Bakery owner Dana Bellefuelle with an award for making history through her work with the bakery, where people with special needs and disabilities gain work experience, life skills and confidence.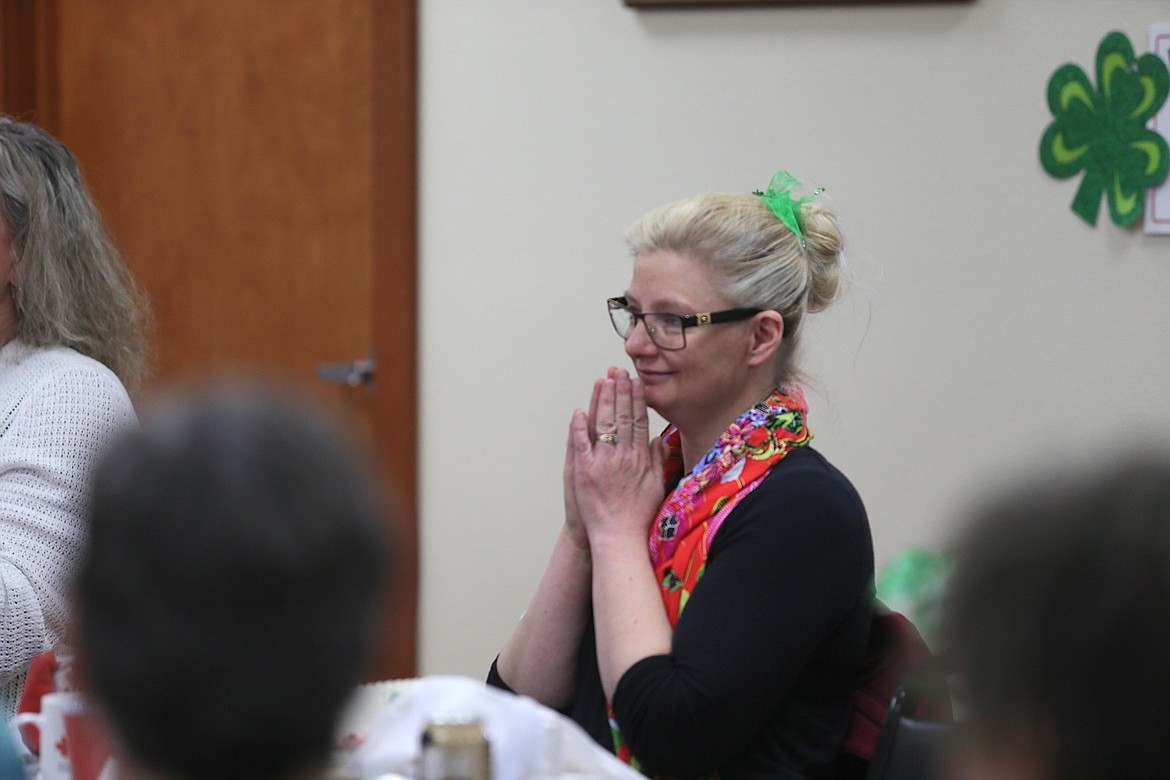 Dana Bellefeuille, owner of the Village Bakery in Hayden, listens as she is about to be presented an award Friday morning during a meeting of the Daughters of the American Revolution Lt. George Farragut Chapter.
Previous
Next
by
DEVIN WEEKS
Staff Writer
|
March 18, 2023 1:06 AM
Even when she is the star, Village Bakery owner and acclaimed pastry chef Dana Bellefeuille shares the spotlight and lifts up others.
As she accepted the Women in American History award from the Daughters of the American Revolution Lt. George Farragut Chapter, she carried with her the apron of one of her workers, Jackie, to share some of Jackie's story.
"Jackie has a developmental disability, and every time I ask her to do something in the bakery, she says, 'Yes, my love,'" Bellefeuille said Friday morning. "Can you imagine working at a place where you get hugs every single day and you are treated with such kindness like that, 'Yes, my love?'"
It was at the Village Bakery where this young woman learned to tie an apron, with the help of another worker.
"One day in the bakery, a lovely young man with autism took his apron, tied it around his waist and tied it in front of her," Bellefeuille said. "My mind was blown, that this is helpful."
Village Bakery is where two of Bellefeuille's loves intersect — baking and supporting those with special needs and disabilities. She was celebrated by DAR members for blazing a trail of inclusivity, kindness and opportunity for individuals who have challenges to learn job skills and gain experience.
Her inspiration began with her own children — her son, who is on the autism spectrum, and her daughter, who has a physical disability.
"Dana is committed to helping the community. She not only donates her time, but also product," said DAR member Lara Dalton, who nominated Bellefeuille for the award.
"It is absolutely heartwarming to see the love Dana has not only for baking but for her employees and volunteers," Dalton said. "She has touched so many lives, and it's just amazing to see what she's doing in our community."
The Village Bakery also participates in fundraisers to support local causes such as Children's Village, Hospice of North Idaho and the Panhandle Autism Society.
"It's all about them," Bellefeuille said. "It's all about making sure there's jobs for the special needs community."
She said she was so appreciative to be nominated and chosen for this honor.
"I'm so humble," she said. "It is so special. It's hard to find the words. I'm touched, I'm truly touched to my soul."
She said even that morning people were thanking her for what she does through her work at the Village Bakery.
"What it means to them means the world to me," Bellefeuille said.
The award ceremony took place during a DAR meeting at the Hayden Eagles Lodge in honor of National Women's History Month, which serves as a time to celebrate the vital role of women in American history.
DAR members also presented a posthumous award to Mercy Otis Warren, a poet, playwright and political leader during the American Revolution era, when women were expected to remain quiet about politics.
Each year, DAR chapters present Women in American History awards to women who make a difference in their communities and who are examples through their contributions to education, religion, social, scientific or cultural innovation. Bellefeuille and Warren will be entered into the national DAR database for their contributions to history.
Also during the meeting, DAR American History Committee Chair Stephanie Keaty gave a presentation on the history of aprons, highlighting their use and significance through the years and how connected they are to the legacy of American women. Several members brought special aprons and shared stories about their mothers and grandmothers and other memories woven into the fabric of their aprons and hearts.
Since 1987, the U.S. has formally recognized March as National Women's History Month. This year's theme is, "Celebrating Women Who Tell Our Story."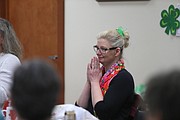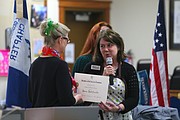 Recent Headlines
---