THE FRONT ROW with MARK NELKE: Lake City's undefeated state title was all for one, and a win for all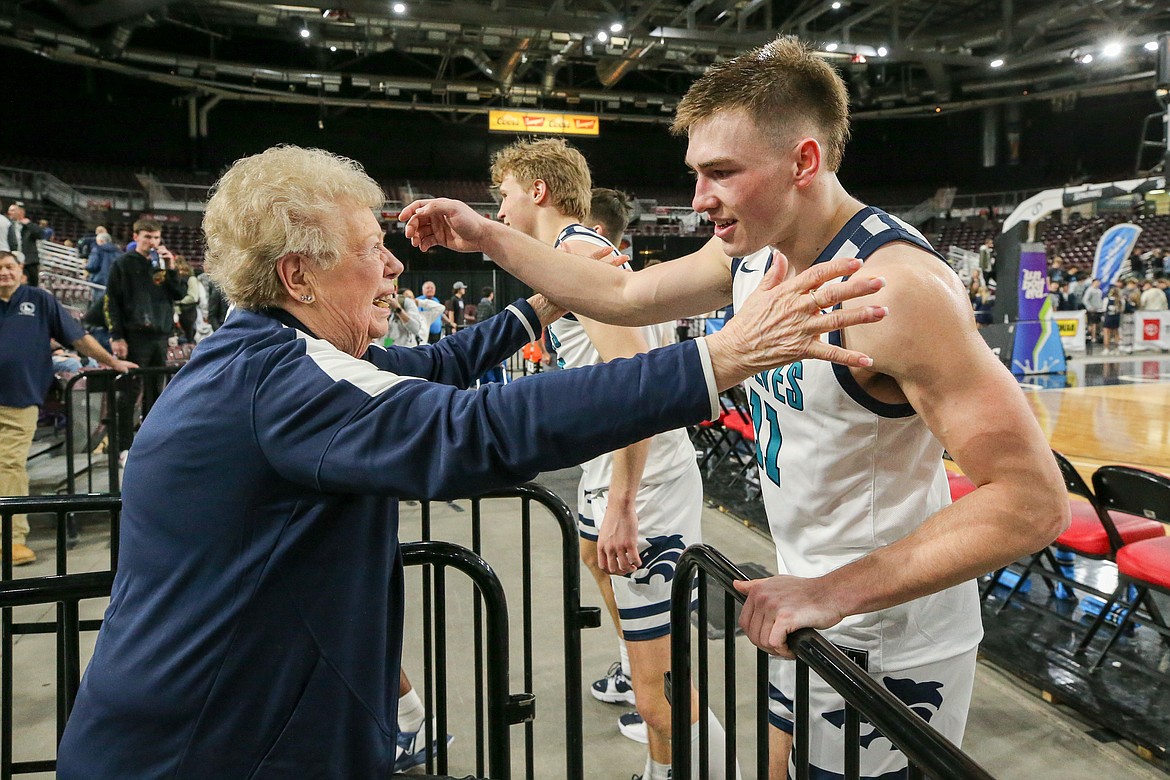 JASON DUCHOW PHOTOGRAPHY Gay Winger, left, mother of Lake City High boys basketball coach Jim Winger, prepares to hug Timberwolf senior Zach Johnson after Lake City's semifinal victory over Madison of Rexburg at the state 5A high school boys basketball tournament earlier this month at the Ford Idaho Center in Nampa.
Redemption.
A bit of relief.
A lot of joy that could finally be let go.
The Lake City Timberwolves felt it all a week ago Saturday night on the floor of the Ford Idaho Center in Nampa, celebrating the first state title in program history.
Lake City's 75-61 victory over Meridian, on a snowy March 4 night, was, yes, redemption for losing in the first round at state the previous year as a No. 1 seed, and eventually coming home trophy-less.
"It's just a full turnaround," Timberwolf senior Blake Buchanan said. "We get upset in the first round, we come back, work our butts off in the offseason. The last time we lost was that Madison game (for the consolation championship); we went undefeated in the summer; we went undefeated in the fall; we were undefeated this season. So this team just stuck together; we worked hard and we got it done."
And it also was the culmination of a splendid four-year career for two of the players, an incomparable three-year career at Lake City for another, and a two-year run by another T-Wolf that included plenty of big moments in big games.
Lake City became just the third 5A school in the last three decades to go undefeated, joining Centennial in 1995 and Capital in 2014.
"I think the kids deserve a lot of that credit," said Jim Winger, who started the Lake City program in 1994, and just completed his 24th season as head coach. "That's not easy to do. To go undefeated, and to get through and win the state title, it just shows that they wanted to show people what they were about. Last year we got tight and made some mistakes, and that's not who they are; they haven't been that way their entire lives. … This is a once-in-a-lifetime group, as far as talent, as far as attitude, as far as chemistry. Parents are great. So, you better ride it while you've got it. We weren't going to let this year slip by."
In the end, this was a win for themselves, winners most of their lives, as well as a win for the community, a win for their longtime coach, and a win for a very special fan.
OVER THE last four seasons, Lake City boys basketball went 83-20 — 49-3 over the last two years — with three league championships, three regional titles, four state appearances and two trophies (including a runner-up finish to Meridian in 2021).
Kolton Mitchell arrived on campus in 2019 as a freshman point guard, became a four-year starter and took a team that won three games the previous season to its first state tourney since 2014.
The Idaho State signee leaves Lake City as the school's all-time leading scorer with 1,609 points (a 15.8 average), and set the single-game scoring record with 39 points in a statement win over defending 5A champion Owyhee of Meridian in December.
In 102 career games, Mitchell knocked down 201 career 3-pointers and had 403 career assists (3.95 per game). At state, his assists were just as big as his points. He totaled 242 steals (2.4). Lake City also charts deflections and he had 249 of those, meaning some 2.5 other times per game, he got his hand on a pass to disrupt the other team's offense.
Buchanan transferred to Lake City as a sophomore, after playing in the state 4A title game with Moscow as a freshman. He played in two more title games at Lake City and, had last year gone as scheduled, would have played in four state title games in four years.
Buchanan also finished as a 1,000-point scorer at Lake City, totaling 1,023 points (13.5 average) in three seasons. He had 656 total rebounds (8.6 average) and 122 blocked shots (1.6). The Virginia signee blocked 48 shots as a junior, 42 as a senior, and affected countless other choices near the rim.
LAKE CITY couldn't have done it with just Mitchell and Buchanan — and they knew it, too. The Timberwolves needed/wanted/required the "other guys" to chip in, and all did, at certain points of the season and the postseason.
Zach Johnson, perhaps the top all-around athlete in school history, also was a key four-year player for Lake City boys basketball. Like Mitchell, he came in as a freshman and helped lead the resurgence of the program.
The University of Idaho-bound football player was nearly a 1,000-point scorer at Lake City, finishing with 913 career points (9.1 average), along with 516 rebounds (5.2), 173 assists, 59 blocked shots and 121 steals. He hit 34 of his 54 career 3s in his first two seasons.
In the last two seasons, when his offense wasn't needed as much, Johnson was still a defensive force, an inside presence, an athletic "big" whose baskets and other big plays seemed to often be momentum changers.
Nathan Hocking transferred in from Ferris of the Greater Spokane League after his sophomore year.
In two seasons at Lake City, he totaled 600 points (11.5 average) and hit 33 3-pointers, including the dagger 3 that pretty much sealed the state championship.
"One thing about Nathan — I call him a wild hunting dog sometimes, he's a little crazy out there, but in big games he plays well," Winger said. "We went through (the scorebook), and he shows up; he's a money player. He does well."
Deacon Kiesbuy, the fifth senior starter, also had some big games down the stretch, including three big 3-pointers and 13 points in the state title games.
The first two guys off the bench, sophomores Reese Strawn and Cason Miller, had their moments. Strawn averaged 7.3 points per game and, in the season opener when Mitchell was unable to play, hit five 3-pointers and scored a game-high 19 points.
And Miller hit a big 3 to answer a run by Madison of Rexburg in a grueling state semifinal.
"I trust the ball in anyone's hands," Buchanan said. "I trust them to shoot it, and that's why we win, because we play as a team. We trust each other."
AND THE fans flocked to Lake City in recent years to watch this team — particularly this season. One or both of the upstairs bleachers were pulled out most nights to accommodate the additional fans — something that rarely happened in the past.
From little kids to long-time supporters, they were treated on a nightly basis, especially this year, of high-flying dunks, fast breaks triggered by quick, long-armed defenders, 3-point baskets and one-sided victories — Lake City won those 26 games by an average of 29.4 points.
And the team noticed the support.
"I really appreciate the community, and our school," Winger said. "I've been here all 29 years of Lake City, and these are the biggest crowds we've had in the school's history. I think that's pretty cool, especially in 2023 when there's a heckuva lot more to do than there was 29 years ago. I just think that's really cool, and we appreciate the support."
"With all the support that we have with our students, our band, our families, the community, it's crazy," Mitchell said. "We just try to do it for them."
AND ONCE the state title and undefeated season was secured, players and coaches were asked the question — is this the best boys basketball team in Idaho history?
There were those other two undefeateds in the last three decades, and likely a few more before then.
So who really knows?
After the state title win, Winger said he wasn't going there with that question.
"I'll leave that to you media guys; you like that stuff. I'm not jumping in that pond," he said. "We had a hard time finding people to play us, then one team dumped us so we had to pick up some games. Playing Owyhee early, and going to Curtis (last year's state 4A champions in Washington, who repeated as champs the same night Lake City won) — that was a big moment. We beat them on their floor, by 12 points. We're a very good team; I'm not going to shy away from that. But I'm not going to be a bulls-eye out there for every social media person out there."
At halftime of the 5A boys title game, the 1980 Fruitland Grizzlies, who won a state championship and finished 26-0, were honored as a "Legends of the Game" by the Idaho High School Activities Association.
Jason Duchow, ace photographer, and I joked about whether either of us would still be around to attend some 43 years from now, if/when this Lake City boys team was honored.
That would be the year 2066.
OK, so one of the best ever?
"I absolutely think it is," Buchanan said. "To go 26-0, beat who we beat, the guys we have on our team … it's hard to do that."
One thing's for sure: One key to Lake City's success this year was keeping it simple … and fun.
"One of the things to ease the transition (from last season to this season) is cutting back on a lot of stuff," Winger said. "We didn't even, in this tournament, go over the other team. And before we'd have a scouting report about that thick, and we just said, 'We're going to be the best we can be, and just worry about us.
"And I don't know if this works or not, but the tone of the team, from the start, was more relaxed," he added. "From talking squirrels to rabbits and hares, to the blinkers thing … have a little more fun with this, instead of going out and, 'We've got to win every game; we can't lose.' Enjoy the journey and have some fun with it."
AND THE most endearing memory of this year's season?
After games, particularly at state, as the players left the floor, one by one, they would stop and hug Gay Winger, Jim's mom and seated nearby, before heading off to the locker room.
It appeared the players got as much out of the hugs as Ma Winger did.
"She's an interesting woman," Jim Winger said. "She's very competitive; she coached, actually. When my dad died a few years ago, it was pretty tough on her … I finally got her coming back to more games and she was just enamored with the boys, so she started coming in the locker room, then having them over to the house, and I'd buy pizza, and she'd talk to them. It put years on her life, and they just treat her … it's kinda the Sister Jean of high school; it's just been so cool, and I've been so grateful. They don't have to do that … they just kinda bonded over the last two years."
"She really started watching us again last year," Buchanan added. "She's had us over for a team dinner a couple of times. Winger talks about how we kinda brought her back to life. It's super neat that we have that love for her."
"She's the face of the program," Hocking said. "We love her, and we did it for Winger, and another person we wanted to win this for was her, just because the team means so much to her, and she means so much to us."
Mark Nelke is sports editor of The Press. He can be reached at 208-664-8176, Ext. 2019, or via email at mnelke@cdapress.com. Follow him on Twitter @CdAPressSports.
Recent Headlines
---