Kootenai Health to cancel Humana Medicare Advantage contract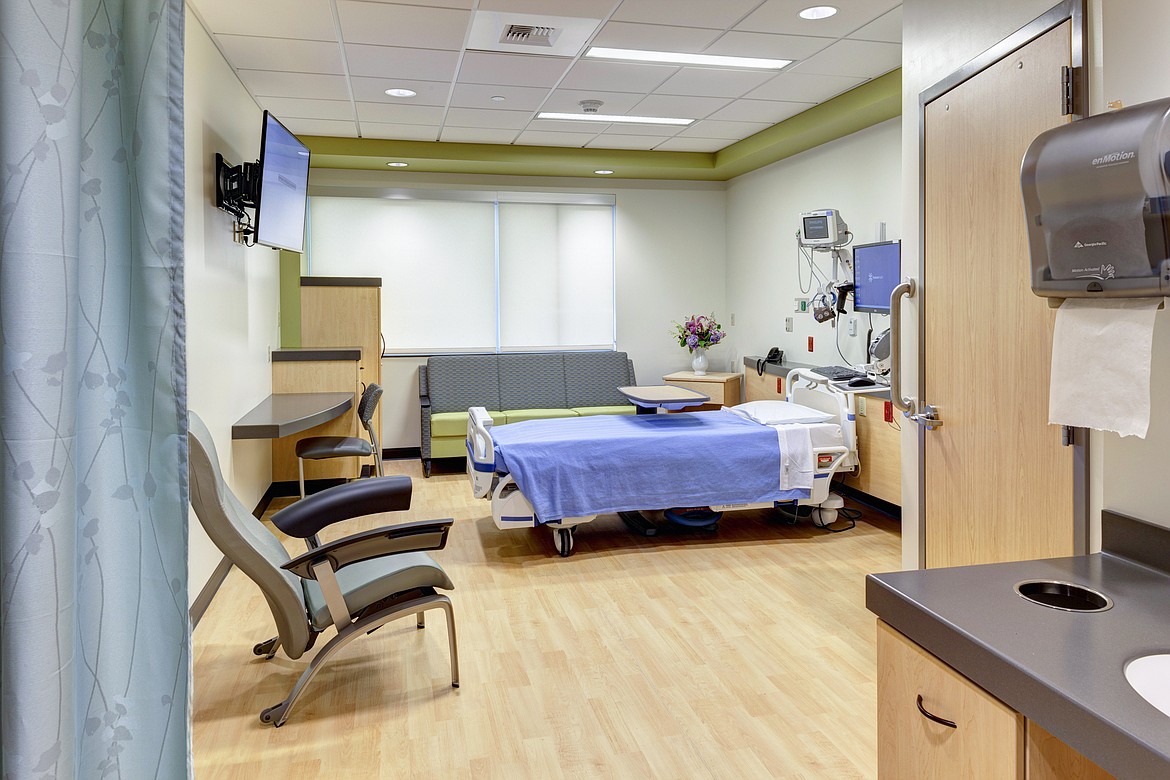 A private patient room at Kootenai Health.
PRESS/file
by
KAYE THORNBRUGH
Staff Writer
|
March 11, 2023 1:07 AM
COEUR d'ALENE — A health care insurance provider's practice of incorrectly denying claims has led Kootenai Health to change its relationship with the insurer.
Kootenai Health will cancel its contract with Humana for Medicare Advantage, citing high rates of claim denials.
Beginning April 1, Kootenai Health and Kootenai Clinic providers will be considered "out of network" for Humana Medicare Advantage. That means patients with Humana Medicare Advantage will pay higher costs to receive care from those providers.
"We're very cognizant of how painful and difficult this process is and that it creates a lot of anxiety in our community," said Michele Bouit, Kootenai Health's chief financial officer. "We're very sorry about that. We hope that we'll still be able to take care of them."
Medicare Advantage is a Medicare-approved plan from a private company that offers an alternative to original Medical for health and drug coverage.
In most cases, Medicare Advantage enrollees can only use providers who are in the plan's network and often need to get approval before the plan covers certain drugs or services.
Those who wish to change to a different Medicare Advantage plan that is contracted with Kootenai Health have until March 31 to do so. Kootenai Health also has contracts with Blue Cross of Idaho, PacificSource, Regence, United Healthcare and Aetna.
Bouit said an 18-month review of contracts with insurance providers revealed the majority of incorrect claim denials from Medicare Advantage providers came from Humana.
"They would deny outright," Bouit said. "We've had conversations over the years with Humana about this problem and we've never really been able to move that needle with them."
Kootenai Health is not the only provider facing an increase in the number of claims being denied by health insurers.
Healthcare Finance News reported last month that level-of-care reimbursement disputes are especially rising among Medicare Advantage plans, which have adopted more restrictive criteria and deny more inpatient hospital claims than all other payer types.
Some Medicare Advantage organization denials of prior authorization requests have raised concerns about beneficiary access to medically necessary care.
A 2022 report issued by the U.S. Department of Health and Human Services Office of Inspector General found that Medicare Advantage organizations, including Humana, denied requests by using clinical criteria not contained in Medicare coverage rules, requesting unnecessary documentation and making manual review errors and system errors.
The report found that 13% of prior authorization denials were for service requests that met Medicare coverage rules. The denials likely prevented or delayed medically necessary care for Medicare Advantage enrollees.
Similarly, 18% of payment denials were for claims that met Medicare coverage rules and billing rules, delaying or preventing payments for services that providers had already delivered.
Incorrect denials from Humana have created a "significant administrative burden" and caused unnecessary delays, Bouit said. Kootenai Health staff have frequently needed to resubmit claims and justify why they should be paid.
"The majority of those claims are then overturned and are paid," Bouit said. "It's a really difficult process and certainly a lot of resources are spent on adjudicating all these claims to then just have them get paid anyway."
It's difficult to pinpoint exactly how many people in the region will be affected by the change.
Kootenai Health sent letters to approximately 2,200 current and prior patients who the hospital identified as having Humana Medicare Advantage within the last few years, notifying them of the change. Humana has also reportedly sent letters to members.
The letters began hitting mailboxes this week.
For more information and to ask questions, visit KH.org/Humana, email HumanaQuestions@KH.org or call 208-625-5559 to leave a message and get a call back.
Recent Headlines
---