Atmospheric rivers flood California with more rain, snow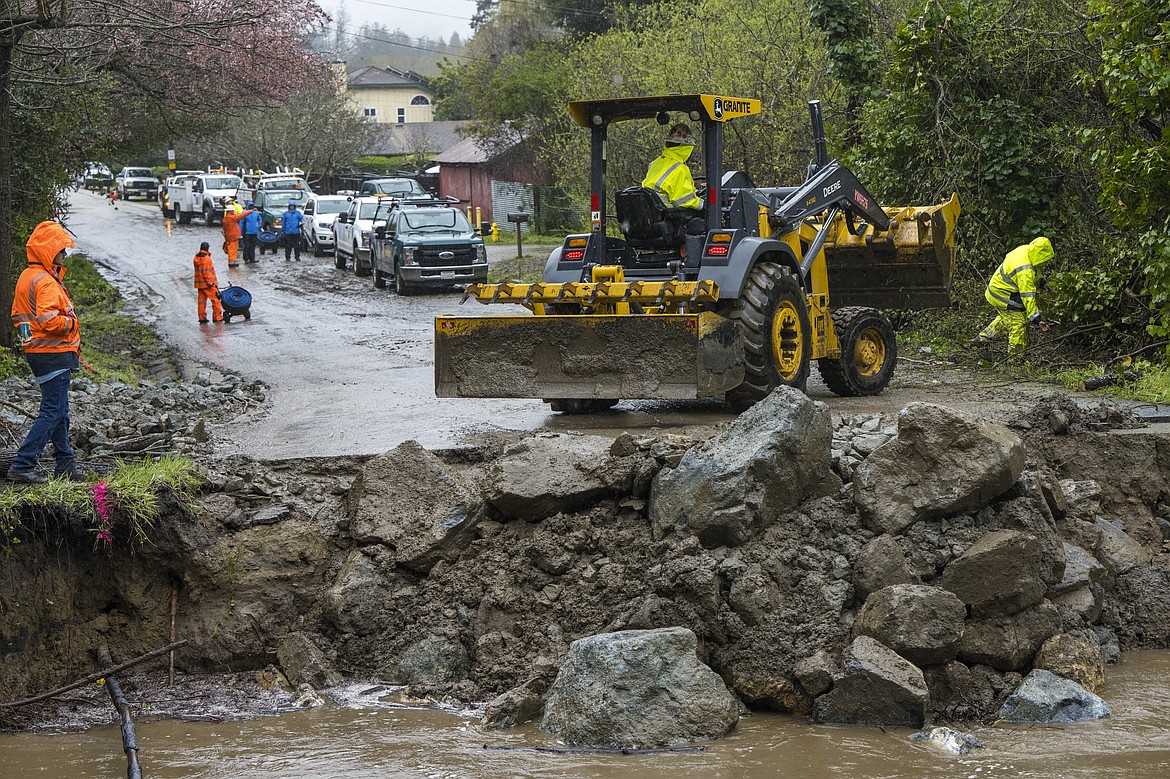 Crews assess storm damage, which washed out North Main Street in Soquel, Calif., Friday, March 10, 2023. (AP Photo/Nic Coury)
|
March 10, 2023 11:55 AM
By MARTHA MENDOZA and OLGA R. RODRIGUEZ
Associated Press
SANTA CRUZ, Calif. — More than 9,000 California residents were under evacuation orders Friday as a new atmospheric river brought heavy rain, thunderstorms and strong winds, swelling rivers and creeks and flooding several major highways during the morning commute.
In Santa Cruz County, a creek bloated by rain destroyed a portion of Main Street in Soquel, a town of 10,000 people, isolating several neighborhoods. Crews were working to remove trees and other debris and find a way for people to cross the creek, county officials said.
County authorities asked the town's residents to stay indoors. Heather Wingfield, a teacher who runs a small urban farm with her husband in Soquel, said she and her neighbors were, for the time being, trapped in their homes as Bates Creek rushed through what was once Main Street.
"It's horrible," she said. "Hopefully no one has a medical emergency."
Wingfield said her neighbors' water infrastructure was also washed out, but that her family's well would keep them with running water. She said the floods so far weren't impacting their farm, where families in the neighborhood pick pumpkins, squash and sunflowers every summer.
Wingfield said living near Soquel Creek has meant being aware there might be floods, but "never did I imagine it would wash out a culvert."
Evacuations were also ordered in nearby Watsonville and the central California counties of Kern and Tulare in small communities near rivers and creeks. In the San Francisco Bay Area, flooding blocked portions of several major highways, including Interstate 580 in Oakland, disrupting travel.
The storm marked the state's 10th atmospheric river of the winter, storms that have brought enormous amounts of rain and snow to the state and helped lessen the drought conditions that had dragged on for three years. State reservoirs that had dipped to strikingly low levels are now well above the average for this time of year, prompting state officials to release water from dams to assist with flood control and make room for even more rain.
State transportation officials said Friday they removed so much snow from the roadways in February that it would be enough to fill the iconic Rose Bowl 100 times.
Democratic Gov. Gavin Newsom has declared emergencies in 34 counties in recent weeks, and the Biden administration approved a presidential disaster declaration for some on Friday morning, a move that will bring more federal assistance into the state.
Emergency officials have warned people to stay off the roads if they can and to carefully heed flash flood warnings.
The atmospheric river, known as a "Pineapple Express" because it brought warm subtropical moisture across the Pacific from near Hawaii, was melting lower parts of the huge snowpack built in California's mountains. Snow levels in the Sierra Nevada, which provides about a third of the state's water supply, are amore than 180% of the April 1 average, when it is historically at its peak.
The snowpack at high elevations is so massive it was expected to be able to absorb the rain, but snow below 4,000 feet (1,219 meters) could start to melt, potentially contributing to flooding, forecasters said.
Lake Oroville — one of the most important reservoirs in the state and home to the nation's tallest dam — has so much water that officials on Friday planned to open the dam's spillways for the first time since April 2019. The reservoir's water has risen 180 feet (54.8 meters) since Dec. 1. Of the state's 17 major reservoirs, seven are still below their historical averages this year.
Despite record rainfall in January, Newsom worried it would stop raining and asked state water regulators to temporarily suspend some environmental rules to let the state take more water out of rivers and streams to store for later. But it has rained so much since then that on Thursday regulators rescinded their previous order to allow more water to stay in the rivers.
Forecasters warned that mountain travel could be difficult to impossible during the latest storm. At high elevations, the storm was predicted to dump heavy snow, as much as 8 feet (2.4 meters) over several days.
Yet another atmospheric river is already in the forecast for early next week. State climatologist Michael Anderson said a third appeared to be taking shape over the Pacific and possibly a fourth.
California appeared to be "well on its way to a fourth year of drought" before the early winter series of storms, Anderson said. "We're in a very different condition now," he added.
So much snow has fallen in the Sierra and other mountain ranges that residents are still struggling to dig out days after earlier storms.
In the San Bernardino Mountains east of Los Angeles a late February storm reached blizzard status. Roofs collapsed, cars were buried and roads were blocked.
This week, firefighter-paramedics began delivering prescription medications to residents who are still unable to leave their homes, said fire Capt. Steve Concialdi, a spokesperson for San Bernardino County's emergency response.
On the far north coast, Humboldt County authorities organized an emergency response to feed starving cattle stranded by snow.
Cal Fire and U.S. Coast Guard helicopters began dropping hay bales to cattle in remote mountain fields last weekend, and then the California National Guard was called in to expand the effort.
---
Rodriguez reported from San Francisco. Associated Press writers John Antczak in Los Angeles and Adam Beam in Sacramento contributed.
Recent Headlines
---