STATE 5A CHAMPIONSHIP: 'We did it' ... Lake City's 'once-in-a-lifetime' team caps perfect season with first state title in program history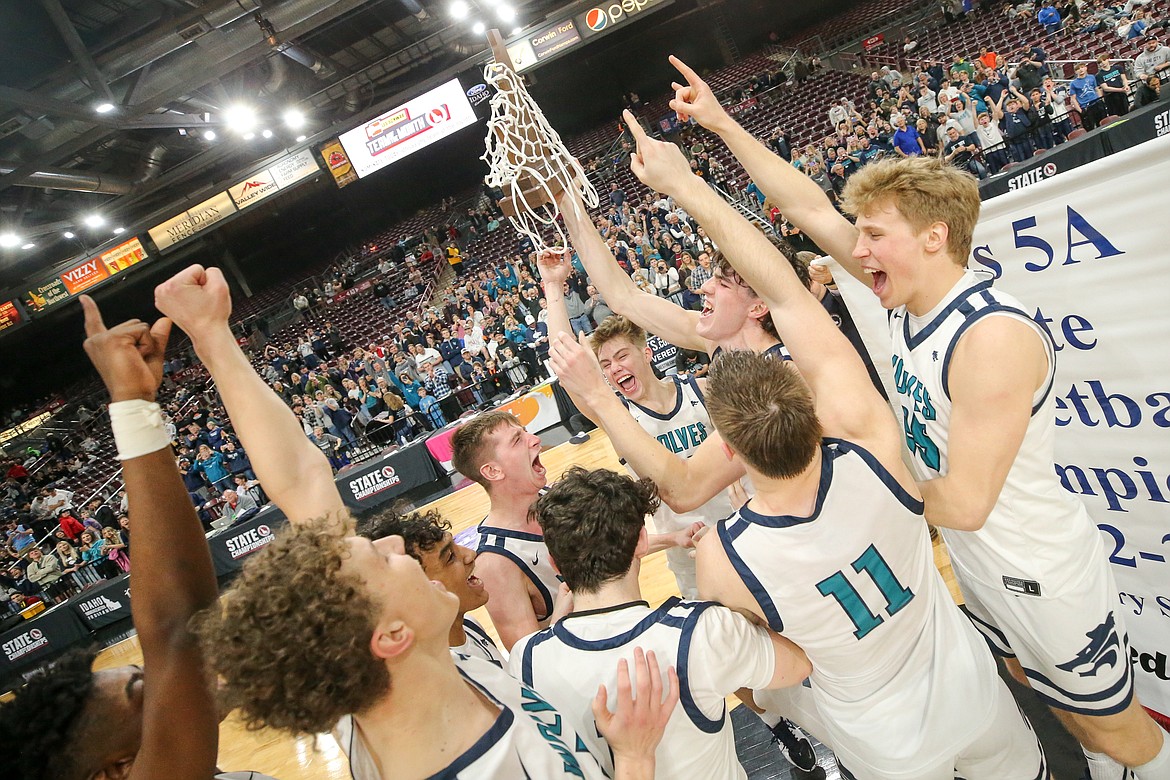 JASON DUCHOW PHOTOGRAPHY Members of the Lake City High boys basketball team meet at center court after winning the state 5A championship on Saturday night at the Ford Idaho Center in Nampa.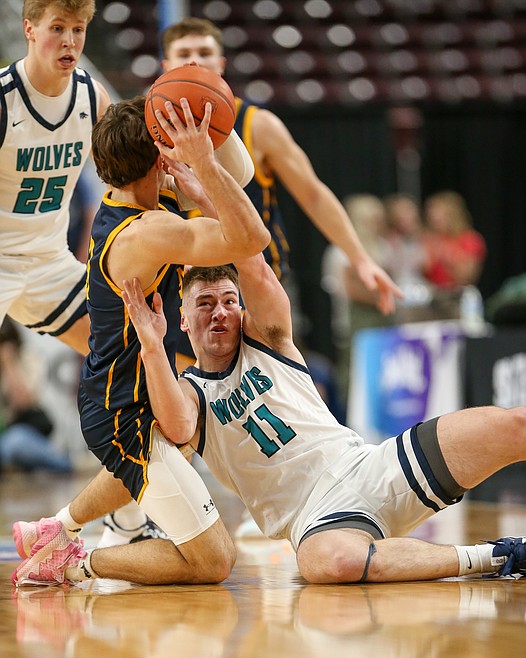 JASON DUCHOW PHOTOGRAPHY Lake City High senior forward Zach Johnson battles for a loose ball during Saturday's state 5A championship game in Nampa.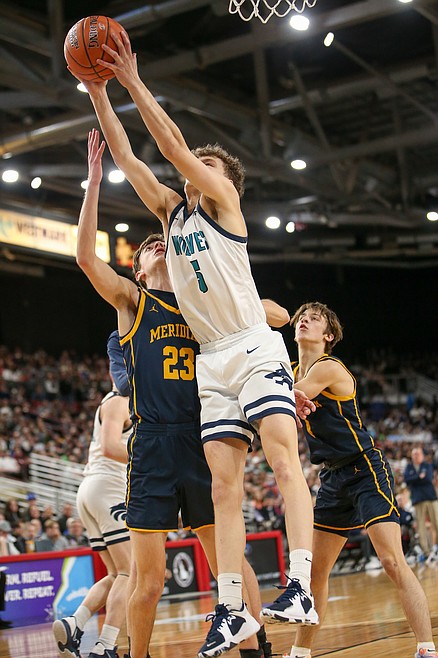 JASON DUCHOW PHOTOGRAPHY Lake City's Deacon Kiesbuy pulls down a rebound during Saturday's state 5A championship game in Nampa.
Previous
Next
By MARK NELKE
Sports writer
NAMPA — With 1 minute, 27 seconds left in the game — at 9:29 p.m. Mountain Time — Blake Buchanan and Kolton Mitchell stood next to each other at midcourt and finally allowed themselves to smile.
Moments later, they and the rest of their Lake City teammates were celebrating the Timberwolves' first state championship in program history.
"We just kinda looked at each other and said, 'Wow, it's really happening. We did it,'" Mitchell said after Lake City defeated Meridian 75-61 in the championship game of the state 5A boys basketball tournament Saturday night before a near-capacity crowd of some 10,000 at the Ford Idaho Center in Nampa. "It feels so surreal; it doesn't feel like it's happened yet."
One year after being upset at state as the No. 1 seed and not bringing home a trophy, and two years after losing to Meridian in the state title game, Lake City closed out the careers of seven seniors — including four-year starters Mitchell and Zach Johnson, and a three-year starter in Buchanan — by finally bringing home that state title.
"This feels great," Buchanan said. "Especially after what happened last year, my sophomore year, my freshman year (when his Moscow High team lost in the state 4A finals). This meant a lot, to do it in a Lake City uniform, with these guys. It was special, super emotional. I love this team; we did it as a team, and we got it done."
Even longtime Lake City coach Jim Winger managed a smile afterward.
"I'm smiling, trust me," said Winger, who started the Lake City program in 1994-95, and is in his 24th season as head coach. "I'm as happy as I can be. And sometimes I don't show it on the outside, but inside, it's a wonderful night."
Lake City (26-0) became only the third 5A team in Idaho history to complete an undefeated season, joining Centennial (1995) and Capital (2014).
Despite being asked for the umpteeth time whether Lake City should be called the greatest team in Idaho history, Winger said he would leave that up to the media.
"I'm not going there," he said with a laugh. "It's the best team at Lake City, for sure."
The 6-foot-11 Buchanan, who has signed with Virginia, dominated after Meridian jumped out to an early lead. He finished with 26 points (on 11-of-18 shooting) and 11 rebounds, as well as three assists and two steals.
"When we were struggling early, as coaches we said, 'They (the Warriors) need a steady diet of him," Winger said. "And that's what we did. We ran everything through Blake almost for three quarters. And he was tired at the end; I just couldn't take him out. He's an ACC player going to Virginia, and he showed why tonight."
Senior Nathan Hocking scored 14 of his 22 points in the second half, and took a pass from Zach Johnson and drilled a dagger 3 from the right baseline with 2:06 left that pretty much triggered the start of the celebration.
What went through his mind as he launched that shot?
"Please go in," Hocking said with a laugh. "Let's end this thing; let's get the state title."
And senior Deacon Kiesbuy hit three 3-pointers and added 13 points. And two of those 3s, coming on dishes from Mitchell, were HUGE — coming at the end of the first half, and near the end of the third quarter.
"He's been great for us," Mitchell said of the left-handed Kiesbuy. "To come up super clutch the last three-fourths of our season. He's really stepped up and did a great job. This state tournament, he showed what he could do; especially this last game, he did great."
Meridian (16-12), which bumped off defending state champion Owyhee of Meridian in the first round on Thursday, jumped out to leads of 9-2 and 12-4, and led most of the first half, partly on the strength of 6-of-14 shooting from 3, including one bank shot.
But Lake City fought back, helped by Buchanan's 16 first-half points, and ended the first half on a 15-4 run, capped by Mitchell finding Kiesbuy open in the right corner for a 3 just before the half for a 37-33 T-Wolf lead.
"They threw a punch at us; they were playing super well," said the Idaho State-bound Mitchell, who finished with seven points and five rebounds. "We just knew if we stayed true to ourselves we'd come out on top, and be able to stop them."
"I just think they hung in there," Winger said. "I didn't see any of them panicked, or coaches panicked. This was going to be a four-quarter game, and we're going to rise to the occasion. That's as good a shot as we can take from Meridian; they came out firing, and we just stayed with our stuff, and kept mixing it up, and just said 'We're going to be fine; we're going to be fine,' and just let the game work itself out."
Hocking's 3 helped Lake City open up a 47-38 lead early in the third quarter.
Buchanan scored eight in the third quarter, including a spin move in the lane that upped the lead to 57-43 late in the third.
Johnson, who finished with seven points and seven boards, drove down the center of the lane for a layup to make it 68-54, then fed Hocking for that dagger 3.
Junior guard Ryan Baker hit a pair of 3s and scored 14 points for Meridian, which lost 81-56 at Lake City in late December. Senior point guard Josh Christensen added 10 points. Baker and senior Max Gwilliam picked up their third fouls in the first half. That, and Lake City's half-court trapping defense producing some turnovers, hurt the Warriors.
So one year after the lowest point of this group — their only hiccup since they started playing basketball years ago, Winger said — the Timberwolves celebrated on Saturday night on the Idaho Center floor, then rushed over to celebrate with their students — a party that was years in the making.
"They wanted to show people what they were about," Winger said. "They were on a mission from Day 1; the coaching staff and players were all on a mission. You don't get groups like this very often. This is a once-in-a-lifetime group."
Meridian 18 15 16 12 — 61
Lake City 15 22 23 15 — 75
MERIDIAN — William 2, Deere 4, Verity 0, Christensen 10, Thomas 0, Baker 14, Fortin 5, White 0, Cart. Anderson 0, Horrocks 2, Reynolds 8, Pearce 8, Sanor 5, Brummer 0, Cars. Anderson 3. Totals 20-48 11-13 61.
LAKE CITY — Buchanan 26, Strawn 0, Hill 0, Watson 0, Miller 0, Kiesbuy 13, Johnson 7, Mitchell 7, Snow 0, Hocking 22. Totals 30-57 9-16 75.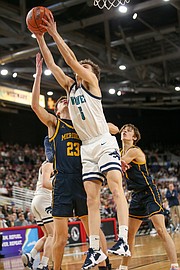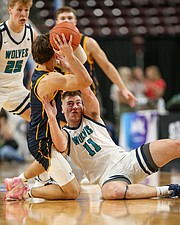 Recent Headlines
---