FAST FIVE: Noah Johnson thinks on his feet
by
DEVIN WEEKS
Staff Writer
|
March 4, 2023 1:00 AM
Meet Noah Johnson, an enthusiastic 21-year-old who is bringing the joy of improv comedy to North Idaho with his up-and-coming comedy club, Levity Theatre (levitytheatre.com). Noah is hard at work creating a space for members of the community to come and enjoy an improv show, take a class and allow the space to be rented out for their own purposes. For now, he is partnering with the Jacklin Arts and Cultural Center in Post Falls to teach improv classes and run comedy shows, but his goal for 2023 is for Levity Theatre to have a space to call its own.
1) What do you love about improvisational theater, and what would you say to someone who is too shy to get on stage?
I love so much about improv! Mainly the fact that I have seen it transform so many people's lives because it helps them break out of their shells and embrace their inner silliness. Improv provides a way to step away from the busyness of life and allows you to just spend time playing games, make stuff up and let loose.
If you're too shy to get on stage, take an improv class! I've had many shy people who at the start of the class were tucked away in their shell, and by the end, confidently performed improv in front of a live audience! And if you think you're not funny, remember: Improv isn't about being funny. Humor comes from real, human emotion and reacting authentically. Have you felt an emotion? Great! You can do improv. Promise!
2) What motivated you to found Levity Theatre and bring it to North Idaho?
As stated previously, I want — more like need — to share improv with people. Every community that has an improv theater greatly benefits from it. Additionally, there really isn't a space for comedy, apart from bars in Kootenai County, and I wanted to create a space, not just for comedy, but for families, community events and people and their own shows. I think there's a great opportunity to serve this community through the art of improv.
3) Who are some of your comedic and theatrical influences?
Here's a fun fact about me: I have never been in a play, nor have any acting or theater experience apart from improv. Improv is my thing, and my background is in improv. So, for this reason, a lot of influences and inspirations are my teachers, and people I've listened to talk about improv, through interviews and media online. Primary ones are: Rob Norman and Adam Cawley (The Back Line podcast) and Dartanion London. Improv is interesting, because there are actually a ton of styles of improv, and every theater has its own style. I've pulled from a myriad of sources and theaters and their styles to create a unique Levity style.
4) What is something people would be surprised to know about you?
I am a freelance graphic designer, and also founded a tabletop games company, Nomich Games. So I actually own three companies, and do most of the work entirely on my own! Although, as they continue to grow, I am bringing more people to help.
Another few more things:
• I have minor Tourette's, which can cause me to say some weird things somethings or have little tics.
• If you have seen me perform at all, this won't be a surprise, but I hate shoes, and I tend to wear sandals year 'round, except for when the snow is deep.
• I have five older sisters, am the youngest and the only boy.
5) What are your hopes for the future of performance arts and comedy in North Idaho?
I hope that every person in North Idaho can at some point experience the joy that is improv comedy, either as an audience member or a participant. I hope laughter becomes a part of every family's daily lives, and that people will continue to seek out the arts, no matter their background!
---
Do you know someone in Kootenai County who makes our community awesome? Send Fast Five suggestions to Devin Weeks, dweeks@cdapress.com, to highlight locals who contribute their time and talents to make North Idaho such a special place.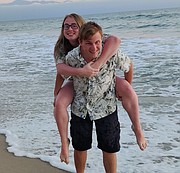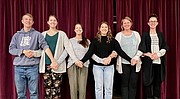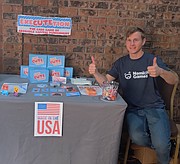 Recent Headlines
---