City eyes March 21 for Coeur Terre hearing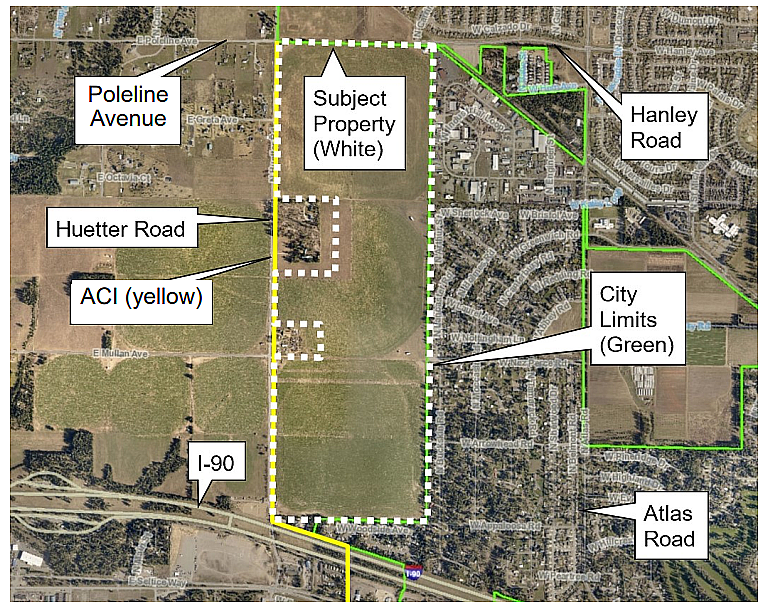 This sketch provided by the city of Coeur d'Alene shows the area of consideration for the proposed development by Kootenai County Land Company, LLC. A public hearing is set for Oct. 11 before the Coeur d'Alene Planning Commission.
by
BILL BULEY
Staff Writer
|
March 4, 2023 1:08 AM
COEUR d'ALENE — The Coeur d'Alene City Council on Tuesday is expected to set another public hearing on the proposed Coeur Terre development for March 21.
The council could then make a decision on the request for annexation of about 440 acres from county agricultural suburban to city residential and commercial, as well as approval of an annexation and development agreement.
At its Feb. 21 meeting, the council denied the proposal without prejudice. Councilman Dan Gookin successfully argued that too much new information about the project had been introduced since the public hearing was closed Feb. 7.
Then, the City Council voted 6-0 to defer a decision on Coeur Terre and consider it at its Feb. 21 meeting. The public hearing was closed.
That gave council members time to share their concerns about the project with city staff, which in turn shared those concerns with developers.
Some changes were made in response, including the addition of a designation buffer to the eastern edge of the development. It also said the maximum number of residential units would be 2,800.
Gookin said "a massive amount of information had changed and by Idaho code it was required to have another hearing in order to hear from the public on the changes," according to a city report.
The Kootenai County Land Company is planning Coeur Terre, which calls for more than 2,000 housing units, businesses, shops and restaurants, 18 acres of parks, a greenbelt, 4 miles of trails and land for two public schools.
The vacant land is north of Interstate 90, south of the future West Hanley Avenue extension and east of North Huetter Road.
Buildout is expected to be over 20 to 30 years.
The entire project could be more than 1,000 acres and could eventually house about 4,500 residences. The remaining acreage sits within Post Falls city limits.
The proposed development has been strongly opposed by next-door Indian Meadows residents. They have long objected having roads in their neighborhood be used as eastside connectors between Coeur Terre and Atlas Road.
The latest proposal identified Appaloosa and Nez Perce road to serve that purpose, and was necessary for emergency access.
Suzanne Knutson, who lives on Appaloosa Road and has repeatedly voiced concerns to the council about the project, said there are still a lot of unanswered issues.
She said they were disappointed that Industrial Loop would not be used as a connector to Coeur Terre, as they had asked.
"I think it's sad you're going to take seven ingresses of traffic and push it into two streets," Knutson told the council Feb. 21.
Bridget Sundahl said she was concerned drivers going to and from Coeur Terre would divert throughout Indian Meadows once Nez Perce and Appaloosa were clogged with traffic.
"You can cut through any streets you want," she said.
Developers have said the project is 10 years in the planning.
The Coeur Terre Master Plan incorporated feedback from 13 agencies, 26 departments and more than 40 agency staff members.
Coeur Terre is estimated to provide 900 new jobs, generate $4.5 million in property and sales tax revenues and will be a total $2.5 billion investment over buildout.
The City Council is scheduled to meet at 6 p.m. Tuesday in the Library Community room.
Setting the public hearing for Coeur Terre on March 21 is on the consent calendar, which means it's unlikely there will be any discussion on it.
Recent Headlines
---